Investment in securities market are subject to market risks. Read all the related documents carefully before investing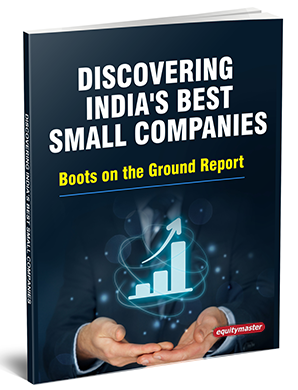 Claim this guide to see
how we identify high potential
smallcap opportunities for you
Why You Should not Buy Consumer Durable Stocks Even After a 30% Fall
Jun 9, 2022
Roti, Kapda, Makkan, and Mobile - The 4 necessities of modern-day life.
Or how about...
TV, Washing Machine, Refrigerator, and AC - The 4 necessities of middle-class in India.
Did you know that 28% of India's population in 2019 was categorised as middle class?
The more relevant point is, of the total middle-class population in India, 52% of the lower middle class, 32% of the comfortable middle class, and 23% of the upper middle class resided in rural India.
When I was a kid, my father told me, 'The future of a country is decided in small towns and villages and not cities'.
No wonder, elections are decided in villages and not modern metros. The sheer size of the population says it all.
Every company you speak to acknowledges the fact that real growth is coming from tier 2 and tier 3 cities as well as large villages.
In fact, majority of companies don't even focus on the metros for growth as it is self-sustaining.
Now the point I am trying to make is that India's middle class is on the rise.
--- Advertisement ---
Investment in securities market are subject to market risks. Read all the related documents carefully before investing

Your Invitation to Access

Our Small Business Stock Research is Still Open

Get Access Now
Details of our SEBI Research Analyst registration are mentioned on our website - www.equitymaster.com
It is projected that by 2025, the Indian middle-class will touch 583 million or 40% of India's projected population.
That is huge.
In fact, to put it in perspective...
India's middle class is expected to be almost twice the current US population.
The growth will obviously be led by tier 2-3 cities and big villages. So, the question is how do we play this exciting opportunity?
Before I talk about stocks and sectors, let's focus on a basic broad premise.
In 1991, the per capita GDP of China and India were the same i.e. US$ 310 per person.
Today, China's per capita GDP is at US$ 10,500 which is 5.5 times that of India.
While the 1990s were an inflection point for China, I believe India is at an inflection point now.
Whenever a country's per capita GDP is at an inflection point, the rise of the middle class drives demand for mid ticket goods and services.
Let me explain with a simple example.
As more and more population migrate to the middle-class, their basic needs are already satisfied.
With incremental growth in income, it is the basic luxuries such as TVs, washing machines, refrigerators and ACs that are in favour. An incremental Rs 5,000-10,000 of household income will drive demand for these goods.
What you must look for is the ticket size.
When the population enters the middle-class income bracket, the incremental financial upgrade which it gets will be spent on consumer durables first and then on passenger cars, and lastly on big ticket items like homes.
A salary increment will lead to higher consumption spending (eating out and consumer durables) and not higher investment spending (a house).
It is food and consumer durables which benefit the most.
You will be shocked to read about the penetration levels of basic consumer durables like air conditioners and washing machines.
Headroom for Growth is Huge for the Consumer Durables Sector
| Consumer Durable | Penetration Rate |
| --- | --- |
| Air conditioner | 5% |
| Washing Machine | 13% |
| Refrigerator | 33% |
Source: Equitymaster
Now while the story looks exciting, there are a few pitfalls.
Valuations
A strong company in a growing sector with low penetration will be available at high valuations. It won't be cheap after all.
While the market has been in a correction mode, the stocks of consumer durable companies have corrected by at least 20-30% from the peak.
Top quality companies like Voltas, Havells, Crompton Consumer, and Whirlpool have corrected anywhere between 25-40% from the peak, these companies are still trading much higher than their 5 year average PE multiples.
Even After a Correction these Stocks are Still Expensive
| Consumer Durable Stock | Peak Price | Correction from Top | Peak PE multiple | Current PE multiple | 5-year average PE |
| --- | --- | --- | --- | --- | --- |
| Voltas | 1,357 | -27% | 81x | 64x | 36x |
| Havells | 1,504 | -26% | 82x | 58x | 58x |
| Crompton Consumer | 513 | -32% | 59x | 37x | 39x |
| Whirlpool | 2,550 | -38% | 100x | 70x | 47x |
Source: BSE, Equitymaster
How do I look at consumer durable companies?
Let us first understand the reason of fall in these stocks.
While demand has been relatively strong, the issue lies in two things - market share loss and margin contraction.
Just to give you an example of the market leader Voltas, its EBITDA margins have been on a constant decline since the past 2-3 quarters.
The apparent reason is the commodity cost inflation and erratic supply chain. The cause of concern is if the fall in EBITDA margins is temporary or relatively permanent.
This contention comes from the fact that smaller players like Deakin and Mitsubishi are cutting prices and selling at a loss thereby buying market share.
Voltas ACs are already at a 3-5% premium as compared to its competitors. Thus to compete and not lose market share, Voltas will have to match prices of other smaller players.
Also, do note that market share gains take time to reverse as price is the main decider while brand takes back seat. Gone are those days where market share wars were won on distribution.
In an environment with strong demand, smaller players can bare losses, thus making it difficult for market leaders to regain market share.
What about valuations?
While the runway for growth is massive, the valuations still haven't fallen to attractive levels. Many of the stocks are trading above their 5-year average PE.
I mean, where is the margin of safety at a 50-60x PE multiple?
My view on consumer durable stocks
As the markets are in a downtrend with headwinds likely to be ahead of us and not behind, it is time to wait for further correction in consumer durable stocks.
A 20% correction will make these stocks relatively attractive. I use the world relative based on the brand value and strong balance sheets which most of these companies possess. But they will never come to a point of being cheap.
My long-term thesis on the under-penetration story remains strong and I believe these consumer durable stocks have a long way to catch up in terms of size as well as scale as compared to their Chinese counter parts.
Food for thought: The table below says it all in terms of how miniscule India's sales are as compared to China, indicating a massive run way for growth.
Consumer Durable Sales in India are a Drop in the Ocean Compared to China
| Yearly Sales (Number of units in million) | China | India | Sales as a % of China |
| --- | --- | --- | --- |
| Air conditioner | 213 m | 6.5 m | 3% |
| Washing Machine | 74 m | 7 m | 9% |
Source: Bloomberg, Equitymaster
Warm regards,



Aditya Vora
Research Analyst, Hidden Treasure
Recent Articles