These Are the Kind of Stocks You Should Buy on Dips
Jun 10, 2022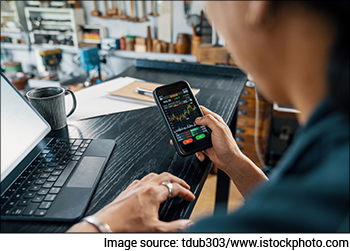 Recently, I posted a video on 'What to Expect from Smallcaps this Year'.
The gist of it was...
The easy money has been made in smallcaps. One should book profits on smallcaps where valuations have run ahead of fundamentals.
The smallcap index is down 10% in less than a month since.
There could be more correction in the coming days with all the warnings of rate hikes, the Russia-Ukraine war, and supply shortage driven inflation.
Here's what I believe...
From a long term perspective, there are great opportunities in smallcap space. With the right asset allocation, these opportunities will boost your wealth creation journey.
--- Advertisement ---
Last Day to Access 'One Stock Crorepati' Opportunity

As you know, recently we went LIVE with our One Stock Crorepati MEGA Summit...

Around 10,000 readers like you had registered to attend this summit.

At the summit, they learned Richa Agarwal's secret blueprint of identifying potential 'crorepati' stocks.

Plus, they also discovered the details of one stock with crorepati potential...

If you missed this summit for some reason, then you can still get all the details by watching this special replay of the summit.

Watch Now (Available till 11:59pm Tonight)
------------------------------
I recommend focusing on well run and well capitalised market leaders in smallcap space.
Do check out the video to track the improvement in fundamentals in smallcap space, as well as smallcap market leaders.
Coming back to the market...
The recent correction is likely to lead to two groups.
First, there will be investors who would stay away from stock markets, worried about further sell off.
Then there will be another set of investors, ready with 'dry powder' and 'bucket list' of good stocks to buy.
How you deal with this correction will be a crucial decision. It will heavily influence your net worth for many years.
The worst thing you could do is to compare the correction from the recent peaks and buy indiscriminately.
In some cases, even after a 50% fall, value is hard to find.
When all seemed well, these were the same stocks that were hyped, as if nothing could go wrong.
--- Advertisement ---
"$2.5 Trillion Crypto Market Boom..."

A booming $2.5 trillion market...

Set to multiply by 100 times over the next decade...

With legendary investors like Warren Buffet, Elon Musk, and Peter Thiel pouring in billions of dollars all over...

Really Want to Miss It?
------------------------------
Consider the tech stocks listed post covid. Zomato, Paytm, Policybazaar, Nykaa...
The correction in these stocks is anywhere between 50% to 70% from the listing price or peaks.
And yet, they are far from offering any value.
They have too much money and no roadmap to making profits in their core business. They just seem to be even more distracted.
I was recently asked why Zomato is correcting despite its big announcements of entering into quick commerce and the growing penetration of food deliveries in India.
Well if you wonder if Zomato is investible at these levels, here's what I think.
In case of Zomato, the visibility on profits and the business viability has not improved. If anything, its aggressive plans to invest in quick commerce only stretch the road to profitability. Most of the businesses it has invested in are loss making.
For all the hype about new investments Zomato is making in areas where market potential could be huge, we believe it makes sense to try optionalities when the core business is profitable.
Businesses like Zomato, with core business far from profits, and with not so illustrious history when it comes to making investments, do not offer comfort.
While the consumption trends these businesses have set could grow stronger, the viability remains under question. Potential regulatory risks are another aspect you should not underestimate.
Join Our YouTube Channel: Get Close to Our Editors and Stay Ahead of the Curve
All this makes it harder to assign a value to Zomato. It's a business that perhaps would fall into the 'hope investing' bucket.
Unsurprisingly, it turns out that India's three most profitable unicorns, valued over US$ 1 bn, have no VC or PE backing. They are entirely owned by promoters.
Remember the importance of 'skin in the game'. It determines whether you will be willing to burn cash to chase market share or focus on a real problem solving while creating a big business and profits.
The hard core believers, including some institutions in awe of these businesses, are finally turning out to be price chasers. Turns out, everything is cyclical.
All in all, the storytellers seem to be done with their time. Good old value investing and growth at reasonable prices is back in fashion, taking center stage.
Yes, FIIs are selling. And this could lead to more correction.
But if you are a long term investor, you should focus on what promoters are doing.
In over 100 companies in the smallcap index, the insider stake has gone up in the latest quarter. In over 200 companies, the promoter stake is higher on a year on year basis.
Just like the volatility is a good differentiator between genuine investors and market speculators, the current environment is a litmus test for quality businesses.
From power, fuel, raw material, to freight cost, every cost item is on rise. In some cases, the costs inflation is unprecedented, something managements have not seen before.
Yet, there are some businesses that have suffered less than the rest, within their own industries.
With the quarterly and yearly results coming out, the difference between brands and commodity businesses is getting clearer.
The former are able to pass on the prices, while the latter are just praying for inflationary trends to reverse to even survive.
Huge consolidation in smallcap space is in order. The ongoing correction could be a great opportunity to add companies that will gain.
Here's something important to note...
Successful investing is as much about avoiding mistakes that are hard to recover from, as it is about doing the right things.
To avoid catastrophes, avoid over allocation to a single stock, taking leverage or gambling, i.e. investing without understanding businesses.
You may still make mistakes but having discipline and a process for investing, rather than chasing stock prices or doing copycat investing, will ensure you will end up better than where you started.
Warm regards,



Richa Agarwal
Editor and Research Analyst, Hidden Treasure
Recent Articles