Why I Would Not Buy Avanti Feeds Despite its 50% Fall
Jun 11, 2018
Avanti Feeds is arguably the biggest success story of the past decade. The stock has been a whopping 400-bagger, the milestone achieved in just a decade, and if the grapevine is to be believed, it may have tapped only a fraction of its potential.
Which is why when the stock crashed 50% recently, it gave investors a rare opportunity to swoop in and grab a slice of the company's future at a marked-down price.
I am not biting into it, though.
--- Advertisement ---
Only a Few More Hours Left: Claim Rahul Shah's Premium Reports and Bonuses worth Rs 11,850 for FREE.

THOUSANDS of people have attended Rahul Shah's Automatic Income webinar, and people were excited about the bonuses that he's giving away.

Rahul Shah's premium report worth Rs 1,950 for FREE is on hold and the bonuses collectively worth Rs 11,850 will have vanished into thin air in less than 12 hours from now.

To know how to claim yours, read the complete transcript of Automatic Income webinar here before it's taken down.

Also, The Opportunity Ends Once the Limit for FREE has Hit. So, Claim Yours Before It's Gone
------------------------------
For me, the right price point is a lot lower. Nearly 87% lower to be precise.
Yes, you read that right.
Avanti Feeds will have to lose nearly 90% of its value for it to come into my buy zone.
I know it sounds downright scandalous. I can imagine a lot of people think there's no chance in hell the company could go down to those levels.
They could well be true. The stock has taken such rapid strides in improving its business model that, barring a disaster, it's inconceivable to think it could fall 90% from the present levels.
However, I am looking at a world through the lens of a deep value investor.
And here, only the most hated, undervalued companies come into view.
Avanti Feeds, despite its 50% fall, is still a big blur.
To drive home the point better, let's take a small detour.
Alice Schroeder, the author of Warren Buffett's biography, once shared this fascinating insight on the Oracle.
Typically, and this is not well understood, his way of thinking is that there are disqualifying features to an investment. So, he rifles through and as soon as you hit one of those it's done. Doesn't like the CEO, forget it. Too much tail risk, forget it. Low-margin business, forget it. Many people would try to see whether a balance of other factors made up for these things. He doesn't analyze from A to Z; it's a time-waster.
Buffett's genius does not lie in the fact that he is able to perform rigorous analysis on the entire universe of listed stocks and choose the ones most likely to win over the long term.
Unlock Now: India's 3 Unstoppable Tech Stocks
This is too much to ask of a human being, even someone of the caliber of Buffett.
Buffett's billions are a result of establishing a high filter and then picking only those stocks that pass such a threshold. For example, if he doesn't understand the business, he will stop right there. The stock's ejected from his watch list.
If the stock doesn't have a sustainable moat, reject it.
Bad management, reject again.
This way, he gets to reject almost 90%-95% stocks by merely taking a cursory look at them.
Buffett's biggest achievement therefore has been creating his own circle of competence and knowing fully well where its boundaries lie.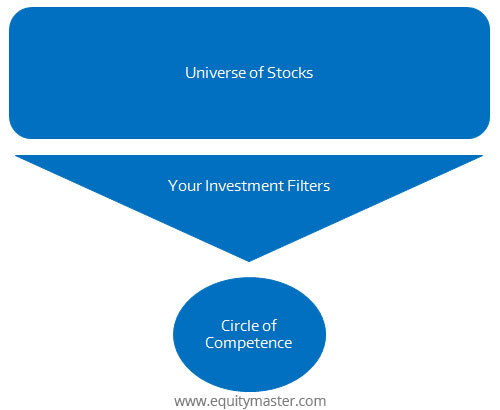 If any stock gives as much as the tiniest of hint of being outside the circle, it's discarded right away.
Put differently, like every extraordinarily successful individual, Buffett also says 'no' to almost everything that comes his way. He only says 'yes' to those rarest of rare stocks that fall inside his circle of competence.
--- Advertisement ---
How to Unlock Almost 3x More Gains During the Corona Crisis...Good News...

Our top analyst Richa Agarwal just identified 5 "pandemic-proof" smallcaps that could win the war against coronavirus...

And deliver up to 50-100% gains really fast!

She has revealed the exact details of these 5 high-potential smallcaps in her latest special report...

Check It Out Now...
------------------------------
What has this got to do with my view on Avanti Feeds you may ask?
Well, I also have a filter, my circle of competence if you will.
And it also rejects 90%-95% stocks out there.
However, it is different from Buffett's in the sense that I allow only those stocks inside that are trading at a discount of at least 20% to their latest book value.
These are the stocks which, I believe when bought as a group, tilt the odds of outperforming the markets heavily in your favor.
And Avanti Feeds, by virtue of trading at a huge premium to its book value, is way outside this circle.
It is quite possible that your circle of competence is different from mine and is even willing to accommodate Avanti Feeds. Fair enough.
However, do not forget to check out every couple of years whether your strategy is letting more winners into the circle than losers.
Mine certainly did.
Inspired by Benjamin Graham's principles, it has let in 32 winners and only 4 losers since February 2014 and earning 2.4x more than the Sensex's 78% returns.
It is this result that makes me want to recommend other stocks trading below book value than Avanti Feeds despite the latter's 50% fall from its highs.
Good Investing,


Rahul Shah (Research Analyst)
Editor, Profit Hunter
PS: For over 16 years, members of the exclusive Bombay Investing Society have received safe stock recommendations that generated double, even triple digit returns! This society is currently accepting new members. Click here to find out how you can join...
Recent Articles