The 5 Critical Steps to Generational Wealth
Jun 15, 2021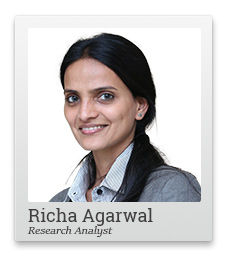 It's not often that I watch business channels. They're full of noise with little takeaways, at least for the long-term.
But some are enlightening, even if unknowingly so.
This happened back in September 2017.
Mr Ravi called a stock market expert on Zee business to help him about some shares he held.
His grandfather, suffering from paralysis for 10 years, had transferred him the share certificates of MRF in 2017.
The guy, seemingly inexperienced about stock markets, wanted to know what to do with them.
This was a problem most of us would love to have.
--- Advertisement ---
This is Your Last Chance...

This is your last chance to sign up for our urgent broadcast on India's Revival.

At 5 pm today, India's leading research analyst, Tanushree Banerjee, will show our readers how an upcoming mega revival would drastically change the state of the Indian economy...

And how investing in three high-potential stocks at the heart of this revival...

...could potentially hand them 100%, 300%, 500%, even 1,000% or more in the long run.

Tanushree will also cover a lot more in this critical briefing...

Since you are one of our valued readers, we sincerely urge you to save your seat now.

Click Here to Reserve Your Seat (There may not be any replays)
------------------------------
You see, these shares were from 1990/91.
Over the 27 years, since they were bought and forgotten, the stock had been up 1,790 times. This compared to 32 times rise in the Sensex.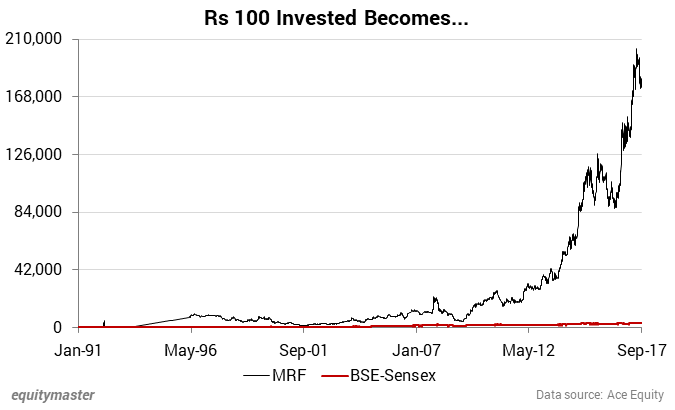 Wait for it...
At the time of his call, the value of these certificates was Rs 1.3 bn.
This does not consider any dividends paid during the period.
But dividend history suggests it would over 10 times the original investment.
I think it was a blessing in disguise that neither the grandfather nor Mr Ravi were focused on the stock price movements.
I wonder if, the grandfather was alive, he could have resisted the temptation to exit a lot earlier when the stock doubled or tripled.
Turns out fortune favours the patient, and ignorance can indeed be bliss.
Going LIVE Today at 5pm: Our Special Event on India's Revival
There are a lot of mistakes one makes in investing. The most common is not having the temperament to hold wealth compounders for longer once you have earned a decent return.
I must admit having made such mistakes too with stocks like Astral Poly Technik (now Astral Ltd), Balkrishna Industries.
For instance, we exited Balkrishna Industries with 1,058% returns. Had we held on to it, it would be up 5,786% from recommendation price.
Betting on the right stocks is just the first step. The real money in the markets is made from holding the winners.
This is a something we all know, but few are able to absorb and implement.
For most people of my father's generation, the net worth they have accumulated is not because of what they have earned in their working years.
The biggest contributor is the property/land they invested in sometime, the value of which has swelled from a few thousands to a few crores now.
Land is an illiquid asset and does not get traded like share. It's one of the drawbacks of investing in it.
But if you think about it, also the strongest enabler of magic of compounding.
Had that investment been in equities, there is a high chance most would have exited on just doubling/tripling and would be sitting on a huge opportunity loss.
--- Advertisement ---
Making India Future Ready - The Next 20 years

HelpYourNGO supported by Quantum MF brings to you one-of-a-kind 2-day Mega webinar.

Join Industry stalwarts Ronnie Screwvala, T V Mohandas Pai, Zia Mody, Mirai Chatterjee, Amarjeet Singh and Eloy Lindeijer as they share their views and impart wisdom to help us lead the way into the future.

Event details: Mon, 27th & Tue, 28th Sept - 5:30 pm to 7:45 pm.

Register here for this EXCLUSIVE WEBINAR: https://bit.ly/3CtAZUI
------------------------------
So, how can you get rich with the power of compounding in stock markets?
First, you have to choose a stock from the safe universe, with proven business models and managements.
Second, you have to choose a business that is not just disruption proof, but a trend setter when it comes to navigating paradigm shifts.
Third, while holding a winner at expensive valuations works, the entry point is critical. You have to get in at the right time, and right price.
Fourth, you need to track the business (not the stock price), to ensure it remains a value creator for the long-term.
Last but not the least...develop the temperament to hold on to the stock.
Simple, right?
But it's not easy.
I don't think you can follow this approach without a good combination of skill and experience of business and market cycles.
So how do you nail these opportunities?
Well, you could join my colleague, Tanushree Banerjee.
It was some time last year when she shared her initial thoughts about a project that could give investors a chance to make generational wealth, without bothering on a daily basis about the portfolio.
In a recent conversation we had, she told me how she has developed this approach fully and already has a few stocks in her mind to begin.
She calls them 'Forever Stocks'.
From what I have seen so far, this could be her most ambitious and rewarding project at Equitymaster.
So I strongly recommend you listen to what Tanushree has to say.
Get started by signing up for Tanushree's special Forever Stocks web summit, scheduled for Monday, 21 June.
And find out how to unlock the secret to extreme wealth.
Warm regards,



Richa Agarwal
Editor and Research Analyst, Hidden Treasure
PS: Join Tanushree online on 21 June at 5pm. She will tell you all about Forever Stocks. These are the only 20 stocks you need to own to become extremely wealthy. Book your seat here.
Recent Articles