India's Third Giant Leap
This Leap Could Potentially Generate Gains
Far Bigger than Anything We Have Seen in Our Lifetimes
Is it Time to Start Buying Stocks Selectively?
Jun 16, 2022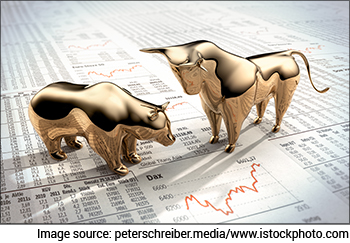 'It's far better to buy a wonderful company at a fair price than a fair company at a wonderful price. - Warren Buffett
This quote from Warren Buffett has never been more relevant than it is in today's irrational times.
The 3 most important words in stock markets i.e. 'Margin of Safety', a long-forgotten word for equity investors till the start of the year, are suddenly finding relevance.
What a goldilocks scenario we have had over the past two years thanks to the collective stupidity of central bankers which has given rise to 'bubbles' in many asset classes across the globe.
What if I tell you that some bubbles are an opportunity when they pop?
Allow me to explain...
When high valuation is the only underlying factor for a bubble to pop and the companies are backed by strong fundamentals and industry dynamics, the pop in the bubble presents an opportunity for long term investors.
However, many a times, it is companies with poor fundamentals, high leverage and declining industry prospects that jump astronomically. These stocks are only led by narratives and liquidity. They become a perfect liquidity trap.
--- Advertisement ---
IMPORTANT: Save the Date for the Biggest Financial Conference of The Year...

The Equitymaster Conference 2023 happens on 25th-26th Feb 2023...

If you want to discover where the market is headed for the next 10 years... and which mega-trends could potentially help you make the most wealth over the next decade...

Make Sure to Grab Your Ticket Right Now (Special Reserve Member Discount Inside: OPEN NOW)

HURRY: Grab Your Ticket Now
------------------------------
For example, during the dot com bubble in 2001, companies like Infosys and Wipro fell 80% and 85% respectively. After all, IT companies in 2000 were trading at a PE multiple of 100x.
Post the 80% fall, both these companies tripled in the next 4 years. It was a classic case of a valuation bubble.
Suzlon on the other hand fell 90% from the peak in 2008, only to never recover again.
The reason was simple - high debt, an unfavourable industry structure, and a weak company.
A perfect value trap at all prices.
Over the past 6 months, the market has wiped off the froth from many sectors.
A lot of the so-called market gurus come on TV and talk about buying the dip and of the markets bottoming out.
First, I have never understood the business of predicting market bottoms. Let me tell you they happen in hindsight. Even if you take history as a guide for a market bottom, the odds are not in your favour.
Let's talk about the United States stock market index, S&P 500, the mother market of the world. The corelation of India and US markets are extremely high to begin with.
The S&P 500 has historically bottomed out at a PE ratio of 14-15 one year forward. Currently the one year forward S&P 500 PE ratio is 19.
--- Advertisement ---
Potential 33x Opportunity by 2030

This decade belongs to defence stocks.

We are staring at a potential 33x opportunity by 2030.

But it is absolutely important that you choose the right defence stocks to ride this opportunity.

We've already identified 3 next-generation defence stocks for you...

These companies are into developing cutting-edge military technologies where we're seeing a huge potential.

If you're a serious investor, then you should not miss these 3 stocks for anything.
* 2 out of these 3 stocks have already run up. Act fast or you might completely miss out on this big opportunity.

Full Details Here
------------------------------
This doesn't make it cheap by any means, that too at a time when the interest rate cycle all over the world is going up and not down.
When you talk about India, thank God for domestic investors and retail investors who have been buying the dip and giving an exit to the FIIs.
The question is how long will it last?
After all, it's difficult to absorb a Rs 20-25 bn of selling every day. FIIs still own 20% of the Indian market.
For Indians like us, India was and will always be a major investing market. But what stops FIIs from investing in other countries like China, or Hong Kong to name a couple.
The Hang sang index of Hongkong is trading at a P/B of less than 1x while the Chinese markets are trading at a 1 year forward PE ratio of 12 times.
While I do agree, India is a growth story, however valuations are important in a bear market. In fact margin of safety will protect you from the downside.
What should investors do?
While the bottom may not be in place, the substantial fall in midcap and smallcap stocks warrants a look.
It's time to evaluate companies and sectors which had a valuation froth. They have corrected more than 40-50% from the top in this round of market correction.
I have developed an easy to implement list to screen such companies.
Check the peak P/E or P/B multiples with the historical mean multiples. If they are equal to or below the 10-year historical mean, the chances of you falling for a valuation trap are lower.

This is a general rule and the company/industry needs to be analysed. However, a good rule to keep valuations in check.
Focus on sectors which have been de-rated over the past 6-9 months only because of the valuation froth and a temporary fall in fundamentals. The key is to focus on sectors which have a long runway for growth, entry barriers, and an underpenetrated market.
Focus on the consumption theme as markets have already discounted a large part of inflation. Think QSR chains or multiplexes.
To conclude, think about all the stocks which you liked over the past 3-5 years but never bought because you thought they were expensive.
Now is the time to start looking at them.
Warm regards,



Aditya Vora
Research Analyst, Hidden Treasure
PS: On Monday, 20 June, Equitymaster's smallcap guru, Richa Agarwal, will reveal her 5-minute blueprint to become a one-stock Crorepati. Full details here.
Recent Articles