I've Identified the Winners from the NBFC Crisis with Price Action
Jun 19, 2019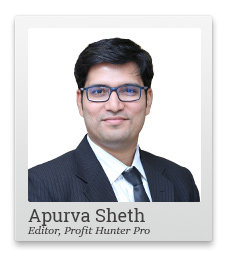 It's been more than 8 months since Infrastructure Leasing & Financial Services Ltd. (IL&FS) defaulted on its obligations. The IL&FS default was a trigger which uncovered all that was wrong in India's shadow banking industry.
Dewan Housing Finance Ltd was the first calamity after IL&FS. On 21 September 2018, DSP Mutual Fund sold commercial paper (CP) of DHFL worth Rs 300 crore in the secondary market at a yield of 11%. This sale was done at higher than market yields, i.e. lower than market prices. Naturally, it triggered liquidity concerns. The news sent the stock spiraling down 55% within an hour.
Since then the stock has only moved lower. It has also taken many other non-banking finance companies (NBFC) stocks down along with it. The problem with most of these NBFC's is the way they raise funds and lend them.
Many NBFC raise funds through short-term financing by issuing CP or non-convertible debentures (NCDs) to banks and mutual funds.
---

Advertisement

---

India's Bull Market Will Continue Until This Happens…

Money manager Porinju Veliyath recently said in an interview that India's bull market will show no signs of slowing down until the economy hits $8-10 trillion.

We're a long way off from that.

A very long way…

And as the Sensex gallops towards 100,000 – there's bucketloads of wealth to be made for investors.

Here are the top 3 stocks to start with…
------------------------------
They lend this money to small and medium enterprises mostly as long-term loans. This has created a situation where their assets (the long-term loans they provide) are not matching their liabilities (the short-term debt they raise).
The going was good until IL&FS defaulted after which the trust in the system was broken. This led to fear and panic among the NBFC's and various stakeholders. This fear has broken the funding cycle resulting in a full-blown liquidity crisis.
There is no doubt, the liquidity crisis is deep. In fact, it has even become a solvency crisis for some companies.
But it would be completely wrong to paint all NBFC stocks with the same brush.
I have reviewed price action of 5 NBFC stocks for my Profit Hunter Pro readers. I have shown that the crisis is a breeding ground for new trading opportunities.
Now price action can guide you to short-term trading opportunities. It can also give you a sense of stocks to pick for the next few years as well.
One of the most important principles of trading is - price action discounts everything.
Anything and everything that affects a company's stock prices (fundamentals, news etc.) is already priced in to the stock. There's a reason why traders believe Bhav Bhagwan Che (Price action is god).
You need not consider other factors separately if you know where and how to look for price action.
Last week, I showed all the stocks that are affected from the NBFC crisis in a completely new way to my Profit Hunter Pro readers.
Have a look...
The NBFC crisis and stock price behavior of banks and various NBFC's is giving us a very strong message. Just focus on the table below. I have segregated the stocks from banking and finance sector in to two parts.
Like I said earlier, it would be wrong to paint every stock with the same brush. The data below proves this fact. There is strong divergence in behavior of stocks from the same industry.
Stocks Within 10% of Their 52-week Highs or Lows
The stocks that are trading near 52-week lows are the ones facing multiple problems like defaults, rating downgrades, asset liability mismatch, management issues etc.
It's possible that some of them may not survive this crisis and the ones that do would be on a weaker footing. So, the moment next crisis comes along, these companies will be the most vulnerable.
On the other hand, the stocks that are trading near their 52-week highs have emerged unscathed from this crisis.
These are some of the well-run companies which will have enough fire power to sail through the rough weather. They could possibly even do better when the tide turns while the other group struggles and nurse their wounds.
So, no marks for guessing which one of these two groups will be the winner in the next few years.
Now I wish investing was as simple as picking stocks at 52-week highs and avoiding the ones at 52-week lows.
But if you simply go by probability, then the group of stocks trading near their 52-week highs has a better chance of doing well compared to the other.
What do you think? Share your views on the ongoing NBFC Crisis with me here.
Warm regards,

Apurva Sheth
Editor and Research Analyst, Profit Hunter Pro
PS: Decisive market movements make trading more fun and profitable. Sign up for Apurva's Profit Hunter Pro premium trading newsletter to make the most of these great opportunities. Click here to sign up now.
Recent Articles