Missed Investing in IPOs? Here's a Way Back In...
Jun 20, 2018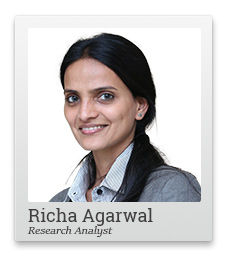 Over the last couple of weeks, I have been writing to you about the correction in small caps and the opportunities it will bring.
One such pocket of opportunity lies in the universe of companies that got listed over the last few years.
When their IPOs hit the markets, we recommended that you 'Avoid' most of them - over 90% of them, we believed, were not worth it.
We chose to stay away mostly due to their high valuations and lack of history on how their managements treat minority shareholders.
We were, of course, accused of being risk averse and ignoring the market mood. As the IPOs got oversubscribed then, we looked quite foolish... disconnected from the markets.
We knew we were walking a lonely path. But here's another thing we know...
...we chase value, and not stock price.
You see, we are okay being conservative, or missing a few opportunities. But we do not want to compromise on the management quality when it comes to recommending stocks.
And it's only after a company has been listed for some time that you can possibly have enough insight on this aspect.
I recently pulled out the list of IPOs we analysed (most with 'Avoid' view) in the last two years.
18 of these are in losses! Losses of, in some cases, over 40%.
--- Advertisement ---


Grab Reliable Small Companies Before Others Find Out About Them

Did you ever find yourself thinking, "I wish I had invested in Titan while it was still young?" Or even in Pidilite for that matter?

These were once-unknown-small companies that have grown rapidly in the last decade to become household names in India today. But there was no way you could have known that sooner… until now…

Through our Hidden Treasure service, we're providing opportunities like that today.

Click here to know all about Hidden Treasure…
------------------------------
Several IPOs of the last two years are also lagging Sensex in terms of returns (since January 2017, Sensex is up 34%).
Well, I for one, am not surprised with this underperformance.
The companies we avoided include the likes of Manpasand Beverages that was recently penalized for management and corporate governance issues....
Or a dairy company where management talk was all about pitching the stock and convincing the analyst community why it deserved 'FMCG' kind of valuations.
I'm glad that the markets and auditors are finally seeing the truth.
The performance of these IPOs validates our stand.
Having said that, let me now come to the opportunity in the companies that were listed in last three to four years.
You see, most of these IPOs have been in the small cap space.
In some cases, I quite liked the business models. But valuations kept me away.
But that is changing now.
The small cap index is down by over 15% from the peak in 2018.
And these companies that got listed over the last three four years have corrected as well.
Some of these are ripe for picking now.
In fact, my latest recommendation in Hidden Treasure is one such company, with limited listing history in the financial sector.
Even as behemoths and so called blue-chip like ICICI Bank and Punjab National Bank struggle with corporate governance and bad debt issues, this small firm enjoys the backing of a strong promoter and a balance sheet that is pristine compared to its peers.
And this I believe is just the beginning...
My team and I are set to meet a lot more companies that got listed over the last four years and look attractive now. I'll keep you updated on such opportunities.
As far as fresh IPOs are concerned, the frenzy is far from over. In fact, a few will open this month itself.
Do keep the long-term picture in mind when you are lured by the big pitches or peer pressure.
As you browse the tempting new IPOs, remember these wise words:
It's almost a mathematical impossibility to imagine that, out of the thousands of things for sale on a given day, the most attractively priced is the one being sold by a knowledgeable seller (company insiders) to a less-knowledgeable buyer (investors). - Warren Buffett
Regards,



Richa Agarwal (Research Analyst)
Editor, Hidden Treasure
PS: Honestly, it is so hard to ignore IPOs when the masses are thronging to buy them. But a better way to do it is simply to wait till we know whether the newly listed companies is going to be profitable or not. And now we know. Richa will ensure you do not miss the best small new companies. Follow her recommendations here.
Recent Articles