This Little-Known Opportunity Promises Both Health and Wealth for Your Grandchildren
Jun 20, 2019
Say a Martian visits Mumbai after a gap of few years and he immediately heads to the mall next door to buy clothes for his special someone.
As he's handed the shopping bag, there's a puzzled look on his face.
The clothes come stuffed in a paper bag. There are no more shiny plastic bags to wrap them up in.
When did Mumbaikars switch from plastic to paper, he starts wondering.
What's with their new-found environment consciousness?
--- Advertisement ---
Less than 72 Hours to Get In

In less than 72 hours, we will close the free registration for our One Stock Crorepati MEGA Summit.

Already thousands of Indians have registered with us, and hundreds more are rushing in to claim their free seats...

In this MEGA SUMMIT, our head of smallcap research, Richa Agarwal, will reveal the details of one stock with the potential to make one Rs 1 crore or more in the long run.

By the way, there may not be any replays available for this one-time MEGA Summit.

Although this MEGA Summit is free, we have a limited capacity.

Click Here to Reserve Your Free Seat
------------------------------
Well, the ban on select plastic bags in the city is only a few months old and I must say, so far, so good.
People are adhering to it with gusto.
But why is plastic falling out of favour?
Simply because the world is literally drowning in it and it's not exactly the most environment friendly material to drown into.
Try this simple exercise.
Bury a banana peel and a plastic bag in the ground and come back after a few weeks.
I will tell you what you are most likely to see.
While there would be no sign of the banana peel, your plastic bag will be exactly the way you left it. No damage done. You can literally wash off the mud and start using it again.
Top Stock to Buy: One stock with crorepati potential
Herein lies the danger with plastic.
The bacteria in the soil have evolved to break down something as natural as banana peel into useful compounds.
However, they turn their noses at plastic. Load their dinner plates with plastic and they will look away.
It is this stubbornness in being broken down and getting biodegraded that's turning plastic into a big menace and is threatening a big environmental disaster.
Plastic Pollution is Threatening to Suffocate our Planet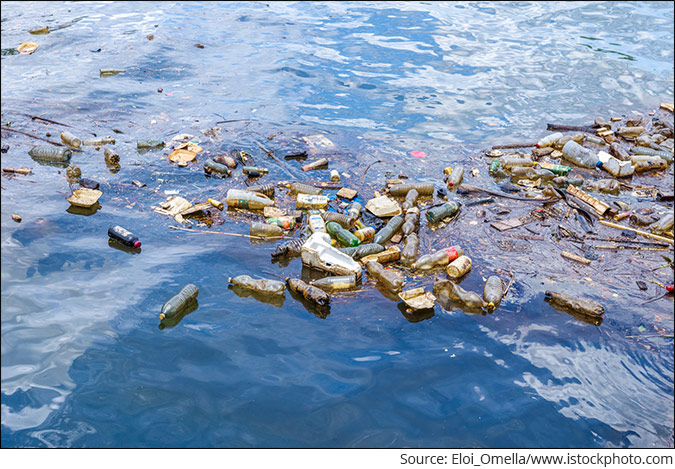 However, it is not just plastic we need to protect mother nature against. It is this whole gamut of things that are bringing to the fore the devastating effects of climate change.
URGENT RELEASE: Vijay Bhambwani's #1 Investment of The Decade. Get Details NOW.
In fact, as billionaire investor Jeremy Grantham opines, we are in the race of our lives to prevent the worst catastrophes emerging out of climate change.
Here's him giving out a dire warning.
We deforest the land, we degrade our soils, we pollute and overuse our water and we treat air like an open sewer, and we do it all off the balance sheet. Anything that happens to a corporation over 25 years out doesn't exist for them; therefore, as I like to say, grandchildren have no value to them
To be fair, the value of our grandchildren is certainly not lost on us. We have started to pour billions into greener technologies and renewable energy. And its effect in the form of a decarbonized economy is also beginning to bear fruit.
However, climate change is happening faster than expected and it will take no less than a herculean effort to stop the demon of global warming from wreaking immeasurable havoc.
Which is why the dawn of a new era of an environment friendly civilization seems closer than ever.
An era where we use plastic substitutes that don't clog our rivers and consume fuels that don't treat air like an open sewer.
And as investors, we don't want to be left out of this opportunity worth hundreds of billions of dollars. Maybe even a trillion.
But how exactly do we play this theme of environment friendly technologies?
Well, all you must do is keep an eye out for companies with products or services for a greener, cleaner planet.
And if these initiatives are getting a big push from the Government, that much better.
There's one problem though. The key to investing is not assessing which industry will be a potential gamechanger or which sector will grow the most. These things do matter.
But what matters even more is finding out companies from these industries that have a competitive advantage that's durable.
The products or services that have wide, sustainable moats around them are the ones that create wealth for shareholders.
There's no doubt potential for climate change companies is huge. However, for investors to truly benefit from it, they need to look at companies that can turn this potential into genuine long-term wealth creation.
Warm regards,



Rahul Shah
Editor and Research Analyst, Profit Hunter
PS: Dear reader, is it possible to make Rs 1 crore from just one stock? You can find out soon at the One Stock Crorepati MEGA Summit! Block you FREE seat now...
Recent Articles