The Link Between Diet Coke and 48% Profits in the Last Two Months
Jun 25, 2020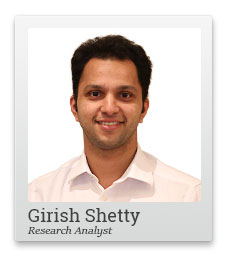 It's been 3 months now that we've been working from home. The first month was whole new experience but I miss going to office now.
Yes, work from home has its advantages. We save travel time. We spend more time with family.
But going to the office had its perks too. We meet and talk to like-minded colleagues. We also get to know people with different personalities and their quirks.
And there's one particular quirk I would hear every afternoon.
At exactly 2 pm, I would hear the hissing sound of a diet coke can being opened. I'm sure not a day has passed in office when I missed hearing that sound at 2 pm sharp.
Rahul Shah would have his diet coke without fail.
You see, Rahul is a very process oriented man. The one word that comes to my mind when I'm asked about him is 'process'. Be it his diet coke or his stock picking, Rahul is all about sticking to his process.
As Co-head of research of Equitymaster, he has a very good stock picking process.
To describe it in a single sentence, I would say it is all about taking emotions out of investing.
In fact, he is so rational, he actually uses emotionally-driven prices movements to his advantage!
I clearly remember in 2017, everyone was bullish on the Indian stock market. People said, just pick any stock, large or small, and they will go up in no time.
And for a while, the market did go up.
But we all know what happened after 2017.
So what was 'process-oriented' Rahul doing back then?
--- Advertisement ---
We are Bullish on These 3 Little-known Stocks

Our research has uncovered 3 tiny stocks.

You won't hear about these stocks from the mainstream media or your stock broker.

They generally ignore such small size companies.

But our research says, these 3 little-known stocks are set for a massive rally over the coming months and years.

They can potentially offer solid double and triple digit gains to investors.

So, if you are an investor looking to buy good stocks to invest in...when the markets are at all-time high...

Then you must seriously consider these 3 stocks.

You can get the details of these 3 stocks at our free online summit.

We would recommend you to sign-up at the earliest. Because we have limited FREE seats and they are filling up fast.

Click here to sign-up instantly. It's free.
------------------------------
He was 75% in cash. He recommended his subscribers to invest only 25% in stocks.
Why?
Because that's what his rational process told him to do.
It was a time when most traders and investors were extremely bullish on the stock market. The general consensus was, stocks could go only one way...and that was up.
Rahul's process was not winning him any fans. After all, being 75% in cash during a wild bull market is not a popular investing strategy.
So what happened in the end?
We got our answer one year later. His call to stay in cash proved spot on in 2018. Mid and small caps took a massive beating which continued all the way into 2020.
By going against the crowd and sitting on 75% cash, the damage to his subscribers' portfolios was limited.
Cut to the present and he's gone against the crowd yet again in 2020.
In March, we saw a market crash of a kind we haven't seen in decades.
The BSE Sensex was down 40% in a month. The BSE Midcap and BSE Smallcap indices were battered even more. Every so called expert's advice was to stay away from the market.
But Rahul's process told him this was an opportunity you get only once a decade.
He went ahead and recommended stocks. With the markets rebounding from the March lows, his calls have once again proven to be spot on.
Here's Rahul in his own words...
The Coronavirus led correction struck sooner than I anticipated. It was much deeper also.

However, I was fully prepared. When the stock market tanked almost 40% from the top, I decided it was time to finally start moving the 75% set aside in cash into stocks.

And this is precisely what I did.

Between March and June 2020, I made a total of 7 brand new recommendations. All of them are trading in the positive as I write this, with gains like 48%, 29%, and 25% in a span of just two to three months.

It was extremely difficult for me to go against the crowd and sit on 75% cash when stock markets were creating new highs.

However, I knew based on historical data that markets were expensive and there was a strong chance they would fall.

It was equally difficult to start recommending stocks when the market was down 40% from the top and everything around was falling like nine pins.

However, I knew based on historical data, the markets have now turned cheap and there was a strong chance they would go up.

More than the individual stock picks, it is what you do at these crucial turning points in the market that has a greater impact on your long term returns.

I've developed a system which tells me exactly what to do in these moments. It has worked well so far and I think it will continue to do so.

My system was inspired by investing stalwarts like Benjamin Graham and Howard Marks. It has clear timeless rules to ensure you enter and exit stocks at the right time.
Learn: How to Potentially Accumulate Rs 7 Crore in Wealth Over the Long-term
In volatile markets like what we are seeing right now, you need to trust a person with a proven investing process.
Someone who will stick to his proven process no matter what. Someone who won't give in to intuition and go along with the crowd.
I believe, Rahul is your go to person in this market.
With his Rapid Profits system, Rahul is picking stocks that can deliver triple digit gains in the next 1-2 years.
And he has already identified 10 stocks.
I'm sure Rahul will stick to his system come what may. That's why he's more likely to outperform the market in the long run, as he's done so successfully in the past.
If you would like to know more about Rahul's market beating system, I recommend you first hear him out, before deciding on using the Rapid Profits system yourself.
Rahul will talk about his system and the 10 stocks he has shortlisted, online on Monday, 29th June at 5pm, at the Rapid Profits Summit.
More than 3,000 astute investors have already registered for this exciting summit and we are expecting thousands more.
Meanwhile, I look forward to getting back to office and hearing the sound of a diet coke can being opened at 2 pm every afternoon.
Warm regards,



Girish Shetty
Research Analyst, Hidden Treasure
Equitymaster Agora Research Private Limited (Research Analyst)
Recent Articles