Did You Buy Your First Forever Stock?
Jun 25, 2021
Editor's note: In case you missed my Forever Stocks event on Monday, you can watch the video here.
---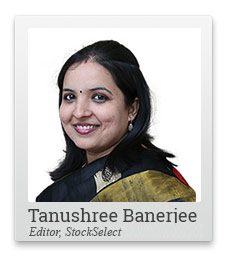 As you may know, I was recently live at the Forever Stocks web summit.
I would like to thank all who attended on Monday. You made it a big success.
The summit was hosted by Equitymaster's CEO, Rahul Goel. If you missed it, you can still watch the video here.
I explained in detail how I came upon the idea of Forever Stocks. I knew about them because I had studied Warren Buffett...but he only invested only in US stocks.
I wanted to know if such stocks existed in India and if yes, then how to go about finding them.
My research revealed not only the method of finding Forever Stocks but also the ideal number of these stocks you should hold in your portfolio: 20.
At the summit, I talked, in depth, about my research to identify Forever Stocks.
--- Advertisement ---
Revealing at 5pm Today - The Great Indian Wealth Project

Today at 5 PM sharp, we will reveal our Great Indian Wealth Project at a special online event.

At this event, our co-head of research, Tanushree Banerjee, will reveal the details of your first stock for accumulating a potential Rs 7 crore in long-term wealth.

Please watch this short video message, which Tanushree recorded just for you.




Watch Now
------------------------------
I also warned viewers about the 5 great enemies of an investor in these stocks.
Many viewers were interested in knowing how much money they could make in these stocks in the long term.
I showed them quite a few examples from the Indian stock market. Here are a couple of them...
Why Asian Paints is not a paint company
Yes, you read that right!
I don't think Asian Paints is a paint company...even though it makes paints.
So what was I talking about?
Well, explained exactly what this company does that makes it a Forever Stock.
Did you know that since listing in 1982, the value of its shares has gone up more than 20,000 times?
Anyone who had invested just Rs 500 in the stock back then and simply held on, his investment would be worth more than Rs 1 crore now.
But you could have bought it at any time during the past three decades.
Look at this chart...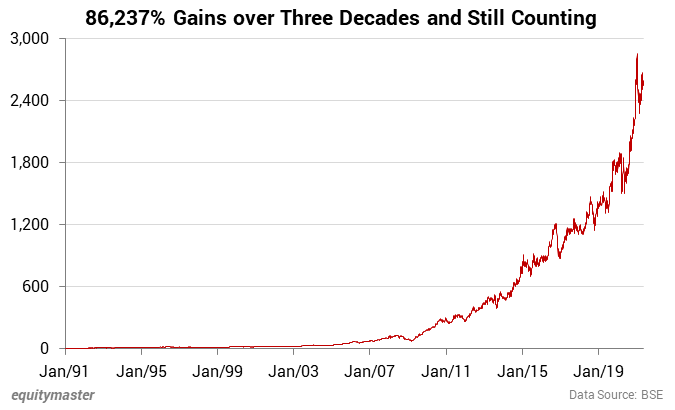 Had you bought Asian Paints in 1991, your investment would be up 863 times now.
Which means that a mere Rs 10,000 investment would have grown to more than Rs 86 lakh now.
I also shared the example of Pidilite...
Get Details: These 3 Stocks are the Dark Horses of the Stock Market
A carpenter's best friend
I've personally met the management of this company. It's a stock that we've recommended multiple times at Equitymaster.
But we had to give a sell recommendation when the target price was hit.
Now, there's nothing wrong with that of course. Most investors would be happy with the profits.
But what if an investor held on for the long term?
Well, at the summit I explained the DNA of Pidilite and how it become a Forever Stock. I also shared the returns the stock has delivered.
Look at this chart...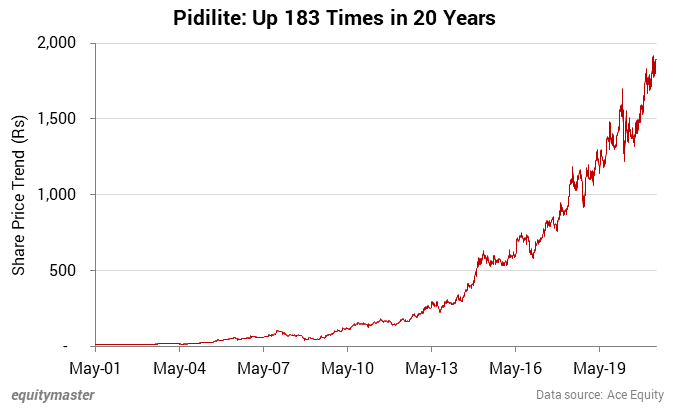 I'm sure you get the idea dear reader.
Forever Stocks are the best way to create generational wealth for yourself and your family.
Now, if you're in the camp that would prefer to wait and watch before investing in these stocks, I have some bad news.
At the Forever Stocks summit, I also explained why you have only a narrow window of opportunity to buy these 20 stocks.
I spoke about my belief about why India is on the cusp of a historic economic boom.
And why this opportunity might go 'out-of-stock' for another 20 years.
Anyone who is serious about creating generational wealth over the coming years and decades should build a solid portfolio now.
To sum up, these are the broad points I covered at the summit.
The criteria to identify a Forever Stock.
The common mistakes to avoid in the selection process.
When I will reject a Forever Stock candidate.
The right price to buy a Forever Stock.
How I will keep track of developments after a recommendation.
The 5 greatest enemies of an investor in Forever Stocks.
When it's necessary to sell a Forever Stock.
And most importantly...why you should start buying these stocks now.
I would once again like to thank all who attended.
And to those who decided to start their journey of creating generational wealth...
Congratulations!
By taking positions in the first 5 Forever Stocks I recommended, you have set yourself apart from the rest of the investing crowd.
I will be with you all the way.
Warm regards,

Tanushree Banerjee
Editor, StockSelect
Equitymaster Agora Research Private Limited (Research Analyst)
PS: In case you missed my Forever Stocks event on Monday, you can watch the video here.
Recent Articles