Make Rapid Profits with this Enlightened Investor
Jun 26, 2020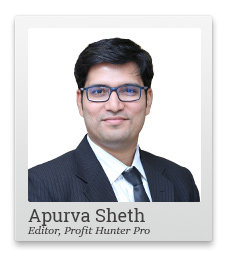 Indian stock markets have come a long way since its bottom in March 2020.
The Nifty 50 index is up nearly 33% from its lows. Midcap and smallcap stocks have started participating in the rally over the last couple of weeks.
The market breadth is strongly in favour of advancing stocks. Take the performance of CNX 500 stocks as an example.
Over a 20-day period only 34 out of 500 stocks are trading in the red.
31 stocks are up 50-100%. 152 stocks are up 20-50%.
Six stocks have more than doubled!
And all this has happened in just 20 trading sessions.
No doubt such rally has attracted retail traders and investors. This is natural because we haven't seen such a broad-based rally in a long time.
But the problem with retail participation is that they are generally too late to the party. They typically end up investing in dud and shady stocks right at the peak.
A lot of these investors don't have a tried and tested stock picking process. One which could generate good returns over a long period.
Even if they do invest in the right stocks they fail to exit them at the right time. Exits are much more important than entries in the stock market. After all, your exit price decides whether you made money or not.
Fortunately, I know of a smart investor who doesn't commit any of these mistakes.
--- Advertisement ---
How to Claim Bhambwani's 'Fast Profits' Book, Free

Today, we are going to show you how you can claim a hardbound copy of Vijay Bhambwani's Fast Profits book, virtually FREE.

This book is worth Rs 1,950.

But today you can claim it for virtually nothing.

How?

Just read the full details here...
------------------------------
In fact, he was probably among the few who recommended buying stocks after the markets collapsed in March 2020.
He is currently sitting on neat gains of more than 50% in several of his recommendations.
While many retail investors might be wondering whether to hold or sell, this smart investor has his exit plan ready even before he enters.
He is none other than Rahul Shah, my friend, philosopher and guide.
I have been missing my post-lunch walks to Marine Drive with him since the lockdown began. A 10-minute walk with him is more insightful than spending an entire day in the library.
I remember Rahul telling me on one of our walks before the lockdown that markets could look attractive if they fall further from here.
I could notice the shine in his eye when he said this. He believed it could be a once in a decade opportunity to buy stocks at attractive valuations.
True to his word, Rahul recommended not 1 or 2 but seven stocks between March and June 2020.
All are currently trading in positive territory. Some are up more than 50% in just 3 months.
URGENT RELEASE: Vijay Bhambwani's #1 Investment of The Decade. Get Details NOW.
Now I know what you are thinking. 50% gains in some stocks isn't a big deal, right? I just wrote that 31 stocks have gained anywhere between 50-100%.
But here's what makes Rahul different from everyone else.
Rahul has a knack of repeating these winning stocks. Just like clockwork, he has done this repeatedly in 2014, 2016, and now again in 2020.
You almost start doubting if there is any divine intervention!
Some of Rahul's earlier recommendations have gained 545%, 204%, 170%, and 150% all within a short span of 1-2 years.
Yes, consistent triple digit returns.
I asked Rahul how he manages to pick stocks at the most opportune time again and again. He humbly gave all credit to his process.
He said, 'I have built a process after careful study. This process has proven its mettle across market cycles over a long period of time. So, the only thing left for me to do is follow it diligently. That's it.'
Luckily for you, Rahul is going to reveal his process soon.
All you need to do is join him online at the Rapid Profits Summit on Monday, 29th June at 5pm.
Nearly 4,000 readers have already registered for the summit.
You can book your free seat here.
Rahul has identified 10 stocks that could generate rapid profits over the next few months. He will talk to you about these stocks at the summit.
Don't miss it!
Warm regards,

Apurva Sheth
Senior Research Analyst, Fast Profits Report
Equitymaster Agora Research Private Limited (Research Analyst)
PS: Join Rahul Shah online at the Rapid Profits Summit on Monday, 29th June. I'll tell you about the top 10 stocks to buy in this market. Click here to register for free...
Recent Articles