India is Poised to Bring Crypto Back: Regulation in the Works
Jun 28, 2018
Editor's Note: Recently, the country's banking regulator seemed to have admitted to moving against cryptos without any research of its own. But Prasheel thinks otherwise. Read on for his insights into how the crypto and blockchain regulatory space is evolving in India...
---
Ever since crypto mania hit India, with its stories of thousands of percent gains, the Indian government and regulators have been taking steps to try to dampen enthusiasm for bitcoin and cryptocurrencies.
The Reserve Bank of India (RBI), for instance directed banks and payment gateways to stop dealing with cryptocurrency exchanges in April. That was a big blow to the crypto activity in India...
So, crypto enthusiasts were naturally miffed.
A couple of weeks ago, I came across an RTI (Right to Information) request filed to RBI by a Delhi-based lawyer and crypto-enthusiast questioning the RBI's most recent move.
The RTI asked about the research the RBI was doing on cryptos before making these crypto-killing decisions, and whether it did any of its own.
The answer from the RBI: No.
Take a look...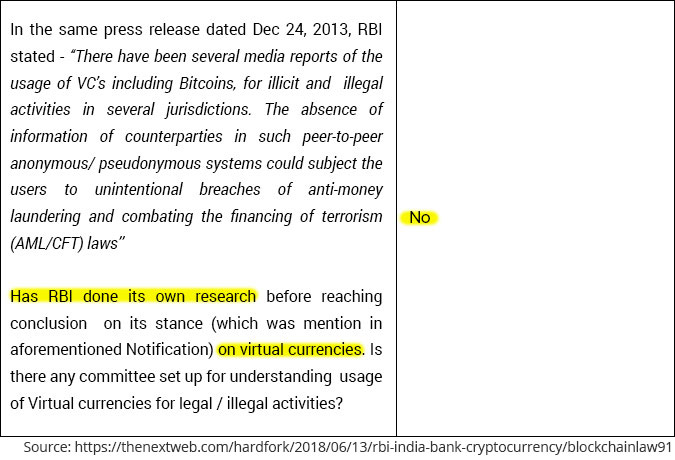 I'm pro-crypto as my readers know, but I am not foolish enough to think the RBI did absolutely no research before taking such a major step.
In this case I believe this is what really happened...
--- Advertisement ---


Grab Reliable Small Companies Before Others Find Out About Them

Did you ever find yourself thinking, "We wish we had invested in Titan while it was still young?" Or even in Pidilite for that matter?

These were once-unknown-small companies that have grown rapidly in the last decade to become household names in India today. But there was no way you could have known that sooner… until now…

Through our Hidden Treasure service, we're providing opportunities like that today.

Click here to know all about Hidden Treasure…
------------------------------
The RTI applicant did not ask the right questions!
I won't go into details here, but I can tell you this...
My understanding is that RBI is deep into understanding cryptos and blockchain. In fact, I would not be surprised if they had scores of people dedicated to the task of figuring all this out.
It's just that nothing has been published...other than the warnings of potential risks associated with investing in cryptos (which started in December 2013), and more recently an order to banks to stop dealing with crypto exchanges (again, note that they did not ban cryptos...they just decided to keep their bank network out of it).
Why did the RBI move against cryptos?
The crypto mania around here was getting a bit out of control - we want to have a sensible relationship with crypto and blockchain technology - not a speculative one.
So, the RBI's action seems to come from a place to 'protect' banks, and probably investors, from the uncertainties that come with cryptos.
But this doesn't mean they are wholly against cryptos - I believe they are just being careful. They need time to research and figure it out - the whole world does.
They could just decide to give up on cryptos and chuck it out completely, but I believe they won't...
Why cryptos will have a comeback
Government bodies and regulators are wholeheartedly embracing the use of blockchain. The Prime Minister, government officials, even the RBI are touting and promoting blockchain. (Remember, blockchain is the technology behind cryptocurrencies).
And the blockchain technology they love so much, is inextricably tied to cryptocurrencies.
So, unless they want to throw out the blockchain baby with the crypto bathwater, they are going to have to figure out a good way to regulate it.
Like I explained in an earlier edition of Profit Hunter:
While it is possible to build blockchains without a cryptocurrency attached to it, it won't be enough. All blockchains cannot function optimally without a crypto token element.

For example, Japan's biggest and the world's fifth largest bank - MUFG - is planning to move its operations on the blockchain by 2020.

For smooth operations, the bank is planning to test its own cryptocurrency for use in its blockchain the in the months to come.

The government's 'bitcoin is bad, blockchain is good' rhetoric is difficult to sustain in the long run as with effectively curbing the use of cryptos, the government will indirectly stifle blockchain innovation too.
Note that blockchain burst on to the scene only because of the massive interest surrounding cryptocurrencies like bitcoin.
Only after a massive adoption of cryptos did the corporations and governments take notice of the technology.
Curbing cryptos will mean that people would lose interest and eventually India will be left behind in blockchain and crypto innovation.
India better not get left behind
RBI and regulators need to open up dialogue with stakeholders and reach out to their global counterparts to understand how to deal with this extraordinary new technology.
They need to look for good examples for properly regulating it - rather than taking one stop gap measure after another.
For example, on one end of the spectrum, Japan legitimized bitcoin as legal tender over a year ago, with day-to-day transactions in bitcoin steadily gaining traction in the country.
South Korea is actively regulating cryptocurrency exchanges, and may soon treat them with the same regulatory oversight as it does for banks.
In the US, regulators like the Commodity Futures Trading Commission (CTFC) are investigating price manipulation in cryptocurrencies, and are actively engaged in dialogue with all stakeholders in the world of cryptos and blockchain.
Rostin Behnam commissioner of the CTFC had this to say at a United Nations event:
Blockchain is more than technology: it is an advance that reaches out into every aspect of life. We could use Blockchain to address the most basic, the most primal problems on our planet: corruption, income distribution, poverty, food, and health care, and the fear billions of people experience every day as they try to survive...

...And, as a regulator, I am pleased to be part of your discussion.
Indian regulators could take cues from advanced economies - which are actively studying and regulating cryptocurrencies and the blockchain technology - and come up with a solid regulation of their own, rather than taking the easy way out and taking uninformed steps to curb them.
Opportunity just around the corner...
Just last week, Subhash Chandra Garg, Secretary of the Department of Economic Affairs at the Ministry of Finance said that a framework for regulating cryptocurrencies is likely to be presented within the first fortnight of July.
A regulation for cryptos and blockchain would create a massive boost for blockchain adoption in the country.
Many businesses and startups are only dipping their toes in blockchain waters, and many more waiting on the sidelines in the absence of a solid regulatory framework.
This is going to open up a new world of opportunities for us, dear reader.
I will be keeping my nose to the ground, so I don't miss a thing. And if you are up for it, I am happy to keep you updated as I do my own research.
Warm regards,

Prasheel Vartak, CBP (Certified Bitcoin Professional)
Editor, Crypto Confidential
PS: Steeped in blockchain research himself, Prasheel is determined to move the country along with him. Join him to make sure you always know what's happening with the advances in blockchain technology and cryptocurrencies. Click here.
PPS: Dear reader, just in case you missed my editor's note, I would like to emphasise that our '500,000 app download celebratory offer' is for a limited period only. Download the Equitymaster Android App today and be immediately eligible to receive our premium report - How to Pick Money-Spinning Stocks Like Warren Buffett (worth Rs 950) for FREE! Also...you will be immediately eligible to receive exclusive 'App Only' offers...the latest offer will be available tomorrow! So don't hesitate dear reader...if you're reading this on your mobile, head over to Google Play Store and download the app right away!
Recent Articles