FREE REPLAY


Richa Agarwal's Top 3 Stocks
for 2023 MEGA Summit
Don't Wait for the Bottom. Here's a Better Investing Strategy
Jun 28, 2022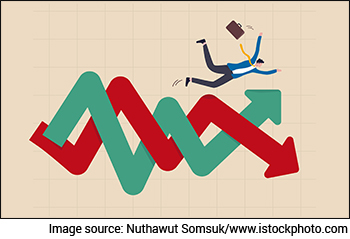 Growth stocks have become value stocks.
The times, they are a-changing. The sentiment and narratives in the market have changed...and how!
Here's are some examples....
Look at this in Financial Times.
From growth to value stocks.

Perhaps, the most notable outcome is that Meta, Facebook's parent, will join the Russel 1000 Value index after being a key component of its growth index, essentially, since its 2012 listing.

The likes of Netflix and Paypal may also be in the value bucket when final cuts are disclosed.

All three have seen their shares dive by 54% in the past 12 months. The group themselves will not concede that their high flying days are over, even if their valuation multiples have also plummeted into the territory of value. That is the most damning word in their dictionaries.
Back home, the story is no different.
--- Advertisement ---
Missed Watching Richa Agarwal's Top 3 Stocks for 2022 MEGA summit?

Here You Go...

Catch a FREE REPLAY Here.
------------------------------
Loss making unicorns like Zomato, Nykaa, Policybazaar, and Paytm, some of which listed at huge premiums, are learning that profits and cash flows are critical ingredients in the value and return equation.
Here's another...
From boundless optimism to recession warnings.
I recently came across a tweet on recession warning from Cathie Woods, the founder and chief investment officer of ARK Investment Management LLC, who made a name for herself by investing in disruptive technologies.
I must admit these are hard to discriminate from speculative bets. Her fund delivered stellar returns in the post Covid rally. At its peak, the returns were 3x.
These were the times when risk taking behavior was getting rewarded. Caution was labelled meekness. Buy at any price investing was the mantra. Value investing seemed to be an outdated concept.
And investors like Warren Buffett were being written off by some in the media.
--- Advertisement ---
3 Next-Generation Defence Stocks Potential 33x Opportunity by 2030

This decade belongs to defence stocks.

We are staring at a potential 33x opportunity by 2030.

But it is absolutely important that you choose the right defence stocks to ride this opportunity.

We've already identified 3 next-generation defence stocks for you...

These companies are into developing cutting-edge military technologies where we're seeing a huge potential.

If you're a serious investor, then you should not miss these 3 stocks for anything.

Full Details Here
------------------------------
The performance never acknowledged cheap money that had taken markets and valuations to stratospheric levels.
There are investors for a season. And then there are legends for a reason.
The difference is obvious when the tide turns down. ARKK fund is down 7% from January 2020 levels. Berkshire Hathaway's is up 22% despite the brutal correction in the US market.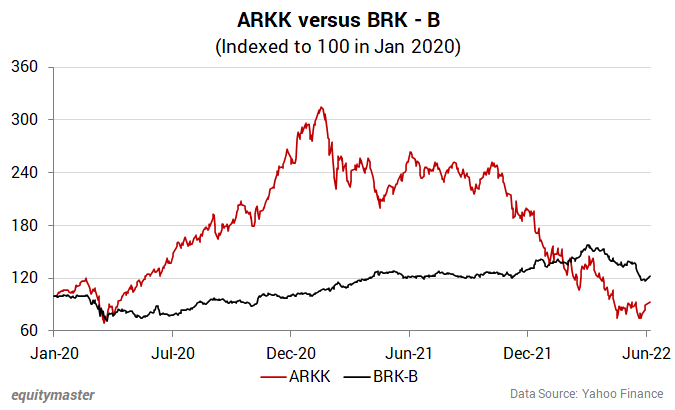 So what do we make of these volatile times and shifting narratives? How can we use them to get investing results that stand the test of the time?
To be sure, markets could get rougher.
The Russia-Ukraine war, high crude oil prices, shortage of commodities, supply chain disruptions, technological disruptions, rising interest rates, and high inflation...
The factors keeping market sentiment negative are huge and are playing out in full swing. Thus, there could be more correction ahead.
A cousin of mine that invested in the US tech stocks at their peak is waiting for further correction in Indian markets to put in more money. If you are of the same view, I don't think that's a good idea.
There is enough data and history, in Indian and across global markets, to suggest that timing the market is a futile exercise. In fact, missing the 10 best days, over 2 decades, could make a huge dent in the final value of your portfolio.
And there is no expert who could predict what those 10 days would be.
Watch my video for details.
I believe whether you follow growth investing or value investing, as long as you are respecting the 'margin of safety' in the stocks you invest in, you will do fine. That's the mantra that legendary investors would vouch for.
It doesn't matter whether you identify yourself as a growth or value investor. It's important to not pay a price for a stock higher than its intrinsic value.
That was from the perspective of valuations. From a business perspective, look for companies with the highest capacity to survive.
In the last few years, the Indian economy has been through some major disruptions.
GST, demonetisation, IL&FS crisis, covid, and also a phase when smallcaps fell almost 50% from the peak...only to come back stronger.
The lesson is clear. Tough times do not last. Tough businesses and managements do.
In the recent correction, there are quality businesses that have seen a sharp fall of up to 50%.
This could be a rare window when great brands are available at a bargain. And when you could own a stake in the business at a price cheaper than what big investors have paid for it.
From a quantitative perspective, as I have shared before, check these metrics...
Consistency in profit margins
Growth
Management quality
Cash flows in comparison to earnings
Historical and current valuations
Also use keep a track of insider buying or buybacks. These could further help you get an insight into the true value and margin of safety in the business.
For more such updates on investing approach in volatile markets, stay tuned...
Warm regards,



Richa Agarwal
Editor and Research Analyst, Hidden Treasure
Recent Articles