Make the Most of this Small Cap Crash
Jun 29, 2018
Editor's note: Dear reader, we are celebrating 500,000 downloads of the Equitymaster Android App! Thank you for your support. To show our appreciation, we have a great offer for you. If you download the Equitymaster Android App... you will be immediately eligible to receive our premium report - How to Pick Money-Spinning Stocks Like Warren Buffett (worth Rs 950) for FREE! This is in addition to the complete Equitymaster experience on your Android smartphone. All our recommendations, two e-newsletters - The 5 Minute WrapUp and Profit Hunter - Chart of the Day, Intelligent Portfolio Tracker, the daily market commentary and more. If you're reading this on your mobile, head over to Google Play Store and download the app right away!
---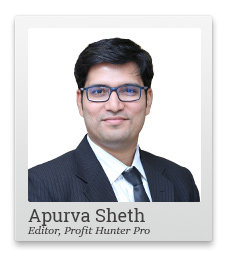 Smallcaps stocks are battered down for quite some time. Last month, I wrote how Sensex stocks were behaving like a snobbish Chatur from 3 Idiots and performed the best.
On the other hand, Midcap and Smallcap stocks behaved like Farhan and Raju and stood last. The situation hasn't changed much over the last month.
Sensex is up by more than 5% on a year to date basis while Midcap and Smallcap index are down by 11% and 14% respectively.
Smallcap is the only index whose condition worsened since the last time I wrote about it a month ago. Yesterday, the BSE Smallcap index witnessed yet another fall and traded at lowest level for 2018.
Now where does this leave us? Could there be a turnaround possible in the Smallcap space?
Let's look at the charts...
The above is a weekly chart of Smallcap index for the last 5 years. The index has witnessed two major corrections during this period. First was in January 2016. The index slipped 21% in about 2 months. Second was in October 2016. The index slipped almost 16% in two months.
This time around the index topped out in January 2018 and has slipped more than 20% so far and has already taken more than normal time it took during the last two corrections.
Apart from this it is already placed near a long term trendline support. If the index holds above this trendline then it would be a strong signal for the bulls.
Now the Smallcap index is like a big forest with hundreds of wild animals (volatile stocks) in it.
Trading smallcap stocks is the most difficult aspect and you need to filter them very cautiously.
--- Advertisement ---


Grab Reliable Small Companies Before Others Find Out About Them

Did you ever find yourself thinking, "We wish we had invested in Titan while it was still young?" Or even in Pidilite for that matter?

These were once-unknown-small companies that have grown rapidly in the last decade to become household names in India today. But there was no way you could have known that sooner… until now…

Through our Hidden Treasure service, we're providing opportunities like that today.

Click here to know all about Hidden Treasure…
------------------------------
Thankfully, at Profit Hunter Pro, I do it for you by keeping an eye on price action.
But I am not alone there is a big team helping me do that. And Richa Agarwal leads that effort.
Richa is the editor of Equitymaster's extremely popular small cap stock recommendation service, Hidden Treasure.
What really sets Richa apart is her 'boots on the ground' approach.
Most stock analysts do all their research from their office, but Richa goes the extra mile. She travels hundreds of thousands of kilometers in search of new investment ideas.
There is nothing wrong in choosing either of the approaches. But why pick one when you can enjoy both.
At Profit Hunter Pro, I club both these ideas and bring them to my subscribers. As a part of this endeavour I want to give you a sneak peek in to how Richa's boots on the ground approach helps her come up with best stock picks for her subscribers and eventually to Profit Hunter Pro subscribers as well
Here's Richa in her own words...
Unlike big companies that're well covered by media, fund managers, analysts, and brokerages, very few are tracking the smallcap space.

It does not help that the management of these companies are hardly invited by the media for investors to get a sense of the business.

Often, all these companies have in the name of disclosures is an annual report that barely runs into 60-odd pages.

The general perception is 'this space is risky'. There is some truth in that. A lot of shell companies, fly by night businesses and operators belong to this space.

But if you notice, it's the lack of knowledge, rather than quality that makes people stay away from this space.

A 'boots on the ground' approach can plug this knowledge and trust deficit.

Visiting company's plants and interacting with the managements, doing industry and competition analysis, getting insights from other people in the industry, scuttle-butting, and channel checks helps me weed out businesses with bad fundamentals.

In meetings, it's not just about what the management says. Their tone, body language, and how they are dealing with challenges or respond to a tough question gives me a lot of insight.

In business, past returns and performance are no guarantee of future. I know a lot of businesses that looked attractive purely on the basis of numbers and valuations. It was only after speaking to the management I got to know the various structural changes that were happening that would have made the business environment difficult.

Also, these meetings often introduce me to a new stock idea like a listed competitor that the management really appreciates, or a listed supplier, or a listed client that the management swears by.
So that's how Richa's boots on the ground helps her consistently generate market-beating returns like...
288% in 2 years 5 months from KPIT Cummins
217% in 3 years 11 months on Zylog Systems
171% in 2 years 6 months from Solar Industries
140% in 3 years 11 months from Mirza International
...and many more!

*Past performance does not guarantee future results
Now that's not all - Richa has just held a live web summit especially for Hidden Treasure subscribers where she revealed her new approach to pick stocks that have the potential to generate 1000%+ gains as well.
If you are a Hidden Treasure subscriber and you missed it - keep your eye out for the replay today.
If you want to be a subscriber, find out how you can by going here.

Apurva Sheth (Research Analyst)
Editor, Profit Hunter Pro
PS: Richa Agarwal, editor of Hidden Treasures, has her next batch of potential 100-baggers all lined up. With the recent small cap correction - there are more buying opportunities than ever. Subscribe here.
Recent Articles