This All-Important Number is Predicting a Big Rally in Small Stocks
Jun 29, 2020
Back in 1969, a successful investor, all of 40, penned the following swansong for his clients.
On one point, however, I am clear. I will not abandon a previous approach whose logic I understand (although I find it difficult to apply) even though it may mean foregoing large and apparently easy profits to embrace an approach which I don't fully understand, I have not practiced successfully and which, possibly, could lead to substantial permanent loss of capital.
Right before he wrote this letter, this investor had racked up a performance that was the envy of the investment world.
In over a decade, he had outperformed the benchmark by a factor of 7x and that too after deducting his fees.
However, he was shutting shop because he could no longer find enough stocks that fell within his circle of competence.
So instead of risking his clients' money by venturing outside his circle, he decided to return it and bid adieu to his partnership.
If you haven't guessed it by now, this gentleman was none other than Warren Buffett.
And this short discourse is as much about a technique to identify stock market tops and bottoms as it is about Buffett's stupendous track record.
While reading up on value investing, I have come across several instances where some of the most successful investors have either shut shop or moved out of stocks because of a paucity of bargains.
Put differently, once the number of stocks that trade below book value or even below their net working capital dries up, these investors take it as a sign of a market top.
--- Advertisement ---
3 Stocks for Potentially Massive Gains

COVID-19 has triggered a fundamental shift in the global economic and geopolitical map.

This reshuffling of the geopolitical map is just ONE of the forces fuelling the great Indian revival.

A revival that will restore the power, wealth, and influence we once enjoyed.

And, those who invest in the companies at the heart of this revival could turn a small stake into generational wealth.

Our co-head of research, Tanushree Banerjee, has narrowed down on 3 specific stocks.

She strongly believes, these 3 "revival stocks" could potentially offer massive gains.

Click here to learn more about this mega opportunity
------------------------------
Walter Schloss may not be as famous as Warren Buffett. However, his long term record is no less impressive than the Oracle of Omaha.
He shut shop a few years back because he could no longer find enough stocks that were trading below their book values.
Ben Graham, mentor to both Schloss as well as Buffett, had shared similar observations on quite a few occasions in the past.
He was of the view that one should move out of stocks and into the comfort of bonds if there aren't enough net-net stocks available in the market.
Net-net stocks are those stocks that trade below their net-working capital after deducting all long term liabilities.
The chart below which goes back almost 7 years, lends further credence to this theory.
The Right Time to Climb Aboard the Big Rally in Small Stocks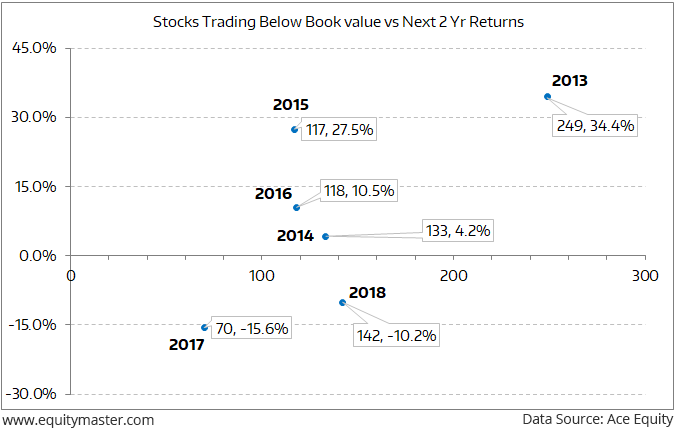 Take a look at the dot to the bottom left of this chart.
Back in December 2017, only 70 stocks, were trading at a discount to book value.
And as Buffett and Schloss would have rightly pointed out, the Indian stock market ended up doing poorly over the next couple of years.
Revealed: 3 Stocks for Potentially Massive Gains
The BSE Small Cap index fell by a CAGR of almost 16% during this two year period.
And guess what happened at the other extreme.
The number of stocks trading below book value was the highest back in 2013. The small cap index went up by a whopping 34% CAGR over the next couple of years.
The takeaway for Indian stocks seems to be simple.
When the number of small stocks trading below book value fall significantly below 100, it is time to book profits and move out of small stocks.
And when the number of these small stocks rises above 200, it's a good time to enter these small stocks and ride the big upside.
This brings me to the good news.
As of writing this, there are more than 260 stocks trading at a suitable discount to book value.
I call them Rapid Profits Stocks.
And I believe this is one of the best times in recent years to buy these stocks.
The last time this happened was in 2013, which led to a strong small cap rally in 2014 and 2015 and which produced several multi-baggers.
I strongly believe it will happen again.
In case you are wondering which stocks to buy, I have put together a list of the top 10 Rapid Profit stocks.
At 5 pm this evening, at the Rapid Profits Summit, I will share my system on how to identify these stocks and I will also reveal the details of these 10 stocks.
I invite you to watch this free summit online at 5 pm. Register with 1-click here.
Looking at the number of people who have already registered to attend, I'm expecting about 10,000 astute investors to join me at 5 pm today.
I hope you will be among them.
Good Investing,



Rahul Shah
Editor, Profit Hunter
Equitymaster Agora Research Private Limited (Research Analyst)
PS: Join me online at the Rapid Profits Summit this evening at 5 pm. Sign up for free here.
Recent Articles