War Profits


Revealing a Potential 33x
Opportunity in Defence
Not India's Tesla. Ride the Fortune to be Made in India's SpaceX
Jun 29, 2022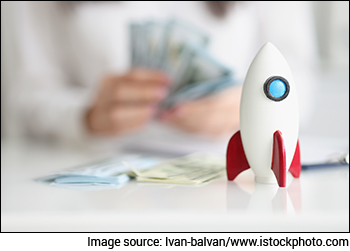 In 2022, the Indian Space Research Organisation (ISRO) turned 50.
The institution's R&D activities over last 5 decades were reasonably secretive, if not obscure. They were certainly not in the realm of commoners like us to track.
So, space related commercial activities were almost unthinkable. But in the last few years, things changed. And dramatically so.
Most of the changes germinated in the space startups.
For instance, in 2018, two undergraduate students at BITS Pilani were working on artificial intelligence project. They faced a problem. Their analysis was handicapped by the lack of high-resolution satellite imagery data.
They soon realised there is a market for a satellite company to offer high-resolution imagery data. This was the start of Pixxel Space, a space tech startup which offers high resolution satellite imagery.
With these images, the company seeks to solve various problems in climate change and agriculture. In less than 5 years, Pixxel Space is one of the 100 odd space tech startups operating in India.
There are two catalysts for this trend.
--- Advertisement ---
Next 10 Yrs Belong to this Sector... Potential 33x Growth...

We rarely get to see this kind of growth these days.

It's a potential 33x opportunity by 2030.

The next 10 years belong to this one sector.

As per our research, this could be one of the fastest-growing sectors of the stock market by 2030... and possibly even beyond.

If you're an investor, then you simply cannot ignore this sector today.

Otherwise, you could be leaving a lot of money on the table.

We're going to reveal everything about this mega opportunity on 22nd August... including details of 3 stocks to ride this potential 33x opportunity.

You can click here to get all the details...
------------------------------
First, the many changes in the Indian space policy.
Second, the setting up of Indian National Space Promotion and Authorisation Center (IN-SPACe). Together, they have allowed Indian private space ventures to take a giant leap.
The government is now encouraging the manufacturing of satellites in the private sector for applications across healthcare, agriculture, urban development and property tax estimation.
So, SpaceTech startups like Pixxel, Skyroot Aerospace, and Agnikul Cosmos are collaborating with ISRO for satellite imagery as well as future space missions.
But are these SpaceTech ventures viable?
Well so far, the funding and technological collaboration of the SpaceTech startups has been very encouraging. Funding into this sector jumped 198% in 2021.
Also, over 55 new startups have registered with the Indian Space Research Organisation (ISRO) and the Department of Space (DoS) since the opening up of the sector to private players in 2020.
--- Advertisement ---
Top 3 Stocks to Buy During This Market Correction...

Amid recent correction, stocks are trading at prices cheaper than what investors have paid to own them a few months ago.

The bears are short selling to profit from this down market, but...our Smallcap guru, Richa Agarwal believes now is the time to BUY them.

In fact, her latest research has revealed 3 stocks that have the potential to create India's next wave of 'Crorepatis.'

Just watch this short video right away and know how to grab the details on Richa's top 3 picks today...
------------------------------
These are involved in activities across the SpaceTech supply chain. Up-stream companies make satellites, rockets, propulsion systems, new rocket fuels, etc. Down-stream companies among other activities, analyse satellite data to provide useful images.
The icing on the cake was American aerospace giant SpaceX expressing interest to facilitate approvals for the use of satellite technology in India. This was meant to further penetrate its satellite-based internet offering in rural India via its Starlink service.
Whether or not SpaceX comes to India, the Indian SpaceTech ecosystem is large enough to attract billions in funding and innovate to make India a commercial space tech hub.
Mind you, the ecosystem is brand new and much bigger than that of electric vehicles.
Here too I would not bet on the most obvious contenders. Companies looking to launch commercial satellites or invest heavily in satellite imagery could carry a high risk on their balance sheets.
Rather, find niche space companies assisting the space tech ventures with advanced technology, while being profitable. These are much safer investments.
The stock of one such company recently made it to Equitymaster Venture.
Other stocks may follow suit.
Watch this 'space' for more...
Warm regards,



Tanushree Banerjee
Editor, StockSelect
Equitymaster Agora Research Private Limited (Research Analyst)
Recent Articles