This 6,729% Gainer Stock Should Remind You of Vakrangee
Jul 1, 2020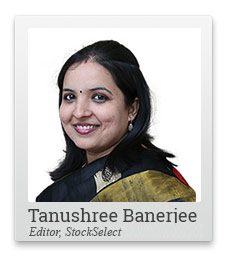 It isn't every day that we come across 10 bagger stocks and it's certainly rare to reject one.
But as a Profit Hunter reader, you know well, we do that when we must.
Back in January 2018, the BSE Sensex was exactly where it is today. The benchmark index had gained over 35% in a year.
But a little-known stock was grabbing all the headlines.
It was in the news for having crossed Rs 500 billion in market cap. The tiny software company's market cap was higher than companies with almost 4 to 5 times its sales and profits.
Investors in Vakrangee Ltd were rubbing their hands in glee. After all, the stock had turned into a 10 bagger in just two years.
And it had been a 100 bagger over 10 years.
The reason we were not lured by the stock was the vast difference in its fundamental and market performance.
We wrote about it here: We Rejected this 100-Bagger...Here's Why.
--- Advertisement ---
Rahul Shah's Lazy Millionaire Summit Is Now LIVE...

Discover the Master Key to Turning Every Market Crash to Your Advantage

Hurry up! Join in now...

Click Here to Join the Lazy Millionaire Summit
------------------------------
What followed was a nightmare for retail investors. The stock of Vakrangee crashed over 90% in five months.
Not only did investors lose money in the stock but Vakrangee literally opened the can of worms of bad accounting and bad audits among companies with questionable business models.
Market Darling of 2018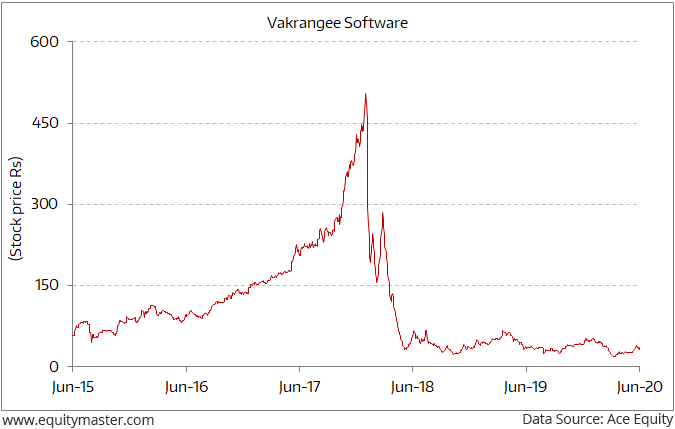 Two years since, the sharp post Covid-19 market rally has erased the memories of buying bad quality stocks.
The latest stock to make headlines is Ruchi Soya Industries.
The stock was in fact relisted in January 2020. This was after Patanjali group acquired the bankrupt edible oil company earlier this year.
Equitymaster's Stock Screener: Identifying High-Potential Stocks Has Never Been this Easy
Since then, the stock has soared 6,729%.
Market Darling of 2020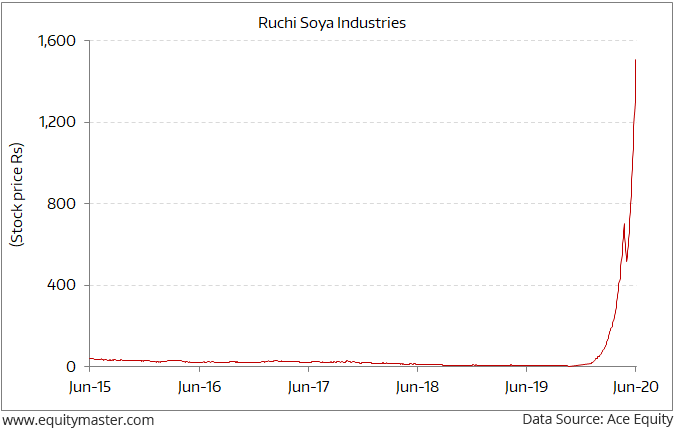 The similarity in the price movement of Vakrangee and Ruchi Soya are unmissable.
But thanks to the euphoric mood in the markets, these are not the only questionable stocks investors are flocking to.
Retail investors are known to enter stock markets at the peak. Every market bust that followed the boom - dotcom bubble or Harshad Mehta scam or subprime bubble - wiped off their wealth.
This time around, however, retail investors were largely quick to act on the Covid-19 market crash. They bought stocks in an environment of extreme fear.
--- Advertisement ---
There is a new paradigm shift currently unfolding across the global economic landscape...

And at the heart of this massive SHIFT is...

INDIA!

India is on the verge of a multi-trillion-dollar rebirth that could potentially mint countless new millionaires...

If you are on the right side of this mega shift, then it could be your biggest opportunity to build potentially massive wealth over the long term.

Click here to find all the details...
------------------------------
And in doing so trounced even the so called smart money investors. The gains over last three months has made retail investors look like heroes compared to the market experts.
However, losing memory of Vakrangee and buying stocks like Ruchi Soya could undo their gains.
As I write this, the stock of Ruchi Soya has been locked in lower circuits since Monday.
In my premium webinar, I explained how on average, six out of ten stocks that have gained 30% or more, in past three months, have terrible fundamentals.
Holding on to such stocks could only pose the risk of sharp wealth erosion.
Like I always say, to finish first you must first finish.
It's my goal to ensure the mistakes of past market bubbles do not cut into your personal wealth creation journey today.
I'll write to you with more on this soon.
Warm regards,

Tanushree Banerjee
Editor, StockSelect
Equitymaster Agora Research Private Limited (Research Analyst)
PS: Watch Rahul Shah talk about his top 10 stocks at the Rapid Profits Summit here...
Recent Articles