India's Third Giant Leap
This Leap Could Potentially Generate Gains
Far Bigger than Anything We Have Seen in Our Lifetimes
The 5-Point Checklist to Save You from Toxic Stocks
Jul 2, 2018
At a time when companies are being caught out in unethical practices at an alarming rate, causing their stocks to tank, taking investor wealth with it, you, dear reader, MUST pay attention to the goodness of the companies you choose to invest in.
Which, of course, raises the question: How?
How do you figure out whether a company is cooking its books?
What are the signs of bad financial reporting?
In my years of scanning annual reports and analyzing financial statements, I usually found the devil in one or more of the following details... keep an eye out for these issues - and if you spot them, put some distance between you and the stock.
Inconsistent Depreciation Rates: Watch out for companies where there is a huge variation in depreciation rates as a percentage of Gross Fixed Assets (GFA). This is usually a sign of shenanigans used to make earnings look good and an effort to delay huge depreciation expenses.
Inconsistent Tax rates: It's fine if a company is paying lower taxes as a percentage of profits. But there has to be some consistency in tax rates. I get suspicious when companies paying 30% tax rate in one year suddenly bring it down to 10 or 12%. Huge variations like these is a sign something may be amiss.
Sound Dividend Policy: Dividends are real while earnings are fictitious - so goes the adage. I like to see consistency in dividend payouts. I don't mind low payouts as the company could be investing in growth. But if there are no dividends at all even after years of making profits or if there are payouts but they are highly volatile, I consider this a sign of weakness.
--- Advertisement ---


This Email Contains Time Sensitive Information

Today, you have the chance to join an elite group of people and get access to cherry picked investment ideas from 8 of our most premium services (normally cost Rs 314,000 per year for full access) …

For JUST Rs 950 per month…

Now I know some will find this difficult to believe…and as a result they may miss out this opportunity of a lifetime.

But if you are serious, you must act fast because this opportunity won't be available for too long.

So, just click here for full details…
------------------------------
Capital Work in Progress as a percentage of GFA: I would love to penalize companies where there is a huge variation in capital work in progress as a percentage of GFA. I am fine if this ratio is consistently high or consistently low. But the higher the volatility, the higher the possibility that the management is trying to underreport expenses and overreport earnings.
Contingent Liabilities: As the name suggests, these liabilities turn real only when the event they are contingent upon does so. They are not a part of a balance sheet in the normal course of things. However, I tend to get uncomfortable if they account for a large part of the company's net worth. For if they turn real, they could land the company in serious trouble by wiping out a huge chunk of its net worth.
By themselves, these parameters may not yield much information about the quality of financial reporting of a business. But combine them and you could be well onto something.
Well, I will let you figure it out for yourself. Here are the top 20 companies in our share market that scored the best and the worst in my forensic accounting stock screener comprising of the above five parameters.
I simply ranked them on their consistency across all these parameters and arrived at a cumulative score.
| The Safe Territory | The Dangerous Territory |
| --- | --- |
| Hawkins Cookers Ltd. | Manugraph India Ltd. |
| Pidilite Industries Ltd. | HCL Infosystems Ltd. |
| Excel Crop Care Ltd. | WPIL Ltd. |
| Nestle India Ltd. | Opto Circuits (India) Ltd. |
| Relaxo Footwears Ltd. | Petron Engineering Construction Ltd. |
| Mahanagar Gas Ltd. | United Spirits Ltd. |
| MOIL Ltd. | Mercator Ltd. |
| Divis Laboratories Ltd. | Nagreeka Exports Ltd. |
| Castrol India Ltd. | Mcnally Bharat Engineering Company Ltd. |
| Apollo Hospitals Enterprise Ltd. | Garware Polyester Ltd. |
| Transport Corporation Of India Ltd. | Pioneer Investcorp Ltd. |
| Ratnamani Metals & Tubes Ltd. | Vaibhav Global Ltd. |
| Orient Refractories Ltd. | Shriram EPC Ltd. |
| Godfrey Phillips India Ltd. | JMC Projects (India) Ltd. |
| Power Grid Corporation Of India Ltd. | Asian Hotels (West) Ltd. |
| NMDC Ltd. | TVS Electronics Ltd. |
| LIC Housing Finance Ltd. | Bajaj Hindusthan Sugar Ltd. |
| Jubilant FoodWorks Ltd. | Emmsons International Ltd. |
| Bharti Infratel Ltd. | Jindal Photo Ltd. |
| Bharat Electronics Ltd. | AGC Networks Ltd. |
Data Source: Equitymaster, ACE Equity
This is a study that was done for the five-year period between FY13 and FY17 and the universe was more than 900 companies with revenues of at least Rs 3 bn.
For someone familiar with the Indian stock market and its hits and flops over the last few years, the names above do inspire confidence in the screening criteria.
There are a lot of quality names out there in the category marked as 'safe'. Likewise, the stocks labeled 'dangerous' have names that have been in the news for all the wrong reasons.
Here's another data point in favour of this five point checklist.
Bucket Wise Returns Over Last One Year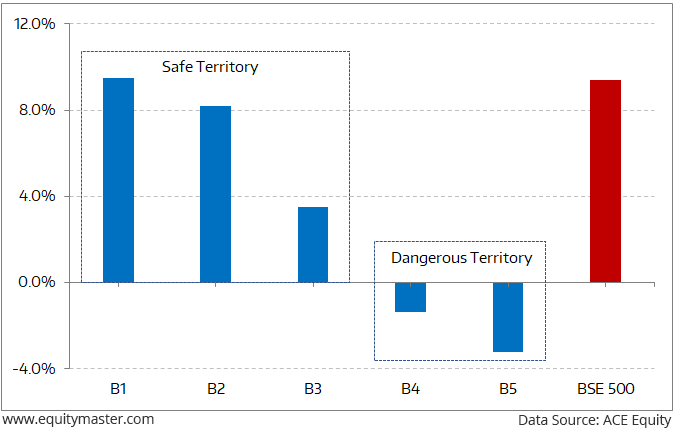 If you put all the stocks in the universe in five equal buckets such that B1 bucket contains the stocks with the best scores, B2 second best and so on, investing in the top three buckets i.e. top 60% stocks would have given much better returns than the bottom 40%.
Mind you, this is even without considering other factors like quality of the management, the soundness of the business model and valuations. Focusing on these five parameters alone would have helped you stay from the so called poisonous stocks where either the fundamentals are broken or financial shenanigans are being resorted to.
I think this checklist is a great tool, especially in the current times where a lot of cockroaches are being discovered from the financial kitchens of small and mid-sized companies.
When used along with other research tools, this checklist will alert you to their presence much before these creatures slither out of their holes and make investors run for cover.
Good Investing,



Rahul Shah (Research Analyst)
Editor, Profit Hunter
PS: For someone who sifts stocks through multiple filters before cherry-picking the absolute best for his subscribers, follow Ankit Shah, the Equitymaster Insider, by subscribing here.
Recent Articles