I Believe this is the Best Stock to Buy Today
Jul 3, 2019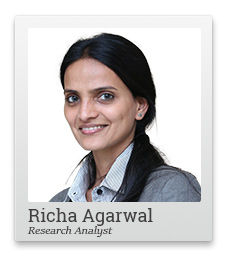 The small-cap space has become a boring place these days.
After falling sharply in the first part of 2018, many would have thought small-cap stocks would see an equally sharp rebound.
But as things have turned out, they've gone nowhere for almost a year now.
The BSE small cap index first fell to the 14,000-odd level in September last year. It has been languishing in a narrow range ever since.
No Big Moves for the Small Cap Index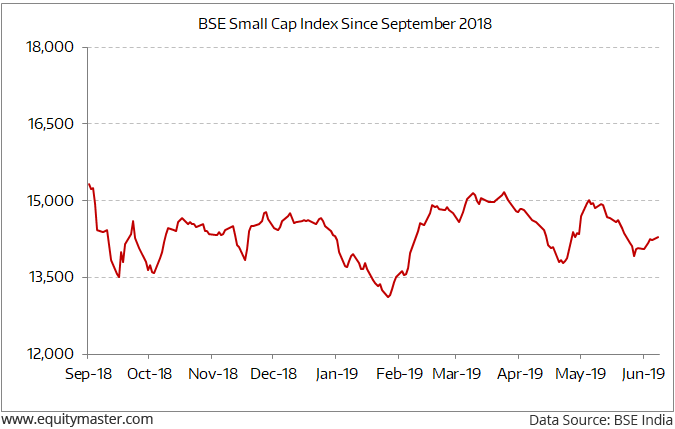 To add to that, liquidity in small caps is down to a trickle.
---

Advertisement

---

An Opportunity to Build Wealth That Literally Lasts Generations…

There are 2 ways people can go about building their wealth in the coming years…

Run after the next hot stock and settle for tiny gains here and there.

Or bet on long-term stocks that could benefit greatly from the Sensex's rise to 100,000…and build wealth lasting generations in the process.

Our Co-Head of Research Tanushree Banerjee has identified 7 stocks that hold the potential to grow substantially in the coming years as the Sensex rises to 100,000.

Full details of these 7 stocks are included in Tanushree's special report.

Click here to know how you could get this report for FREE now…
------------------------------
Now small-cap stocks are where most of the action in the stock market usually is. People who came to the market recently to make quick profits are bound to be a disappointed lot these days.
I realise this might seem to some off you like a bad thing. If small caps are being treated this way, why would anyone want to buy them?
After all, if the stock market doesn't care about small caps and their fundamentals don't show up in their stock prices, what is the use of such fundamentals?
This brings me to one of the most interesting things about small-cap stocks.
They are very moody creatures.
They behave very differently in different markets. You need to know how to work their moods to be able to make big money from them.
Investing in them is a double-edged sword.
When sentiment turns against them, they perform much worse than large cap stocks or the overall market. They are in this phase right now, and they are being neglected big time.
But probably the biggest quality of small cap stocks is how fast they can move!
When sentiment turns for them, investors take them to the moon, and then some. They then can easily leave the rest of the market in the dust in a matter of months, if not days.
And whenever they do, they will more than make up for lost time.
I love them for this! If you know how to take advantage of this quality, you will love them too.
If harnessed wisely, this one quality of small caps will let you walk away with much higher returns than the rest of the market.
And the way to do that is to:
Find the right price to buy and sell them.
Have the discipline to buy/sell at those prices.
Most investors try to work the world of small cap stocks without doing step #1.
And even if they do step #1, they have a very hard time doing step #2 without getting emotional.
But doing both steps #1 and #2 is how to make sure you ride the big upside in small cap stocks but at the same time, don't become part of the downside by holding on to overinflated small caps.
Hidden Treasure does exactly that.
It is a service that finds and brings you small cap stocks with huge growth potential - to the tune of hundreds to even thousands of per cent returns.
My team and I, travel across the country searching for companies with solid fundamentals and brilliant managements that are available at attractive prices.
Hidden Treasure has beaten the Sensex almost 3x in the decade since its inception.
The power of small-cap stocks as I've talked about makes me confident that over the long-term, we will be able to maintain our track record of beating the BSE Sensex by 3X.
In fact, the languishing small cap space is currently offering a very fertile market to pick up bargains at very attractive prices.
But considering how fast small-cap stocks move, this lucrative opportunity might not last for long.
The biggest winning stocks are born in precisely this kind of a listless and boring market. You can buy such stocks at very attractive prices today because no one else is looking at them.
A few days ago, we decided to search for the next 'Crorepati stock' - a stock that has the potential to not just survive the next 10 years, but also thrive.
I'm glad to tell you, I have found just the perfect stock!
In fact, this small-cap stock makes the cut to be a part of the coffee can portfolio ...to be held for 10 years or more.
Jump in before the opportunity disappears.
Warm regards,



Richa Agarwal
Editor and Research Analyst, Hidden Treasure
PS: Small cap stocks are back in the news. After the recent correction, sentiment could turn positive for this segment of the market. Richa Agarwal has picked the the best small-cap stocks in the market.
Recent Articles