Smallcaps Are in a Sweet Spot Again: Are You Buying?
Jul 3, 2020
Editor's Note: Today's the last day to grab Rahul Shah's top 10 stock recommendations with multibagger potential. Get access here...
---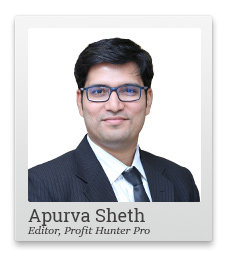 To understand why smallcaps are going to deliver big profits, I'll first tell you about what happened to the price of gold.
Gold is up more than 50% since I first recommended it to my readers in October 2018.
It hit a life time high of 48,825 on the MCX this week. But we are not done yet. I still believe it has much more steam left in it.
Gold has given us a unique profit signal for the third time in this millennium. The gold price rallied 51% and 135% in 2001 and 2008 respectively those three times.
Find out more about this unique profit signal in my highly popular YouTube video.
Now you may be wondering how all this is related to smallcaps?
Well, smallcaps are in a sweet spot the same way gold was back in October 2018.
The price action in international and domestic gold price along with the dollar suggested that it was headed higher.
Second, a lot of people whom I trust, who use different investment approaches had a similar view on gold. This acted as a confirmation for me which eventually led to my high conviction in gold.
Now the same thing is happening with smallcaps.
Let's check out the price action first. This is a weekly ratio chart of Sensex to Smallcap index since 2005.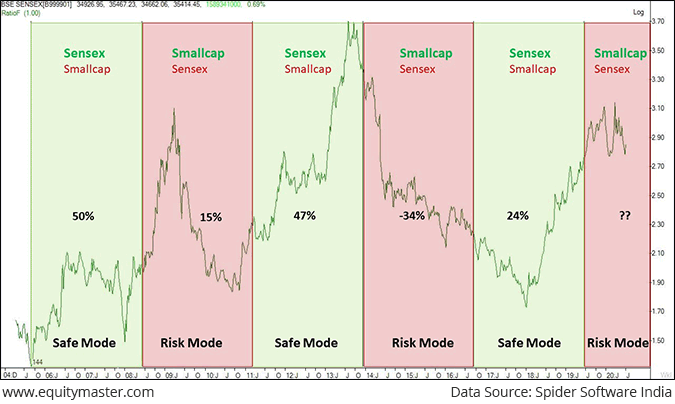 Here we divide the price of Sensex with Smallcap index to derive this ratio chart.
The Sensex to Smallcap ratio goes through a 144-week cycle.
Sensex outperforms Smallcaps when this ratio is in 'safe mode' and underperforms when it is in 'risk mode'.
When markets are in safe mode investors tend to play safe and buy more of bluechip Sensex stocks.
During risk mode, they buy more of Smallcap stocks which generally results in their outperformance.
Outperformance doesn't necessarily mean that Sensex is rising and Smallcap is falling. It simply means, that Sensex is rising more than Smallcap. It could even mean that both are falling but Sensex is falling less than Smallcap.
Basically, the ratio alternates between safe and risk mode at an interval of 144 weeks. The first safe mode began in September 2005 and lasted till June 2008.
Sensex outperformed smallcaps by 50%. This simply means if Smallcaps moved up by 100 rupees then Sensex moved up by 150 rupees.
In the risk mode which followed, Sensex still managed to beat the Smallcaps by 15%. Now this is an exception which we can ignore.
In the safe mode which began in March 2011 Sensex outperformed Smallcaps by 47%.
In the following risk mode Sensex underperformed Smallcap by 34%. Smallcaps delivered superior returns during this risk mode which began in December 2013 and ended in September 2016.
Now it was Sensex's turn to cover up. The ratio entered safe mode in September 2016 and stayed there till June 2019. Sensex outperformed Smallcaps by 24% in this period.
The ratio in the risk mode once again.
Market participants are willing to take risks and the biggest beneficiary will be the smallcaps.
Now we have already seen some glimpses of it since the market crash in March. Sensex is up by 40% from the March lows but Smallcap index is up by 50%. So smallcaps have outperformed Sensex during the rebound.
There's one person who I hold in high regards when it comes to recommending smallcaps - Richa Agarwal.
Richa has been bullish on smallcaps for a while. I showed this ratio chart along with Richa's views earlier in January 2020. Her confidence in smallcap rebound has only grown since then.
But guess who else is joining the chorus with a similar view?
It's none other than Rahul Shah, co-head of research at Equitymaster. Check out this chart shared by Rahul earlier this week.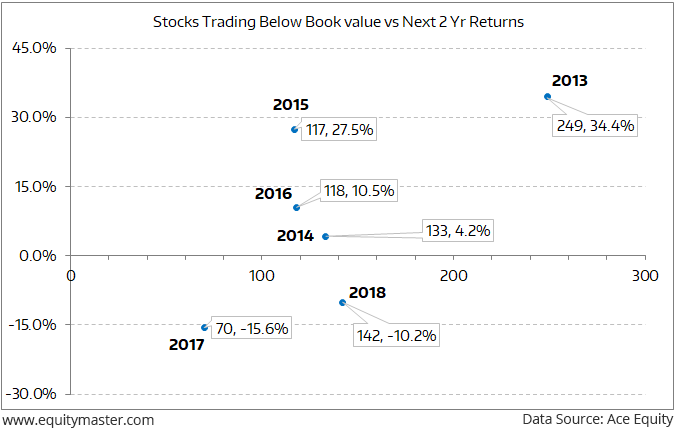 Rahul has plotted the number of smallcap stocks trading below their book value along with the 2-year forward return of the smallcap index.
He believes when the number of smallcap stocks trading below book value fall significantly below 100, it is time to book profits and move out of small stocks.
And when the number of these smallcap stocks trading below book value rises above 200, it's a good time to enter these stocks and ride the big upside.
Do you know how many stocks are trading below book value right now?
A massive 260 stocks are currently trading at a suitable discount to book value. This is the highest in 7 years.
If you wanted to invest in smallcaps you wouldn't find a better time than right now.
Richa is a believer in growth investing. Rahul is a believer in value investing. I'm a believer in price action.
All the three investing strategies say the same thing: Smallcaps are best placed in this market.
Smallcaps couldn't be in sweeter spot than this one right now. You must position yourself with the best smallcaps if you want to make the most of this rally.
You could pick stocks on your own or let Rahul or Richa do the work for you.
Meanwhile, I am working on a strategy to finds sweet spots in stocks for trading. I'll keep you posted.
Stay tuned...
Warm regards,

Apurva Sheth
Senior Research Analyst, Fast Profits Report
Equitymaster Agora Research Private Limited (Research Analyst)
PS: Today's the last day to grab Rahul Shah's top 10 stock recommendations with multibagger potential. Get access here...