Bitcoin's Road to US$ 10,000
Jul 6, 2018
Editor's Note: Developments in the crypto world, both in India and abroad, are going to have a bearing in the way we invest and the way we think of money...tomorrow. Prasheel Vartak writes about how the crypto space is shaping up worldwide - including insights on how the RBI's latest move could affect India's crypto ecosystem. I feel it is important for you to know and so I have made this article available for you. Read on...
---
The whole cryptosphere is in a lull.
The last couple of months have been very bumpy for bitcoin. After dropping to below US$6,000 levels last month, bitcoin's price has now settled around US$6,500. While there are positive triggers for bitcoin and cryptos including a sharp rise in institutional acceptance, the road towards the psychological benchmark of US$ 10,000 and beyond for bitcoin will be long and bumpy.
While there have been spurts of positivity, there hasn't been much fundamental change in the crypto market. Importantly, as Tama Churchouse puts it - there hasn't been much in the way of a 'clear out' - i.e. there are way too many dead cryptos walking.
We haven't seen enough tokens get cleared out and die yet. There's just too many projects out there with multiple hundred million-dollar valuations - or billion-dollar valuations - which are just not worth looking at, they're junk. And until this happens, we won't be seeing big changes in the crypto market.
Till that happens, let's look at some of the local and global crypto and blockchain developments in the month gone by:
China Seeks to Regulate Cryptos
China, which was once the largest cryptocurrency markets in the world seeks to regulate cryptocurrencies and ICOs after banning them a couple of months ago. This could have very well stemmed from the fact the at the Chinese President Xi Jingping, praised blockchain technology, endorsing it as an economic breakthrough.
China is rearing to get back into the crypto and blockchain space. In fact, the State Council has already introduced the concept of blockchain as part of an information technology reformation strategy in the country's 13th five-year economic development plan, spanning from 2016 to 2020. Positive regulation in a market as big as China could be beneficial for cryptos in general.
--- Advertisement ---


The Secret To Scoring Big With Small Caps Revealed…

Most people out there view small caps as a short-term thing.

In other words, they want to invest in small caps today, and get back huge returns in a few days to weeks.

But the best way to make triple- and probably even four-digit returns from small caps is to invest in solid small companies, and hold on to them for a fairly long time.

In fact, doing so has even given four-digit returns in the past.

To know how you can find solid small companies, just click here…
------------------------------
US Justice Department Launching Probe into Crypto
What could be one of the biggest reasons for the lull in the crypto market, the U.S. Justice Department has opened a criminal investigation, a probe at this stage, into bitcoin and cryptocurrency market manipulation.
This is obviously an escalation of scrutiny on the market in general. And at the moment, the focus report seems to be particularly on the trading side of things and the Justice Department is working with prosecutors and folks from the Commodities and Futures Trading Commission (CFTC), who regulate bitcoin futures contracts.
Regulation is Good for Cryptos
Now, the US's regulatory actions have been construed as negative and we've seen the bitcoin price come down to the levels where it is at now.
However, it is in fact a positive development because the industry is going to get regulated and all stakeholders and those waiting on the sidelines want to see a clean and wholesome and ultimately, regulated, crypto trading industry.
Crypto Regulation is Positive in the Long Term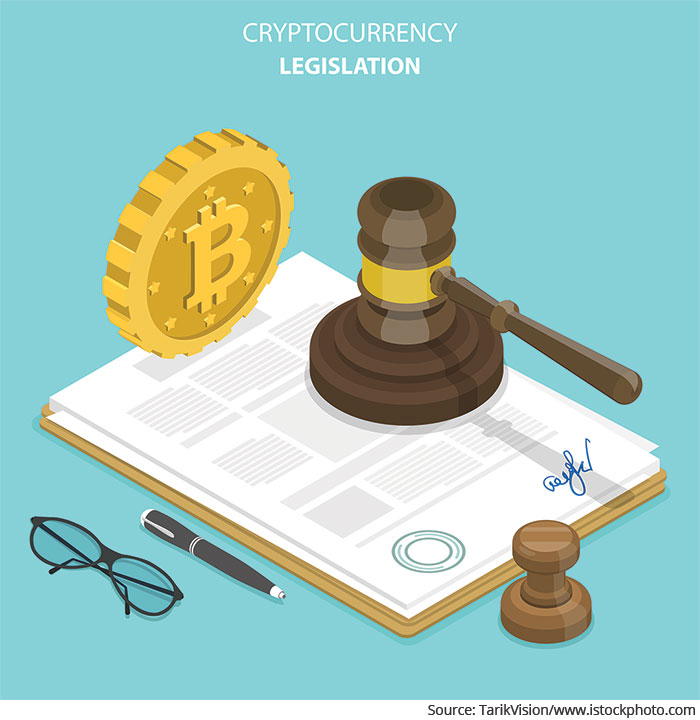 And at the moment, it is still just an absolute wild west on the trading front. Exchanges, in particular, wash a huge amount of trading volume. That is, they simply put in fake orders, fake back and forth buy-sell orders on their own exchange to generate the appearance of liquidity and entice people to come and trade. And people who come and trade find out there is actually no liquidity. Liquidity vanishes as soon as they put orders in.
The Chinese exchanges, in particular, are terrible for this. On top of that, there's a huge amount of spoofing and placing fake orders, pulling them, and the kind of general behavior that isn't really tolerated in the equity market anymore.
Now, this shouldn't surprise anyone.
Banks, for example, and some of the most highly regulated industries in the world have been found guilty of rigging Libor and FX fixings, for example. So naturally, you should expect in an unregulated industry like crypto where there is an increasingly large amount of money at stake, you're going to get some bad actors.
So, the bottom line is that regulation is a good thing. Sure, it's led to kind of a short-term knock in the price of bitcoin, but for the long run, it is a positive development.
Coming to the homefront...
India Planning GST on Crypto Trades
This headline plastered across leading financial dailies baffled most who read it.
What does it mean for the legality of cryptos? Does this mean cryptos are now legal tender?
Unfortunately, not. According to the news the Central Board of Direct Taxes is mulling a levy of 18% on crypto transactions, classifying them as intangible goods on par with software. However, this is only a draft proposal of levy of taxes - it does not say anything about the legality of permissibility of the underlying asset being taxed. The levy of tax if any will depend on how cryptocurrencies are regulated.
This means that nothing has changed when it comes to crypto regulation. Cryptos are still not legalized or regulated, and they are still not declared illegal. The RBI's three-month deadline to banks and financial institutions to cease business with those dealing with cryptos still stands.
Supreme Court to Hear Petitions Against RBI's Order
The Hon. Supreme Court of India has listed a hearing of all matters relating to the RBI's order on cryptocurrencies on 20 July 2018. The Supreme Court has clubbed all the matters relating to the issue - notably one set for hearing at the Delhi High Court late in May - under the petitions filed to it by Indian crypto exchanges.
Note that the 20 July hearing date is days after the RBI's deadline which should be 6 July, i.e. by today. Considering this, exchanges had written to the RBI to extend its deadline, but they did not hear back from the regulator.
Most exchanges are preparing for the eventuality by either moving to friendlier jurisdictions like Singapore, or by changing their models to a crypto-crypto exchange where no fiat currency is involved.
Exchanges are sending notices to their users that Rupee withdrawals and deposits could be affected.
You can prepare by moving all your cryptos out of the exchanges and into your own wallets. As mentioned in a special update to Crypto Confidential subscribers there is no need to panic. As the cryptos you hold continue to hold monetary value.
Looking forward...
This month is going to be important for cryptos, both domestically, and globally.
In India, the Supreme Court is set to hear a decider for the fate of cryptos on 20 July.
A couple of weeks ago, Subhash Chandra Garg, Secretary of the Department of Economic Affairs at the Ministry of Finance said that a framework for regulating cryptocurrencies is likely to be presented within the first fortnight of July.
A regulation for cryptos and blockchain would create a massive boost for blockchain adoption in the country.
Many businesses and startups are only dipping their toes in blockchain waters, and many more waiting on the sidelines in the absence of a solid regulatory framework.
Worldwide, we have another big regulatory announcement and that's likely going to be an agreement on a regulatory framework amongst G20 countries.
So G20 is pretty much anyone who is everyone and they are clubbing together to effectively form some kind of broad consensus on what the global regulatory space should look like with regard to cryptocurrencies - in particular, tackling things like money laundering, market manipulation, stuff like that. Again, very positive for the space, and that's coming this month. Notably, India is a part of G20 as well.
As always, I will be sure to keep an eye on the developments and report back to keep you on the top of the crypto and blockchain developments in India.
Warm regards,

Prasheel Vartak, CBP (Certified Bitcoin Professional)
Editor, Crypto Confidential
PS: The crypto markets are unpredictable. Nobody knows where they are headed. But everyone knows they are an opportunity. If you don't want to miss this opportunity you need to understand what is happening. Sign up for Prasheel's crypto updates here.
Recent Articles