From a 57% Fall to Gains of 168%. This is What a Smallcap Rebound Really Looks Like
Jul 7, 2020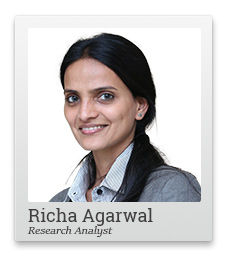 This edition of the Profit Hunter is about the journey of a smallcap...one that we recommended in March 2020. That was before the lockdown, 13, March 2020 to be precise.
Coronavirus Sell-off Offers a Rare Opportunity to Own This Brand Leader - That was the title of my report.
When we made the recommendation, we were aware of a major disruption happening. There was scare surrounding the Coronavirus. Although the lockdown was something we could never see coming. I was still taking crowded local trains to reach office.
What we liked about the company was its presence in an essential category and its market leadership in a niche food segment.
We were not thinking about where the stock price would be a week, or even a month ahead. That's a guess best left to gamblers and speculators.
And there is no dearth of these in the markets, as the recent market crash and rebound suggests.
Anyway, coming back to this specific stock...
Here's is how the stock moved post our recommendation.
When the Stock You Buy Falls 57% in 9 Days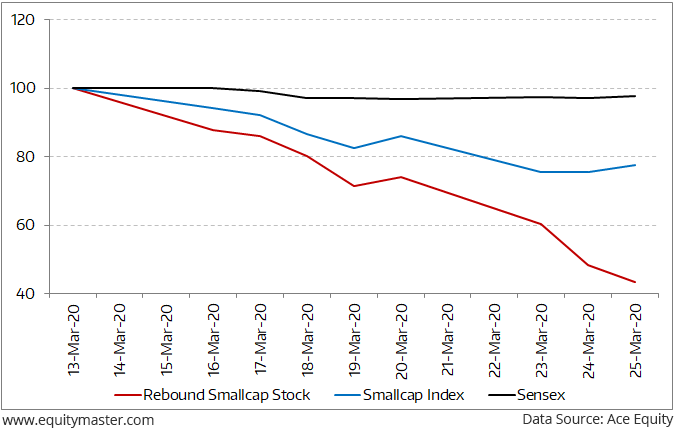 The chart does not make a pretty sight. As you can see, the stock we recommended fell 57% in 9 days flat.
Most investors press the panic button (stop loss) well before seeing such losses in their portfolio.
But not us. We had a distinct advantage.
We had spoken to the management. We understood the company's product and the fundamentals.
Most importantly, we recommended it for the long term...from a good 3 to 5 year perspective.
We ignored the noise and continued to maintain a Buy view.
--- Advertisement ---
Here's an urgent profit opportunity from us that no mainstream media is revealing...

The #1 Stock for 2021.

...An innovative stock with the industry giants chasing it for its technology to touch millions and millions of people every day.

It serves several clients across the globe, but what got me is this...

The stock is leaving all its competitors behind despite the COVID crash, and now the price has already started to move.

There's actually one more reason why this stock could take off and make its early investors rich.

It's revealed here in this note with transparency.
------------------------------
To be sure, we did get some flak for the under-performance and for not cutting the losses as stock continued to make new lows everyday, starting from the day after the recommendation.
But with over a decade of experience, we have become stoic enough to the mood swings of the market, and to stand by our process.
And guess what?
Our patience and our process was rewarded well before our expectations.
As you can see from the chart below, this niche market leader rebounded 135% in less than a month.
As I am writing this, it is up 168% from the lows in March...and up 17% from our recommendation price.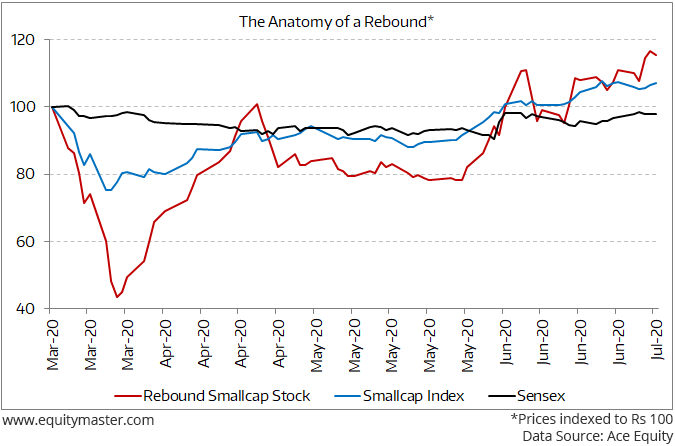 The reason I shared this with you today is to show you what a rebound could look like in smallcaps. Yes, it's nothing short of a roller coaster ride.
By the way, this is not just a one off example.
Two other smallcap stocks we recommended during the lockdown are up 55% and 54% respectively.
--- Advertisement ---
Going Live on 30th September 6pm To Answer A Burning Question

Economies across the globe have collapsed.

However, despite all the weak economic data, the stock markets have rallied.

But how sustainable is this rally?

The burning question of the hour is

"Where are the Stock Markets Headed?"

And that is exactly where our upcoming live and exclusive free webinar will help you.

Join Nilesh Shetty, Associate Fund Manager, Equity Funds and I.V. Subramaniam, Director, Quantum AMC LIVE as they address your most pressing concerns...and try and fulfill your need for the next big investment opportunity.

If you are a serious investor, you cannot afford to miss this opportunity.

Register FREE for this upcoming webinar in 1-click
[Yes! I want to attend this Exclusive Webinar]

Yes, also send me your financial planning newsletter, Quantum Direct, free of charge.

Date: 30th Sept. | Time: 6pm | Venue: Your Computer
------------------------------
We were lucky to some extent, as such gains in a short time have been more because of the market rebound rather than any significant change in the fundamentals of these stocks.
But if it had not been for a process which we know works most of the time, we might not have had the conviction to hold the stocks amid a downturn, or even to recommend any.
You see, we do not count on market sentiments. We make our recommendations keeping in mind the fundamentals and the management quality. If they are intact, it is bound to be reflected in the stock price in the long term.
That said, the pandemic has added a fresh filter to our process.
This filter tests if the business is strong enough to survive a second wave of Coronavirus infections...and even emerge stronger from it.
Now there are only a few companies in the listed space that clear this filter, let alone smallcaps. But it is better to hold quality than add more quantity amid a volatile market.
Betting on such essential smallcaps that clear this filter will not just spare you from false rebounds, but will set you on road to generational wealth.
Warm regards,



Richa Agarwal
Editor, Hidden Treasure
Equitymaster Agora Research Private Limited (Research Analyst)
Recent Articles