Investment in securities market are subject to market risks. Read all the related documents carefully before investing
An Emerging Opportunity for Investors
India's Lithium Megatrend
What Next for Smallcap Stocks After Lifetime Highs?
Jul 7, 2023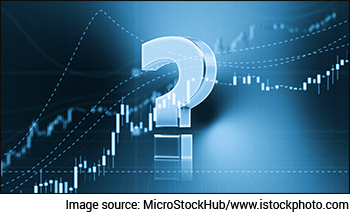 Smallcaps have risen. And how.
In this financial year, barely a quarter so far, the smallcap index is up 23%. The Sensex is up 12%.
I closely track a metric called the smallcap to sensex ratio.
Here's what the ratio looks like today...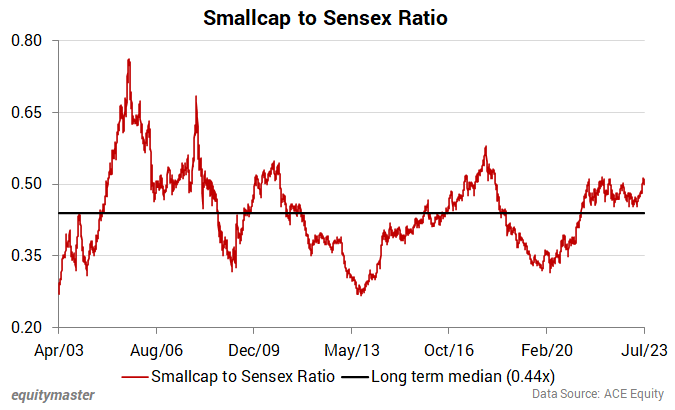 The ratio currently stands at 0.51.
This may look moderate as compared to the previous peaks but as against a long-term median of 0.44, it warrants caution.
Comparing to previous cycles, when smallcap index peaked in January 2018, the ratio was at 0.58. The smallcap index was down 40% from that peak. And I'm not even counting the further sell off due to Covid.
Now these peaks have varied from 0.54 to 0.76 in the past. So there could be further steam left in this rally. I don't know how close we are to the peak before the cycle reverses.
I believe both Sensex and Smallcap index will touch even higher levels in the long term. But I'll not be surprised if a correction precedes the new highs.
So how should you navigate the smallcaps in these tricky times?
--- Advertisement ---
Investment in securities market are subject to market risks. Read all the related documents carefully before investing

Access details of this investing opportunity fast

EV is an emerging opportunity of this decade.

And most investors think the best way to ride this opportunity is through stocks of EV making companies.

Well, our research suggests that's not a recommended strategy.

Click Here to Know More
(Information available only till 11:59pm tonight)
Details of our SEBI Research Analyst registration are mentioned on our website - www.equitymaster.com
---------------------------------------------
Well, here's what I believe makes sense...
First, I would use this rally to get rid of non-performers in the portfolio, where the prices have followed the broader market sentiments.
These are the stocks that have persistently failed to deliver on what you expected on growth and management execution. You may have been holding on for the reason that the worst has been factored in and that valuations are cheap.
It's also the time to book partial or full profits on certain businesses where the PE multiple has expanded, without a similar expansion in profits, or improvement in return ratios.
You may be tempted to make the most of the momentum but the risk reward equation suggests it is not in your favour.
I have done this in Hidden Treasure, my smallcap recommendation service. We exited 8 positions this year, with three of them in losses and five in gains. The first category of stocks (losers) is where we were patient with the performance.
With time, I realised there was little reason for the business to turn around. With smallcaps touching new highs, this is a good time to do a cleanup. I plan to exit a some more in the near term.
The only stocks I recommend holding through the rally are the ones where I believe the structural tailwinds are supporting the business. And even in these, I might consider partial exits. I would rather enter again when there is a correction or valuations are reasonable.
Now coming to the big question on smallcaps: Should you invest or stay on the sidelines?
Well, you will find few low hanging fruits now.
I've met and spoken to the managements of some companies recently that looked good on the stock screener. And I do like some of them, but I'm bit wary of the expensive valuations.
I've also noticed the promoters in these businesses selling in the open market over the last few days.
Now there is nothing wrong with that. However, if the insiders think it's time to take some profits off the table, it would not be wise of me to recommend a buy at these levels. I would rather wait for a correction before I recommend subscribers to buy these stocks.
--- This is Third Party Advertisement ---
Mutual Fund investments are subject to market risks, read all scheme related documents carefully.

[MEGA] Webinar Invitation -

Navigating markets in 2024 - Fund Managers' Year End Perspective.

Date: Dec 6th Time: 6pm Venue: Your Computer

What's Next for equity, debt & gold asset classes?

Join Chirag Mehta, CIO and Fund Managers of Quantum AMC as they discuss asset class outlook & what one should expect from the markets in the new-year.

Register Free for this Exclusive Webinar
----------------------------------------
However, stocks that have particularly piqued my interest in this rally are the ones where the promoters are buying from the open market despite the markets and stocks making new highs.
In the last ten days, stocks that have witnessed insider buying include GNA Axles, Kwality Pharmaceuticals, Orient Bell, among others.
At a time when markets are rallying, insider buying activity could be a good starting step in the stock picking process. Of course, you need to do further due diligence.
If you are keen on doing this yourself, watch this video...
Now no one can predict what's going to happen in the near term, whether there is more steam left in this rally or if there could be a correction soon.
A certain amount of uncertainty is inherent in investing.
As Warren Buffett has said:
"Predicting the rain doesn't count; building arks does."
Building arks in investment journey means focusing on a disciplined and time-tested process.
Here are three important elements of my process...
Focus on the long term
If a new development is not going to be important in 3 to 5 years from now, it's not important now.
Inflation, oil prices, exchange rates, rate hikes, quarterly earnings, expected growth and margins in the coming quarter, and countless other parameters that analysts endlessly harp on, all fall in this bucket.
Equitymaster Conference 2024: View Your Invitation
Focus on what you can control
Covid was a big lesson for managements, analysts, and stock market experts.
The one factor they hadn't factored in their future plans and excel projections turned out to be the biggest variable, throwing all their predictions out of the window.
The businesses headed by reasonably conservative managements and strong balance sheets emerged stronger out of it, while the weaker players were shunted out.
For investors, those who had focused on prudent asset allocations managed to ride the crisis without losing their sleep and resorting to panic selling.
Forget the unknowns. We cannot even control the known risks. We can only acknowledge them, operate within our circle of competence, with a margin of safety in valuations and smart asset allocation.
This way we can minimise the damage in case of adverse developments.
Have reasonable expectations from your investments.
Peter Lynch said...
In this business, if you're good, you're right six times out of ten. You're never going to be right nine times out of ten.
Well like it or not that's the metric of success for one of the most genius investors. Do not invest expecting you will never lose. What matters is to win big to make up for the losses you make, and to be wrong less than the broader markets.
This humble approach not only makes you prudent in your selection, but also lets you to stay the course to win the war, even if you lose the battle.
It also helps you develop a capacity to suffer when the stocks you own fall sharply. Over the entire course of a market cycle, this is very likely.
Your capacity to suffer and your conviction to hold on, will depend on how well diversified your portfolio is and on how well you understand what your investments.
For more such updates, stay tuned...
Warm regards,



Richa Agarwal
Editor and Research Analyst, Hidden Treasure
Equitymaster Agora Research Private Limited (Research Analyst)
Recent Articles