Worried About the Markets? This 4 Page Document Will Put Your Mind at Ease
Jul 9, 2018
It is always fun to see the lighter side of people you admire and look up to.
Check out this short video of Bill Gates and Warren Buffett visiting a candy cum vintage memorabilia cum old-fashioned soda shop and you'll know what I am talking about.
The genial billionaires are seen taking a trip down memory lane and don't seem to run out of things to talk and laugh about.
Source: Bill Gates
When you have Warren Buffett in the frame - all three-and-a-half minutes of him - you can't really be far away from an investing insight.
About half way into the video, Warren Buffett shows us a copy of his favourite investment book, The Intelligent Investor, and mumbles something like...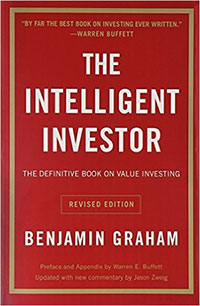 When I read this book, it changed my life. Any time the market takes a sharp dive and you get tempted to sell or something, just pull out this book and re-read it.
Buffett first read the book when he was 17.
Today, almost 70 years later, he is running investments through the same framework he encountered in the book.
It is the framework that has turned him into the second richest man in the world. And has also helped countless other investors rack up an equally enviable long-term track record.
Little wonder, he's never missed an opportunity to praise the book and its author, Benjamin Graham.
--- Advertisement ---


Rs 250 a month in subscription fee could change your life…

You probably spend more than Rs 250 on meaningless stuff every month.

But for less than Rs 250 per month, you can now obtain a subscription to our Hidden Treasure service and get information on high-potential small caps delivered to your email inbox every month.

Yes! Small caps with the potential to give substantial returns in the long run. So don't let this opportuntiy go.

Click here for full details now…
------------------------------
You can't argue against such a sane advice, can you? However, allow me to propose a small modification.
Listening to Benjamin Graham after the markets take a dive is of course the best course of action one can take. But it doesn't have to be The Intelligent Investor, Graham's 600-page tome.
In an interview he gave in 1976, he had whittled down the entire book to just a handful of rules... three to be precise.
Yes, well now I have lost most of the interest I had in the details of security analysis which I devoted myself to so strenuously for many years. I feel that they are relatively unimportant, which, in a sense, has put me opposed to developments in the whole profession. I think we can do it successfully with a few techniques and simple principles. The main point is to have the right general principles and the character to stick to them.
The interview is just four-pages long.
Four pages of arguably the best market beating advice out there.
That's Benjamin Graham's own lesson from later in life - favouring a few techniques and simple principles over detailed analysis.
Following these techniques and principles has certainly worked for me and my subscribers.
Here's the breakup of returns they have generated vis-à-vis the benchmark index over the years.
Graham's Simple Techniques: More than a Handful......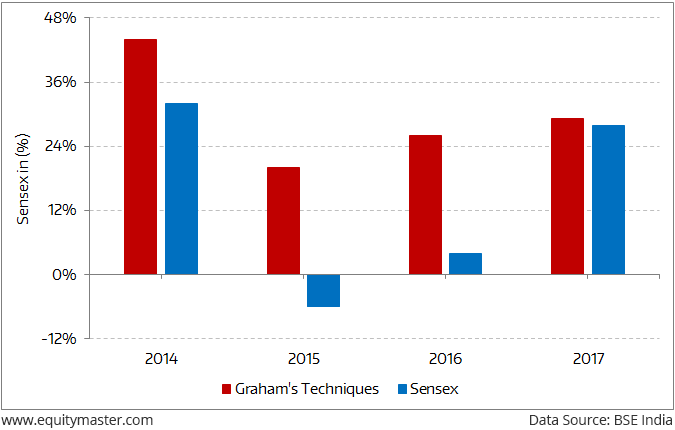 A 172% point to point return since inception.
That's a full 100% higher than the Sensex's 73% return in the same period.
All by following three simple rules.
A definite buying rule
A definite selling rule and
A rule that automatically turns you greedy when others are fearful and fearful when others are greedy.
I have taken a print of this 4-page document of Graham's interview and pinned it in front of me right above my work desk.
I look at it not just when the markets take a sharp dive, but also when they have risen a lot.
It helps me do the right thing.
Doing the right thing in the event of a sharp fall as well as a sharp rise is as important as picking the right stocks to buy.
You too should give it a try.
It will add a new dimension to the entire process of investing and set you up for fabulous long term returns.
Good Investing,


Rahul Shah (Research Analyst)
Editor, Profit Hunter
PS: When the markets nosedive, don't let emotions take over - let reason prevail. Small caps are crashing - that only means there is more opportunity than ever to buy them up - get our market-beating small caps recommendations here.
Recent Articles