These 3 Smallcap Stocks are Set to Make the Most of Smallcap Rebound
Jul 9, 2019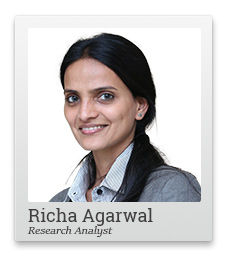 The event of Union Budget 2019 is past us now.
The roadmap to a US$ 5 trillion economy in 5 years has wiped out Rs 5 trillion wealth of equity investors in just 2 days.
The Sensex yesterday witnessed the steepest fall in a day this year. The smallcaps too have taken a hit.
One of the reasons for the fall in the markets was fears of a high tax surcharge on FPIs (foreign portfolio investors).
With such sentiments, the smallcap rebound may take a little longer to play out.
But that's not bad news at all. It just gives you more of action time and opportunities now to invest in.
Here is why the smallcaps look even more attractive at present.
As per the data I pulled out a few days ago, top 100 companies comprise nearly 74% of total market capitalisation of listed companies. This is up from 67% share in December 2017(the quarter in which the Capital market regulator came up with reclassification rules).
---

Advertisement

---

2008 Again? What Caused The Recent Market Crash…

Everyone has a different theory on what caused the markets to tank around 800 points recently…

It could be the Budget…

It could be the sell-off in Asian markets…

It could be the falling rupee…or any of a dozen other factors.

But to Richa Agarwal, this is a wealth-building opportunity unlike any she's ever seen before.

It could even turn out to be the biggest wealth-building opportunity since the crash of 2008.

And here's what you should do TODAY to profit from it.
------------------------------
Over the same period, the share of combined marketcap of smallcaps has fallen from 16% to 10%.
One must note that the overall market cap of listed companies has moved down just by 2%.
The trend of smallcaps getting out of favour started with the Capital market regulator's reclassification of mutual fund schemes.
The reallocations led to fall in smallcaps. And that itself led to a vicious cycle - lower market caps in smallcaps further kept bigger investors at bay.
So, while large caps seem to be standing tall, they are in a precarious situation as you can see in this chart.
Markets Skewed Dangerously in Favor of Top 100 companies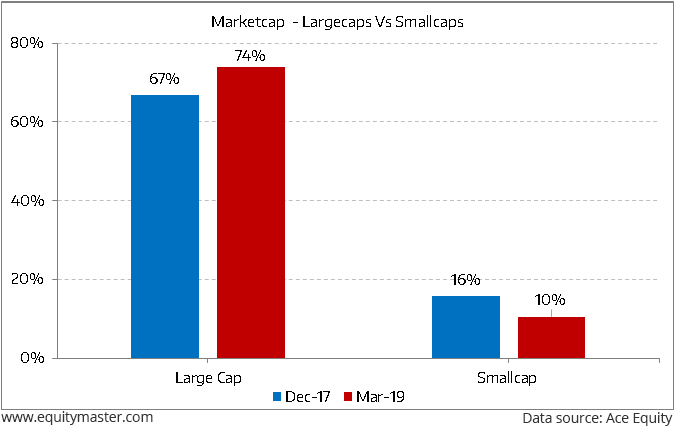 It would not be wrong to conclude that most large caps are in a bubble zone. On the other hand, smallcaps are sitting in the oversold territory.
Coming to distortion caused by big investors....
The overall institutional money in stock market has increased by 5.8% from December 17 to March 19.
Institutional money in large caps is up 13%. Top 30 companies command 63% of institutional money at present.
In midcaps, institutional money is down by 5%.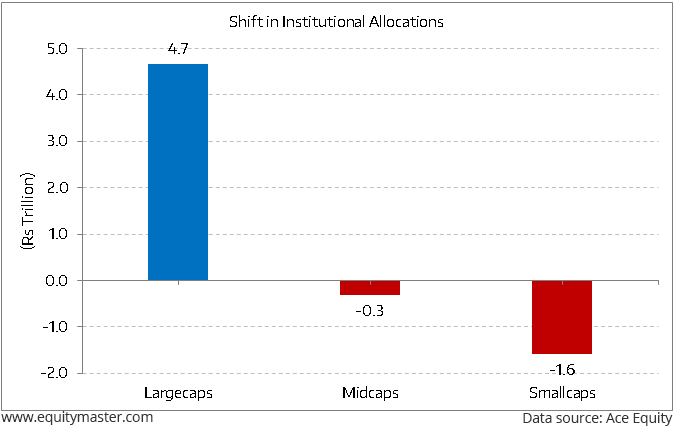 Most importantly, the institutional money in smallcaps is down 36%. The entire smallcap space commands just 5.1% share of institutional money.
As the sense of normalcy returns to the markets, even if a small share of this money flows back from large caps to smallcaps, especially quality smallcaps, the rebound could be huge.
That's because this quantum of money could give a strong positive impact to valuations of less liquid smallcaps.
But like I said, the money will come back only to quality smallcaps.
Here are a few that I believe will make the most of the smallcap rebound:
The first company, a market leader in its niche, is a great play on the farm mechanisation in India, with debt free balance sheet and dividend yield of more than 3%.
The second company is an NBFC that is defying all the adversities amid the ongoing liquidity crisis, and emerging stronger with 'retailisation' of the loan book.
The third company, again a market leader in its niche, is a non-commodity player in an otherwise commoditized industry with healthy return ratios, and strong dividend payouts.
You could get details of all these stocks in my premium report - One Stock Crorepati: The 3 Multibagger Stocks Collection.
Along with the crorepati stock, these three stocks could be some of the biggest gainers in the smallcap space.
Warm regards,



Richa Agarwal
Editor and Research Analyst, Hidden Treasure
PS: 10,064 people watched the One Stock Crorepati Summit. Richa Agarwal, our small cap expert, talked about those stocks which turned a select group into crorepatis. She also revealed her formula to identify such stocks. Click here to watch the One Stock Crorepati Summit.
Recent Articles