Who Needs Stocks with Gold in Such Fine Form
Jul 11, 2019
My mother is a huge gold fan.
I think this holds true for most mothers.
I've failed to convince her of the advantages of investing in stocks over gold.
She insists that stocks are risky. She believes in putting a substantial part of one's savings in gold.
When I ran the numbers, I realised that she may be right after all.
FREE WebSummit: Is Gold Set to Hit Rs 75,000?
Investing in Sensex hasn't given a substantial advantage over gold since the turn of the century.
Gold vs Sensex: Neck and Neck Since the Turn of the Century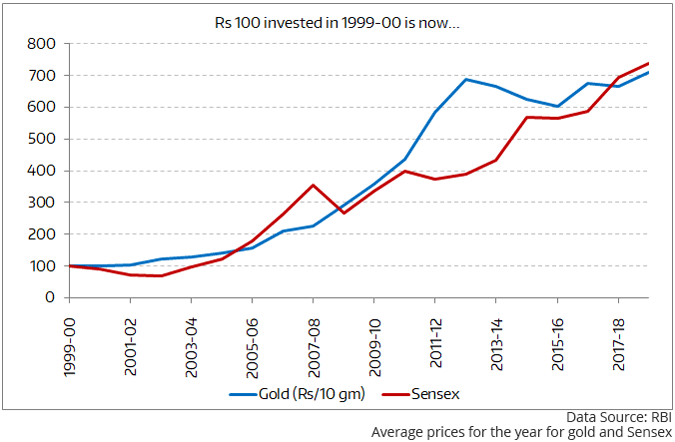 As you can see, the price of gold and the Sensex have moved in near perfect lock step.
While gold has multiplied by 7.1x since 2000, Sensex has done little better at 7.4x.
This data would certainly make my mom happy.
Though it makes me a tad sad. So much for the compounding power of stocks. So much for India being one of the fastest growing economies in the world.
To be fair though, there are obviously a lot of stocks that may have done way better than gold. Stocks which may have gone up 10x, 20x and even 100x.
However, the reverse is also true. A lot of stocks may have turned from hero to zero.
Which is why, preferring gold over Sensex hasn't turned out be a bad decision at all.
What about Sensex and Gold both? How about a portfolio that invests 50% in each of the asset classes and rebalances after one year?
Here's how it will work? Invest 50% each in Sensex and Gold. Then at the end of the year, put money into asset that has lagged by taking money out of asset that has gone up.
So, if Sensex has gone up by 40% and Gold by 15%, rebalance to 50:50 again by taking money out of Sensex and putting into gold.
Ditto for gold.
If gold does better than Sensex in a year, rebalance by shifting money from gold into Sensex.
This is how this portfolio would have done since 1999-00.
The 50:50 Portfolio Outperforms Both Gold and Sensex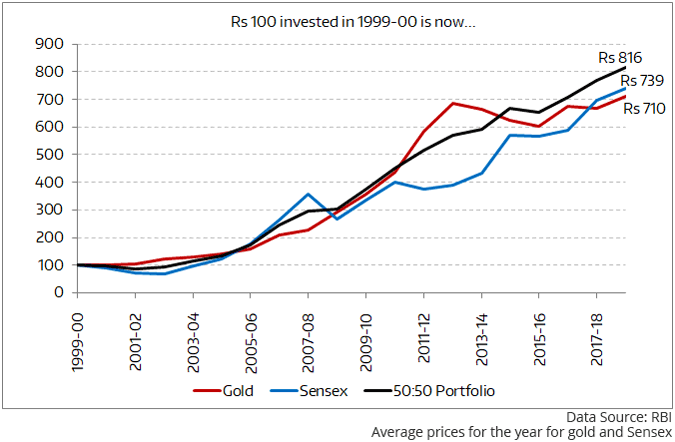 The 50:50 portfolio outperforms both gold and Sensex. Not by much though.
Anyways, we don't advocate putting 50% of one's savings into gold.
You see, gold does not produce any EPS. It does not have any balance sheet. It does not also pay out any dividends.
In short, it is next to impossible to arrive at a sensible valuation of the yellow metal.
Therefore, when you buy gold, there's just one hope for you. The hope that the other person will buy from you at a higher price.
And this activity doesn't constitute as an investment. It is speculation at best.
Having said that, gold is certainly a great hedge against currency devaluation.
There is only a limited quantity of gold available in the earth's crust.
Its supply cannot be increased at will. Paper currencies on the other hand, can be printed at will.
And in the long run, there's a strong chance gold will continue to rise against paper currencies.
So, make gold a part of your portfolio.
But do not exceed this limit to more than 10%.
Remember, it is not meant to provide you with a retirement nest egg. It is only a hedge against runaway inflation.
If you need to build a comfortable nest egg, stocks are one of the best options. Besides, you can always improve upon Sensex returns by relying on the power of small caps.
Warm regards,



Rahul Shah
Editor and Research Analyst, Profit Hunter
PS: 10,064 people watched the One Stock Crorepati Summit. Richa Agarwal, our small cap expert, talked about those stocks which turned a select group into crorepatis. She also revealed her formula to identify such stocks. Click here to watch the One Stock Crorepati Summit.
Recent Articles