Investment in securities market are subject to market risks. Read all the related documents carefully before investing
An Emerging Opportunity for Investors
India's Lithium Megatrend
Companies Riding the AI Trend
Jul 11, 2023
Editor's Note: Dear readers, the AI megatrend is here, and not just in businesses, homes and work places. The artificial intelligence is a critical lens through which investors are assessing the business potential. This is a piece I wrote a few weeks ago, and would like to share again with you.
---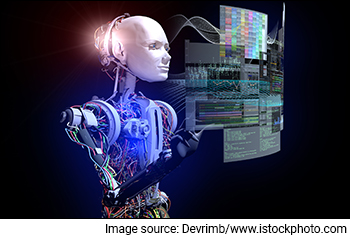 A few days ago, I rewatched the movie - 'Her'. I like it but I find it difficult to define its genre - romantic drama, realistic, or science fiction.
In a nut shell, a lonely writer develops an unconventional relationship with an artificially intelligent (AI). It's a female voice on a computer that responds to his emotional needs.
The bond deepens over few months until one day the voice is briefly unavailable and goes offline.
The protagonist panics. His world falls apart as he realises the voice he has been in a relationship with all this while been talking with thousands of people. For him, a personal relationship has been violated.
This would have seemed like science fiction a decade ago. But has found some roots in reality. Think of an advanced version of Siri, Alexa, and so on. AI is taking over our lives.
ChatGPT has already converted some of its biggest critics into ardent admirers. The tech giant Google has launched Bard in response. AI not just a narrative anymore.
From making presentations, teaching, customer service, making videos, to doing surgeries, and driving cars, there is an AI and ML (machine learning) for everything.
The stock market has taken note. Recently, the league of trillion-dollar marketcap stocks saw a new member joining it.
It's Nvidia, the seventh member to join the trillion-dollar club. The company defines itself as the world leader in artificial intelligence (AI) computing.
--- Advertisement ---
Investment in securities market are subject to market risks. Read all the related documents carefully before investing

Access details of this investing opportunity fast

EV is an emerging opportunity of this decade.

And most investors think the best way to ride this opportunity is through stocks of EV making companies.

Well, our research suggests that's not a recommended strategy.

Click Here to Know More
(Information available only till 11:59pm tonight)
Details of our SEBI Research Analyst registration are mentioned on our website - www.equitymaster.com
---------------------------------------------
Here's how the stock has performed.
Stock Price of Nvidia (US$)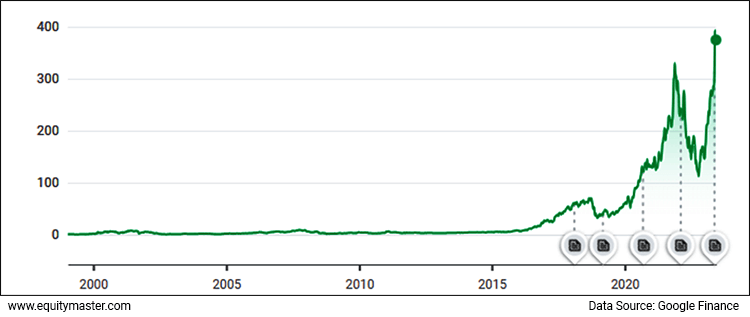 While there are many cheering its exponential rise, here are some interesting observations....
First, Nvidia is not a direct player but a pick and shovel leader in the AI gold rush.
The company makes the GPU (graphics processing units) and drives that are used in high performance computing, gaming, creative design, autonomous vehicles, and robotics. Its applications range across manufacturing, logistics, healthcare, smart cities, and retail.
Unlike the FAANG stocks, its rise in the mindspace and media has been relatively recent.
The stock was under the radar of most big fund managers who were too late to play catchup. Even Cathie Woods, the renowned tech investor, missed this opportunity.
To be honest, the first time I heard of it was just after the pandemic, when tech stocks were sloshing in liquidity. Nvidia was one of the names creeping up in the discussions.
The rally in the stock within a relatively short span has been unprecedented. Even more interesting is how it has beaten any other tech stock in the recent tech rebound.
Second, don't expect big returns to come overnight when you are investing in huge structural themes.
As you can see in the chart, Nvidia has taken a long time to be where it is today. I'm not sure one can time this kind of stock price gains. A strategic allocation to stocks participating in the big structural themes and having a long-term horizon is the way to play them.
--- This is Third Party Advertisement ---
Mutual Fund investments are subject to market risks, read all scheme related documents carefully.

[MEGA] Webinar Invitation -

Navigating markets in 2024 - Fund Managers' Year End Perspective.

Date: Dec 6th Time: 6pm Venue: Your Computer

What's Next for equity, debt & gold asset classes?

Join Chirag Mehta, CIO and Fund Managers of Quantum AMC as they discuss asset class outlook & what one should expect from the markets in the new-year.

Register Free for this Exclusive Webinar
----------------------------------------
Now that was one example...
But I'm more interested in whether this is of relevance in India and if there is a way to make money from this. Are there artificial intelligence stocks in India that one should keep in the watchlist?
I think what seems like a huge development is just the beginning of AI revolution in India. We already have seen humanoid robots welcoming us at bank branches. A chatbot recently helped me resolve some issues with my flight bookings.
Machines are not only replacing humans, but outperforming them, even at something as intricate and critical as human surgeries or driving cars. In the battle of man versus machine, the latter is taking huge lead every day. The 'man' seems to stand no chance.
For those who thought that the threat of job loss due to robots and technology was limited to manufacturing sector, it's a reality check.
While researching this topic, I came across some interesting data points by Indian Federation of Robotics. India is now in the world's top 10 list in terms of annual installations.
Within five years, the operational stock of industrial robots has more than doubled, to reach 33,220 units in 2021. This is an average annual growth rate of 16% since 2016.
The auto sector is the biggest customer for robotics, with almost 31% share in India. The density of industrial robots in the Indian auto industry is 148 per 10,000 employees. In comparison, China's density was 131 units in 2010 and is 772 now.
This suggests a huge potential runway in India.
AI is making difference in other sectors too.
For instance, one of the recommendations in Hidden Treasure, Moldtek Packaging, is the only packaging company in the world to design and manufacture in house robots for the IML (in mould labelling) decoration.
This makes the company not just a low-cost player but also allows it better aesthetics and complete hygienic/hands free production of packaging containers suitable for food and FMCG products. The technocrat promoters have been a big reason for its unique positioning in the rigid packaging segment.
Another company is Affle India.
It's a global technology company for mobile advertising. Its end-to-end consumer centric tech platform is powered by deep learning algorithms to drive conversions and high returns for advertisers.
Its inhouse data management platform (DMP) has a reach of over 2.4 bn devices. Huge access to data, along with artificial intelligence and machine learning (AI and ML) capabilities drives its real time predictive algorithm.
This helps advertisers show high impact and contextual advertisements at different touch points of a consumer's journey on the mobile phone, right from its purchase to the time it is discarded.
Affle India uses AI & machine learning -powered technology with audience segmentation & real-time results optimization for its marketing platform.
Equitymaster Conference 2024: View Your Invitation
Then there is KPIT Tech that is investing in domains like AI analytics for areas like autonomous driving.
Indeed, the scope of AI is not just limited to tech companies but also pervades into supply chains, manufacturing, auto, advertising and so on.
To know more, watch this video.
I believe AI is a huge megatrend in the stock market with a few multibaggers in the making.
I'll keep updating you on this. Stay tuned.
Warm regards,



Richa Agarwal
Editor and Research Analyst, Hidden Treasure
Equitymaster Agora Research Private Limited (Research Analyst)
Recent Articles