The Buyback Tax Could Trigger a Downtrend in IT Stocks
Jul 12, 2019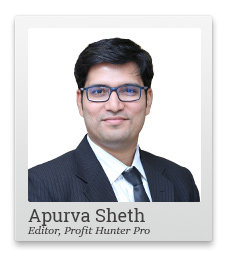 Finance Minister Nirmala Sitharaman presented her maiden budget last Friday. Markets are certainly unhappy with some of the announcements made in the budget. And introduction of buyback tax on listed companies is one reason amongst them.
Finance Minister proposed to extend the buyback tax at 20% to listed companies as well.
The government introduced a dividend distribution tax (DDT) of 10% in 2007. It hiked this tax rate to 15% in 2016. However, considering surcharge and education cess, the effective rate comes to 20%.
--- Advertisement ---
Here's an urgent profit opportunity from us that no mainstream media is revealing...

The #1 Stock for 2021.

...An innovative stock with the industry giants chasing it for its technology to touch millions and millions of people every day.

It serves several clients across the globe, but what got me is this...

The stock is leaving all its competitors behind despite the COVID crash, and now the price has already started to move.

There's actually one more reason why this stock could take off and make its early investors rich.

It's revealed here in this note with transparency.
------------------------------
Listed companies started avoiding DDT by rewarding shareholders with buybacks as it was tax friendly.
In the last three years, more than 170 companies have bought back shares worth Rs 1.33 lakh crore. (1 lakh crore = 1 trillion). Several IT sector companies Infosys, Wipro, and TCS have announced buybacks during this period.
The Nifty IT index took a sharp knock last Friday and lost 2.46% after the introduction of buyback tax. It's been trending lower since then. The index is also under pressure after the TCS announced its results during the week which were below street estimates.
The IT index has been amongst the strongest of all the 11 sectors I track regularly. However, the price action is suggesting that the hay days for the sector could be over from a short to medium term perspective.
My regular readers might be aware that I recommended IT stocks when no one was willing to touch them back in August 2017.
I spotted a greed and fear cycle in IT stocks which lasts for 2 years. I recommended trades to Profit Hunter Pro readers in stocks from the IT sector based on this cycle which generated gains of 20% and 12.1% in Cyient, 10.5% in Infosys and so on.
Here's how this cycle looks like on the monthly charts...
Greed and Fear Cycle in Nifty IT Index
In the above chart, I have drawn vertical lines with a gap of two years (24 months) starting from February 2007, which was a major top in the index.
--- Advertisement ---
Going Live on 30th September 6pm To Answer A Burning Question

Economies across the globe have collapsed.

However, despite all the weak economic data, the stock markets have rallied.

But how sustainable is this rally?

The burning question of the hour is

"Where are the Stock Markets Headed?"

And that is exactly where our upcoming live and exclusive free webinar will help you.

Join Nilesh Shetty, Associate Fund Manager, Equity Funds and I.V. Subramaniam, Director, Quantum AMC LIVE as they address your most pressing concerns...and try and fulfill your need for the next big investment opportunity.

If you are a serious investor, you cannot afford to miss this opportunity.

Register FREE for this upcoming webinar in 1-click
[Yes! I want to attend this Exclusive Webinar]

Yes, also send me your financial planning newsletter, Quantum Direct, free of charge.

Date: 30th Sept. | Time: 6pm | Venue: Your Computer
------------------------------
Each vertical line represents the beginning of a new phase for the index. The vertical line on February 2007 marks the end of 'the greed' phase and beginning of 'the fear' phase.
So, the index rallied 109% between February 2005 to 2007, which was the greed phase. It dropped by 66% in the fear phase between February 2007 to 2009, and so on.
UNLOCKED: Up to 3x More Gains During the Corona Crisis...
The index was in the greed phase between February 2017 to February 2019. It entered this phase in February 2017 at a level of 10,680 and ended this phase at a level of 15,732 in February 2019 which is a gain of almost 48%.
Now the IT index has entered the fear phase and will stay there until February 2021. If past is anything to go by then chances of making big money in IT sector looks minimal.
The index hit a new high of 16,720 in April 2019 but gave up all the gains. It is currently trading below the February 2019 level of 15,732. The current market price is lower than February levels by 2.25%.
And it looks the index could be headed further down in the short term. Let's have a look at the daily chart...
Nifty IT index is forming a bearish head and shoulder pattern (H&S) in the above chart.
In a H&S pattern, we have a situation where a stock or index has typically been in a bull trend for a while. The stock or index goes up, makes a high, comes back down, corrects a little bit, goes up to a higher high, fails to make a higher low, rallies again, fails to make a new high, and then starts to break down. We've got the shoulders and the head.
When you draw a trendline connecting all the lows it's called a neckline. Once the stock or index breaks below the neckline it can drop a similar distance it covered from the head to the neckline.
The Nifty IT index is currently placed just above this neckline support of 15,300. In case the index breaks below this support then it could drop by about 1,500 points which is the distance between the peak and the neckline.
So now you know that the IT index is in the fear phase which lasts until February 2021. Apart from this the short-term price action is also suggesting bears could gain control as the index has broken below 15,300.
Thus, it's best to tread cautiously in IT stocks right now. Most IT stocks could drive this drop in the index. But one stock looks the most vulnerable.
This IT stock could drop atleast 10% from current levels. If you are a conservative trader in the cash market then you should simply stay away from the stock.
If you are an aggressive trader in the futures market then you could look for short selling opportunities in the stock.
I've already shared my views on this stock with Profit Hunter Pro readers earlier in the week.
You can know more about it here.
Warm regards,

Apurva Sheth
Editor and Research Analyst, Profit Hunter Pro
PS: 10,064 people watched the One Stock Crorepati Summit. Richa Agarwal, our small cap expert, talked about those stocks which turned a select group into crorepatis. She also revealed her formula to identify such stocks. Click here to watch the One Stock Crorepati Summit.
Recent Articles