Investing in these Stocks is Like Finding a Bag of Cash in Your Backyard
Jul 13, 2020
'Woh Business nahi, keval Busyness hai', a close relative told me in his chaste Madhya Pradesh wali Hindi as we were discussing the business of one of his close friends.
His friend had invested close to Rs 5 crores (Rs 1 crore in land and equipment and Rs 4 crores worth of goods) in a business that barely made him Rs 18-20 lakhs for a couple of years now.
This is less than fixed deposit returns even at current interest rates.
Little wonder, it was a venture meant more to keep him busy than generate real wealth.
However, his rationale for still holding on to it was the Rs 2 crores loan he had taken for the business plus the fact that he expected it to earn a good Rs 50-60 lakhs in the future.
Thus, he was hoping that the good times could begin soon.
However, it now appears that he cannot wait that long. He has fallen on hard times and wants to liquidate his venture.
The reason I was having this discussion with my relative is because he was interested in buying out the business along with a couple of his friends and wanted my view on the valuation.
Of course, given the mediocre performance, he wasn't willing to pay too much for it.
--- Advertisement ---
3 Stocks for Potentially Massive Gains

COVID-19 has triggered a fundamental shift in the global economic and geopolitical map.

This reshuffling of the geopolitical map is just ONE of the forces fuelling the great Indian revival.

A revival that will restore the power, wealth, and influence we once enjoyed.

And, those who invest in the companies at the heart of this revival could turn a small stake into generational wealth.

Our co-head of research, Tanushree Banerjee, has narrowed down on 3 specific stocks.

She strongly believes, these 3 "revival stocks" could potentially offer massive gains.

Click here to learn more about this mega opportunity
------------------------------
Based on the numbers made available to me, I pegged the fair value of the business to not more than Rs 2 crores.
This meant a return on his investment of a decent 9%-10% based on its current earnings run-rate of Rs 18-20 lakhs.
If he wanted to play it even safer, I suggested paying no more than Rs 1.5 - 1.6 crores.
Please note that this latter valuation makes it a classic net-net play. Both the term and the technique of valuation coming from Ben Graham, the father of value investing.
At Rs 1.6 crore valuation, all he has to do is take control of the business, liquidate all the goods and receivables and pay off the loans.
He would have not only gotten his Rs 1.6 crores back but would have also made a cool Rs 40 lakh profit on the transaction.
And of course, the entire land and equipment worth Rs 1 crore would have come absolutely free of cost.
It would have been no less than buying a house and then finding a bagful of cash buried in your backyard.
Revealed: 3 Stocks for Potentially Massive Gains
I am sure his friend wouldn't agree to such a low valuation. He will easily find a buyer willing to shell out much more than Rs 1.6 crores.
However, businesses with these kinds of valuation are often found on the stock market.
Take Titagarh Wagons for example.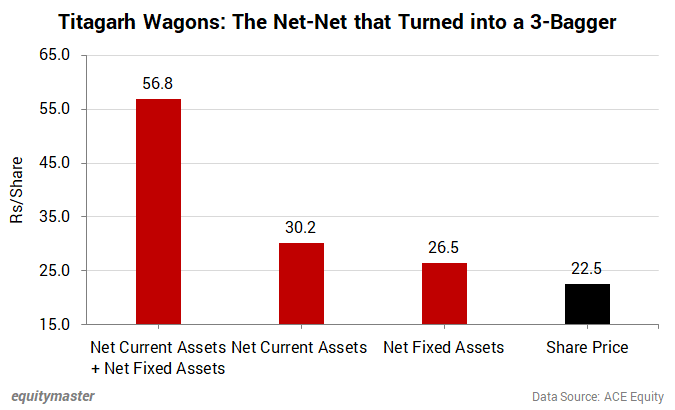 Back in December 2013, the stock was trading at a market cap of Rs 2.3 bn (Rs 22.5 per share) whereas its current assets less all liabilities and loans was itself a little over Rs 3 bn (Rs 30 per share).
This means its entire fixed assets base of Rs 2.7 bn (Rs 26 per share) was being given zero valuation by Mr Market.
It was a classic net-net and investors investing in the stock in December 2013 would have been rewarded with an almost 3x gain over the next 12 months. In other words, 180% returns in one year.
I believe that people are justified in being scared of such businesses. Most of the times, such they are dud businesses.
However, there are times when some decent quality businesses like Titagarh Wagons are also beaten down to such low valuations.
Who are able to identify and get into them at these impossibly attractive valuations, end up making a killing.
Back in 2013, I came across 35 such stocks. These were so beaten down, their market cap had gone below the current assets less all liabilities.
Cumulatively, these stocks went up 105% over the next one year, more than 3x better than the returns given by the benchmark index.
Of course, there were stocks in the group that were down as much as 80% and also stocks that went up almost 9x in one year.
Which is why you should always invest in such stocks taking a group based approach i.e. invest in at least 8-10 such stocks at a time.
This way, even if 3-4 of them end up disappointing, the winners will more than compensate for the losers.
It is better to pick such stocks in the current market environment. All you have got to do is bank on the economy eventually recovering, thus enabling the company to return to its earlier profitability.
If you are confident of the same, you could end up raking huge profits.
In fact, I have recommended two such stocks to my Exponential Profits subscribers last week.
Both the stocks are classic net-nets. They are not only down 90% from their 3-year highs, their market cap is now below the working capital less all liabilities.
This means Mr Market is giving zero valuation to their fixed assets.
Even if their prices reaches half of their 3-year highs, we are looking at potential gains of 300%-400% over the next year or two.
As I said, this is akin to buying a house and then finding a bagful of cash buried in the backyard.
Good Investing,



Rahul Shah
Editor, Profit Hunter
Equitymaster Agora Research Private Limited (Research Analyst)
PS: Richa will be talking about her crorepati stock recommendation on Friday, 17 July at the One Stock Crorepati Summit. Register for the summit for free here.
Recent Articles