The Electric Vehicle Disruption is Great News for this Smallcap Stock
Jul 15, 2019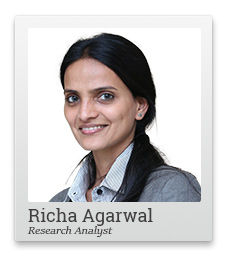 "Be fearful when others are greedy and greedy when others are fearful." - Warren E Buffett
In 2008, after Lehman Brothers collapsed, Warren Buffett infused US$ 5 billion in Goldman Sachs. In 2011, the bet earned Berkshire Hathaway a profit of US$ 3.7 billion.
Again in 2011, he invested US$ 5 billion in Bank of America when it was reeling under after effects of subprime crisis. Over the next 6 years, the value of his stake had more than tripled.
Last Time: Watch the Re-Airing of our 'One Stock Crorepati' Mega Summit
Taking cue, we recommended Gujarat Mineral Development Corporation (GMDC), when the mining industry and the company were going through a rough phase.
The stock was trading cheap, well below its book value then.
As valuations reverted to the mean, we closed the position with 61% gains in 7 months.
Not bad for a quick, but safe, return.
Are there any such opportunities in Indian stock markets today?
I believe there are...In the auto sector.
The sector has reported the worst sales performance in almost two decades.
There are multiple factors to blame. Liquidity crunch in the system, slowdown due to election uncertainty, poor economic activity, especially weak rural economy, delayed monsoons and high insurance costs have put the brakes on the sector's growth.
Not surprisingly, the sector is gripped by fear.
Stock Alert: Our Top 5 Stocks to Buy Now
This is evident in the valuations of auto companies.
BSE Auto index is down 35% since the start of this year. And if you heard the talking heads on TV, there's more to come.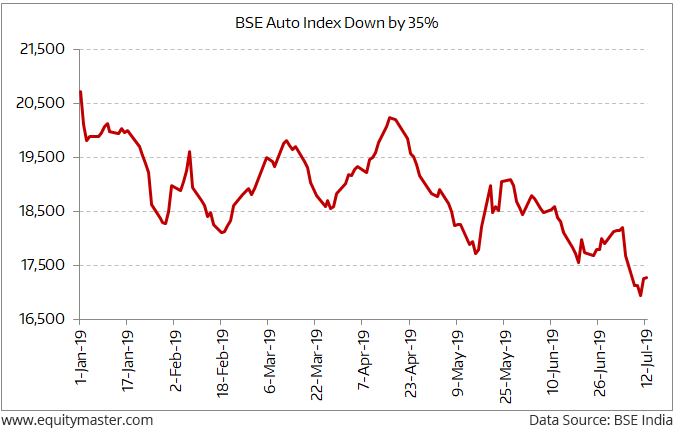 As if this was not enough...the Government has made its intentions on electric vehicles very clear.
They are coming...and fast. The big auto makers are frustrated and venting out.
Just a few days ago, Rajiv Bajaj, chief of Bajaj Auto fumed that auto industry is not 'chai ki dukaan':
"Today, electric vehicles constitute less than 1% of the size of the industry and for the life of me, I cannot understand how somebody can imagine that 1% can become 100% in six years' time."
And it's difficult to disagree with him.
But like it or not, the electric vehicle disruption is here to stay.
And even as big auto makers find the transition difficult and cry foul, there is a small cap company that is leading the disruptive trend in the auto sector.
--- Advertisement ---
Urgent: 'One Stock Crorepati' mega summit will re-air at 1 pm

Yesterday, we went LIVE with our 'One Stock Crorepati' MEGA Summit at 5 pm which thousands of people attended to learn about the 'Crorepati Stock' opportunity…

Now, we have decided to give our readers one last chance to learn about the 'Crorepati Stock' opportunity.

That is why we are re-airing the 'One Stock Crorepati' Summit at 1 PM today.

Here are the things you will get from the summit:
| | |
| --- | --- |
| • | Details of a 'crorepati stock' that could potentially make you a lasting fortune |
| • | A '5-minute blueprint' to finding out potential multibaggers in the market |
| • | A Breakdown and analysis of how some people became Crorepatis from a single stock |
| • | And a lot more! |

Remember: This event is could be a gamechanger for you and can save you years of frustration and failure to pick the right multibagger stock.

So, don't miss it for any reason.

Claim your free seat right away before we end the free registrations
------------------------------
Yes. This small company is set to convert this disruption into a massive opportunity.
In fact, it's already on its way to doing that.
Here's where the story gets even better...
No one is noticing this opportunity...or perhaps they are so gripped by fear that are frozen into inaction.
This company's stock price down to 2-year lows.
And I won't be surprised if it falls more. After all, valuations are a function of earnings and sentiment.
And we both know that sentiment is terrible...and possibly could get worse.
But for those who don't mind waiting for 3 to 5 years, this could be a great entry point in this fundamentally strong, disruption proof and well managed smallcap company. Later this week, I will be telling you more this smallcap company I am very excited about. So, stay tuned.
Meanwhile, remember what Buffett said. It's time to be greedy when others are fearful...
Warm regards,



Richa Agarwal
Editor and Research Analyst, Hidden Treasure
PS: 10,064 people watched the One Stock Crorepati Summit. Richa Agarwal, our small cap expert, talked about those stocks which turned a select group into crorepatis. She also revealed her formula to identify such stocks. Click here to watch the One Stock Crorepati Summit.
Recent Articles