Here's Why This Smallcap Will Beat the Big Autos in the EV Race
Jul 16, 2019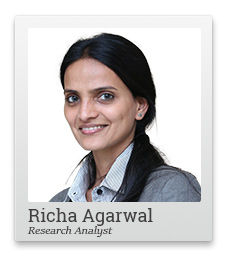 Yesterday, I wrote to you about the slowdown in auto sector.
India saw the worst quarter in two decades for auto sales volumes.
But this in an incomplete picture.
You see, this data is mostly about internal combustion engined (ICE) vehicle sales.
Here is the stat we must not ignore amid the auto sector blues.
--- Advertisement ---
These 3 Stocks are the Dark Horses of the Stock Market

The mainstream media mostly ignores them.

Mutual funds and hedge funds can't buy them in bulk.

Stock brokers rarely cover them.

These stocks are the dark horses of the stock market.

They only come in limelight after they have rallied by hundreads of even thousands of percent.

Our head of smallcap research, Richa Agarwal, has a knack for identifying such stocks before they begin their rally.

Over the years, she has spotted such stocks which have gone on to offer triple and even quadruple digit gains for investors. (* Past performance is no guarantee of future results)

Today, when the markets are near all-time high... and some investors are thinking of booking profits... Richa has spotted 3 such stocks which are set for a massive rally.

She will reveal the details of these 3 stocks on 16th March at her free online summit.

Click here to sign-up instantly. It's free.
------------------------------
Sales Volumes of Electric Vehicles (EVs) in India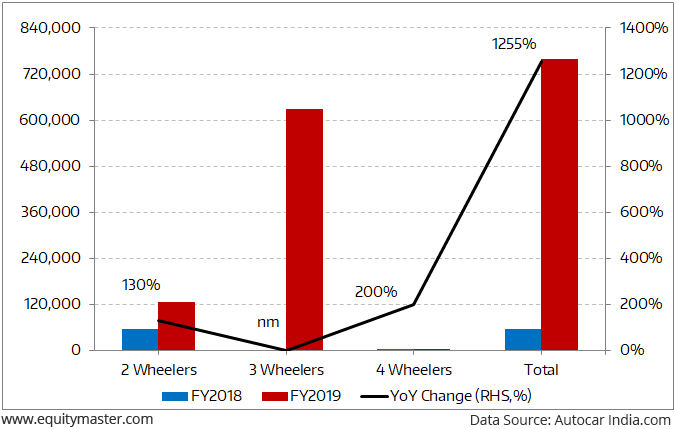 The sales volumes of electric vehicles (EVs) in India are up 1,255% over a year (See Chart above).
It's a data point those cynical about electric vehicle disruption will find hard to ignore.
Yes, the base is still quite low. Electric vehicles form less than 3% of the total domestic auto sales volumes at present.
--- Advertisement ---
REVEALED: Vijay Bhambwani's Secret to potentially Making Rs 18,870, Rs 9,425 and Rs 7,315 in a Single Day...

India's #1 Trader Vijay Bhambwani is finally going to reveal the details of his secret trading system...

... that could guide you generate potentially upto tens of thousands of rupees... in sometimes less than 60 minutes...

In fact, it has been proven to generate Rs 18,870, Rs 9,425 and Rs 7,315 in a single day...
*past performance does not guarantee future results. Trades were executed as part of track record building.

Be the first to get the full details of this breakthrough system when you attend his Vertical Profits Summit at 5pm sharp on 15th March...

Click Here to Book Your Free Spot Now
------------------------------
No wonder then that the big auto companies are still dragging their feet when it comes to this revolution in automobile technology.
But if the growth in EV sales continues surging at this rate (the recently announced Government incentives could give a further boost)...then a full-blown disruption for large auto players awaits.
But are there any businesses that stand to benefit from this disruption?
My latest smallcap stock pick is one. (My Hidden Treasure subscribers can access the detailed report here.)
This company is the first in India to introduce a product that offers higher power, efficiency, and reliability, in compact size to EVs.
It has already been exporting to global electric automakers for quite some time now.
The rise of EVs in India is a great incremental opportunity for this smallcap firm. That's because it will give a handsome boost to the value supplied per vehicle.
As for its clients, I can hardly think of a name that is not associated with the firm. From domestic players like Bajaj Auto, M&M, Hero, Honda, TVS, to global players like BMW and Ford, the list is long.
And the rise of electric vehicles is just a slice of the opportunity pie.
With an innovation led business model, the company is a great play on the rise of automation in vehicles. It powers the technology behind driverless cars.
Learn: How to Potentially Accumulate Rs 7 Crore in Wealth Over the Long-term
Further, with change in emission norms from Bharat Stage 4 to Bharat Stage 6, some products it supplies to automakers could more than double.
To sum up, while the conventional auto sector faces existential crisis, this smallcap firm is all set to ride the trend of rise in new age vehicles.
Now, I obviously cannot reveal the name of this company on a public platform. But the reason I am telling you this is that sometimes disruptions can be an opportunity to make extraordinary profits.
And to find those, you need to tune off the mainstream media (which by the way is crying hoarse over the monthly auto sales numbers) and instead focus on finding where the next big opportunity is.
A final word on EVs...
EVs are expected to comprise 25% of the total vehicles in India over next 10 years. I believe the real beneficiaries of this trend will be in the smallcap space. I am keeping an eye out for more such opportunities (which I will share with my Hidden Treasure members).
And you should too...
Warm regards,



Richa Agarwal
Editor and Research Analyst, Hidden Treasure
PS: EVs aren't the only trend I'm keeping an eye on. When the markets are down, like now...small caps tend to get beaten down worse than the rest. But that also means that the profit potential when they rebound, is much better. Like the 3 stocks I now think are headed for a rebound... you can access the report containing full details here.
Recent Articles