Will Your Portfolio Be a Victim of this Ticking Time-Bomb?
Jul 17, 2019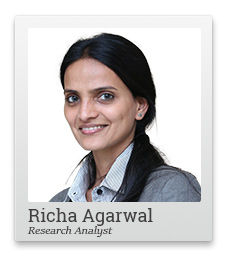 It's almost scary.
When I look around at the valuations of many auto companies, they seem completely oblivious to what the future looks like.
Worse yet, many auto ancillary companies' entire business is based on making very specific types of components. Ones that go into making the internal combustion engine (ICE).
For the reasons I've been telling you over the last few months, its getting hard to see their future. And whether they will have a future at all.
--- Advertisement ---
3 Stocks to Consider Buying

Our small cap MEGA Event went LIVE yesterday.

You see, 16,100+ people have signed up for this summit because Richa Agarwal promised to reveal the details of 3 high potential small cap stocks which one can consider investing right now.

Don't take these stock revelations lightly. These 3 stocks recommendations are a result of rigorous filtering process and hundreds of hours of solid research work. But here you have a chance to access them all for free.

Click on this link to watch the event LIVE and learn the details of 3 stocks to consider investing in.
------------------------------
But their valuations in the market still do not betray this impending danger to their future.
Yes, many have fallen. For example, BSE Auto index is down 35% since the start of this year: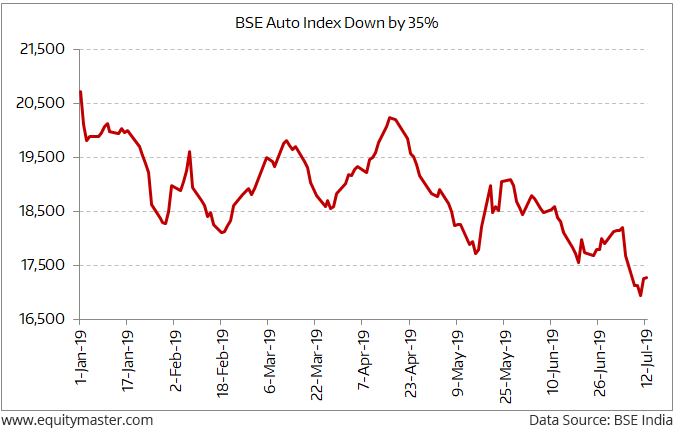 But this fall in valuations only adjusts for the recent slowdown in the auto sector. They do not adjust for the fact that some years from now, many might not even have a business!
--- Advertisement ---
A Successful Small Cap Event

We went live yesterday with our small cap MEGA Event.

In this event, Richa Agarwal, one of India's highly respected stock market analysts, reveals the details of 3 stocks you must consider buying.

Click here to watch the video before it goes off air.
------------------------------
The move to electric vehicles is gathering momentum with every passing day.
Most large auto players have already announced plans of launching fully electric vehicles by the end of 2019. That's just months away.
From then on, the trend will only pick up.
Environmental considerations are increasing. The government is busy setting targets and deadlines for a conversion to electric at a furious pace.
Just ten days back came the news that India plans to order taxi aggregators such as Uber and Ola to convert 40% of their fleet of cars to electric by April 2026.
And then of course is the massive funding that electric car companies are attracting across the board. While the global electric players already have their coffers full of money, even home-grown companies are riding the wave.
Two weeks back Ola Electric Mobility - the electric vehicle arm of taxi aggregator Ola - got a massive US$ 250 million funding from Japanese investment heavyweight SoftBank. Thus, valuing the company at close to US$1 billion.
It doesn't end there. The list of such new age companies getting large funding is very long indeed.
Where do you think all this money will go? Electric vehicles are going to be on the roads much faster and in larger numbers than you realize.
And many old ICE based auto companies' businesses and valuations remain in complete denial to these changes. To put it lightly, their futures are not going to look like their past.
They and their investors don't seem to get it yet.
That's why I like to call them 'ticking time-bombs'.
When reality hits, BOOM!
I hope you aren't sitting on any.
I on my part have been extremely conscious of this trend. I've been very careful to not let my Hidden Treasure subscribers fall for any of these ticking time-bombs.
In fact, I've taken it one step ahead. I believe that along with the dangers it brings, for the ones who are ahead of the curve, disruptions can also be an opportunity to make extraordinary profits.
The biggest beneficiaries of this trend are bound to be in the smallcap space. And I've made it my mission to find such opportunities for my Hidden Treasure members.
In fact, I just recommended one such company to them....
This company is leading the disruptive revolution in auto industry. It has a strong R&D set up to keep its products relevant amid changing consumer demand patterns, regulatory requirements and client demands.
Be it vehicle automation, change in the emission norms from Bharat Stage IV (BSIV) to BSVI, or the electric vehicles. It is all set to capitalize on these opportunities.
The who's-who of the auto industry are its customers. And it looks like they will have no choice but to come to it for their future-proof needs. From domestic players like Bajaj Auto, M&M, Hero, Honda, TVS, to global players like BMW and Ford, the list is long.
The best part?
This company's stock price down to 2-year lows.
I know from experience that getting such big opportunity at a good price is a rare opportunity indeed.
As the market throws up more such disruption related opportunities in the months and years to come, my subscribers rest easy in the knowledge that they will be on the right side of the action.
Warm regards,



Richa Agarwal
Editor and Research Analyst, Hidden Treasure
PS: EVs aren't the only trend I'm keeping an eye on. When the markets are down, like now...small caps tend to get beaten down worse than the rest. But that also means that the profit potential when they rebound, is much better. Like the 3 stocks I now think are headed for a rebound... you can access the report containing full details here.
Recent Articles