Profit Hunter Pro is The Best...My Readers Are Saying It
Jul 19, 2019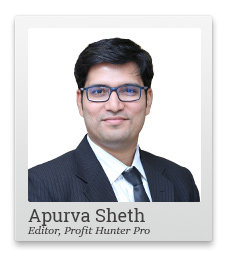 A month ago, I wrote to you about the opportunities beyond the NBFC space.
Seasonality and price action suggested pharma stocks could be on the verge of a reversal. The months of June and July are seasonally the best for the Pharma sector.
In last 8 out of 10 years the pharma sector has ended on a positive note in these two months.
Apart from this, the price action in many stocks also indicated a strong chance of an upside.
--- Advertisement ---
[Alert] Sell These 3 Stocks Immediately

These 3 stocks are ticking time bombs in your portfolio.

It is very likely that you could be owning these 3 overvalued... fundamentally weak... ready to crash stocks... in your portfolio today.

Because many stock brokers have painted rosy pictures of these stocks.

But the reality is starkly different.

If the market crashes, then these stocks could wipe out your wealth.

You should get rid of these stocks as soon as possible.

We are going to reveal details of these 3 landmines at our upcoming special event.

You can click here to sign-up in 1-click. It's free.
------------------------------
I spotted an entry opportunity in a fundamentally strong stock Lupin Ltd. I recommended it to my Profit Hunter Pro subscribers.
Lupin was trading above its psychological support level of Rs 700. It was forming a falling wedge. This is a bullish reversal pattern. Also its RSI was in the oversold zone. This suggested a high chance of a recovery.
The stock moved up swiftly and achieved my target price of Rs 770.
Total gains? 7.85% in just 6 days!
My Profit Hunter Pro subscribers appreciated the gains from this stock in a dead market like the one we are in now.
India's Revival: A Once-in-a-Generation Wealth Making Opportunity
The streets of Mumbai are flooding with water but my mailbox is flooding with feedback. I am touched by your kind words and I would like to share some of it here.
Harsha wrote in...
Who says a common man cannot avail the services of the Charted Market Technician.

We have Mr. Apurva who is a CMT, with his business acumen studied the sector wise movement over the last one year and found a technically sound Stock at the support level.

You are excellent in finding out stocks which has good risk to reward ratio and found Lupin.

I exited the trade with 7% return in 7 days. We have to wait for one year to get 7% in G-sec bonds while you were able to generate these returns in a week time.

Trust me, it is worth availing Profit Hunter Pro services!

Looking forward for many more profitable trades like Lupin.

We are blessed by having a CMT in the form of you.

Cheers!

Regards

Harsha
Subhash Parab wrote...
Dear Apurva,

It has become your habit of choosing the stocks for us which are helping us to make money regularly.

I had taken the position in Lupin however I did not remain for long. I made a profit of Rs.14000/- by taken position in F&O. You may not recommend us to do that but with proper risk management I had done that. I wanted to take a position again after it runs for 20 bucks but I missed the opportunity and after that I did not want to take risk.

Thank you very much for giving us such opportunities week after week.

Yours sincerely,

Subhash Parab
Here's Lakshminarayanan...
Hi Apurva,

First of all, a big thanks to you for the recommendation on Lupin! Getting a profit of 6 to 7% in 6 days is amazing.

Thanks a lot!

N.Lakshminarayanan
Mr. Aiyub Mansauri...
Dear Apurva,

I bought Lupin 500 shares at 713.5, still holding and will sell tomorrow.

Thanks for excellent trade.

I am big fan of you and reading all your articles, also following all your trade recommendation with strict stop loss and targets including your belief in gold and currencies.

Thanks & Regards,

Aiyub Mansuri.
These are just some of the many emails I received from my dear subscribers. Now I am not sharing this feedback to blow my own trumpet.
I want you to see the big the potential in trading fundamentally strong stocks.
--- Advertisement ---
[Watch Now] 3 Little-known Stocks We are Super Bullish On




Click Here to Watch Now
------------------------------
There are thousands of readers who read the Profit Hunter Pro daily and gain from the knowledge and insights I share on the markets. Along with that they are also benefitting from the short-term trades I recommend regularly.
I don't want you, dear reader, to miss out on such opportunities. I am finding plenty of them even in this dull market.
Over the last one week I have found 3 trading opportunities in fundamentally strong stocks and one of them is from Pharma sector.
It doesn't matter if you are a veteran or a newbie in the world trading equities. If you are interested in trading fundamentally strong stocks, then Profit Hunter Pro is the place to be
I hope to see you on this side of the fence where greener pastures await you...
Warm regards,

Apurva Sheth
Editor and Research Analyst, Profit Hunter Pro
PS: Dear reader, identifying profitable trades requires a proven trading strategy. That's exactly what our in-house trading guru Apurva Sheth has devised. Get the details here...
Recent Articles