The Big India Revival
A Once-in-a-Generation Wealth Building Opportunity
With 1,000% Long-term Gain Potential
Use this 5-Point Checklist to Buy EV Battery Stocks
Jul 19, 2022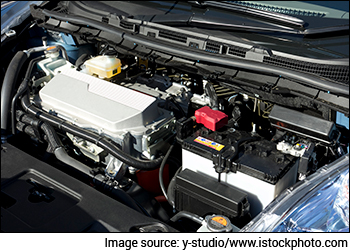 Contemporary Amperex Technology, popularly known as CATL, is one of the best-known EV battery company globally.
The Chinese company supplies more than one third of the world's EV batteries. And it counts Tesla, Kia Motors and BMW amongst its clients.
CATL recently unveiled its third-generation cell-to-pack (CTP) battery technology. What's unique about it is that it delivers a range of 1,000 kilometres on a single charge.
Ironically, this is at a time when most EV makers are struggling to cope with customer anxiety about range and battery inflammability. Even in India, EVs, especially two wheelers have been in the headlines for catching fire.
But CATL's founder and chairman, 54-year-old Zeng Yuqun, has rapidly emerged as the EV industry's kingmaker. Under his leadership, CATL's valuation has ballooned to nearly US$ 180 bn. That's more than the market caps of General Motors and Ford combined.
So, what makes, Yugun so successful when most of his EV industry peers are still struggling to win customer confidence?
There are basically 5 cues that every EV investor can draw from the battery billionaire's success.
Scale Matters: CATL does not just own one of the largest EV battery capacities. Owning large stakes in mining projects in China, the Democratic Republic of Congo, and Indonesia, gives CATL a tighter grip on production.
Such scale gives CATL huge influence and allows the company immense pricing power.
--- Advertisement ---
The Big India Revival

3 Hidden Forces Converging To Trigger a Multi-Trillian Dollar Shockwave

That Could Mint Countless Dollar Millionaires in India

You Could Be One of The Next Dollar Millionaires India Will Witness

Full Details Here
------------------------------
In India, the Tata group appears to be on the same track.
One of the most successful EV companies in India, Tata Motors has tripled the number of EV units sold over past two years. The company is targeting sale of 1 lac EV units by 2023.
Meanwhile, the supply of critical components for its lithium battery comes from group concern Tata Chemicals.
At an outlay of Rs 10 bn, Tata Chemicals will not just have sufficient battery capacity in three years. It already has a battery recycling plant which will help it recover cobalt, an important and precious ingredient in making batteries.
In time, Tata Chemicals could emerge as among the top EV battery companies in India.
Thus, both the companies are important to watch out for scale in EV battery making.
Devil in the Technical Details: The attention CATL founder Zeng paid to the technical details was crucial.
When CATL started making car batteries, another Chinese company, BYD, was considered the market leader.
Remember Buffett too saw huge potential in BYD?
But, as it grew, CATL's technical supremacy gave them a lead.
BYD used lithium iron phosphate batteries, while CATL used a combination of nickel, manganese, and cobalt, or NMC. The NMC batteries had significantly longer range. When China rolled out EV subsidies in 2015, batteries with longer ranges received more support. This benefited CATL tremendously.
In January 2019, space agency ISRO offered its lithium battery technology to just 10 companies via competitive bidding.
--- Advertisement ---
Next 10 Yrs Belong to this Sector... Potential 33x Growth...

We rarely get to see this kind of growth these days.

It's a potential 33x opportunity by 2030.

The next 10 years belong to this one sector.

As per our research, this could be one of the fastest-growing sectors of the stock market by 2030... and possibly even beyond.

If you're an investor, then you simply cannot ignore this sector today.

Otherwise, you could be leaving a lot of money on the table.

We're going to reveal everything about this mega opportunity on 3rd October... including details of 3 stocks to ride this potential 33x opportunity.

Full Details Here
------------------------------
Amara Raja Batteries, which is among the largest automotive battery makers in India, was one of recipients. In 2022, Amara Raja launched the country's maiden technology hub to develop lithium-ion cells, at its Tirupati facility in Andhra Pradesh.
The company has also taken a minor stake in Bengaluru based EV battery startup Log9 Materials. Log 9's Aluminium Fuel Cells will be a credible alternative to the lithium technology.
So, when it comes to indigenous lithium battery technology, Amara Raja certainly has an edge over peers.
Tax Sops are a Crucial Demand Kicker: Between 2009 and 2021, China handed out around 100 billion yuan (US$ 14.8 billion) in subsidies to EV car buyers.
Chinese consumers received tax breaks for choosing EVs over combustion engines. But only if those EVs included batteries made with Chinese cells. That drove demand for CATL batteries, not just among Chinese EV makers, but also MNCs trying to tap into the lucrative Chinese market.
So, subsidies played a huge role in CATL's soaring market share.
FAME, the Rs 100 bn incentive program to develop EVs and EV batteries in India, could be an equally effective stimulant. The goal is to have at least 30% of all new vehicles sold in India, as EVs, by 2030.
In fact, the tax sop has attracted several auto component makers to the battery supply chain.
Dominating the Supply Chain: CATL invested in the entire EV supply chain, from rare earth mining to materials manufacturing to the battery cell making and even to recycling.
The global shortage of semiconductors made EV firms sceptical of supply chain bottlenecks. So vertically integrated battery makers like CATL dominate the supply chain.
Most large Indian EV makers are investing in the entire EV supply chain. But only few like the Tata group seem to offer enough visibility in terms of charging infrastructure (Tata Power), battery recycling etc.
Brand and Distribution: As CATL grew, the company expanded beyond China. Its first overseas plant is in central Germany. Thanks to CATL's tie-ups with Tesla.
Germany, which produces more cars than any other European country, was quick to realize the importance of collaborating with the Chinese firm.
Similarly, several global EV makers are collaborating with Indian two-wheeler EV producers. Though the EV exports from India are yet to gain traction, established brands like Bajaj Auto and Hero MotoCorp are at the forefront of EV exports.
Thus, even as electric vehicle sales soar globally, the battery makers are likely to be the limelight of the EV ecosystem. Not just in China but even elsewhere if the battery maker has a unique edge.
Indian EV battery makers which have an edge in technology, supply chain or tax sops will continue to be the biggest gainers.
So, next time you look for EV multibaggers, make sure you run through this 5-point checklist that can help screen the best EV battery stocks.
Warm regards,



Tanushree Banerjee
Editor, StockSelect
Equitymaster Agora Research Private Limited (Research Analyst)
PS: Looking for fundamentally strong electric vehicle stocks is only half the job done. Investing in EVs could go horribly wrong unless you get a good grip of the ecosystem.
Knowing the forces that can drive a massive gold rush in the EV ecosystem can do wonders to your stock returns. Watch my video on forces impacting the EV gold rush here....
Recent Articles