'Chandrayaan 2': India's Space and Defense Ambitions Could Propel This Smallcap Stock
Jul 22, 2019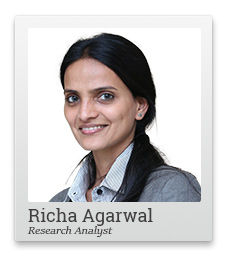 Whoever said that sky is the limit.
As I am writing this, the countdown is on.
At 2:43 PM today, if ISRO's mission is successful, India will become only the fourth country, after the US, Russia and China to land on the moon.
It would also be unique in a way.
At less than Rs 10 billion, Chandrayaan 2 is the lowest cost lunar mission ever. As the western media reports, it is less than half the budget of the recent hit movie 'Avengers Endgame'. What's more, the mission is fuelled by homegrown technology.
Special: How To Become A Crorepati From A Single Stock
This is India's second moon mission. It aims to study lunar terrain and atmosphere. It's too early to say if understanding moon's surface would lead to any direct tangible benefits to mortal beings on earth.
But regardless of the findings, along with the recent Mission Shakti, Chandrayaan 2 proves India's growing technological prowess in space and defense capabilities.
At its peak, the Apollo program is said to have employed 400,000 people. And over 20,000 industrial firms supported it.
Back home, ISRO's ambitious mission could set a whole new 'lunar economy' bustling. The day is not far when India will be at the centre of commercial satellite deals.
But take that with a pinch of salt.
That's because real beneficiaries of India's rise as a space and defense power will be few. However, I'll not be surprised if in the wake of this event, defense stocks start shooting up and become next 'hot' theme.
Urgent: Why 3 Tiny Companies Could Be On The Verge of a Rebound...
I hope you, dear reader, won't fall for the fad and will look before you leap.
Defense is a capital intensive and regulated industry with long gestation periods. You must be selective while picking stocks in the defense sector.
Nonetheless, there lies a great investment opportunity in the sector. And I for one am quite excited to see this defense and technology megatrend unfold.
You see, one of my small cap stock recommendations, is a highly regarded vendor to the aerospace and defence industry. The company enjoys the clientele of some of the best companies catering to this sector. Besides, it has more than one arrow in its quiver to meet good return target for long-term investors. These include cyber security, data analytics, communications, and utilities.
Hidden Treasure subscribers can access the initial recommendation report here.
--- Advertisement ---
Urgent Announcement: AN EXCLUSIVE SPECIAL BROADCAST

We very rarely do this at Equitymaster: Conducting a Mega Summit to reveal the details of a one high potential stock.

You see, our Head of small cap research, Richa Agarwal, has found potentially the best money-making opportunity of the decade...

This opportunity is so BIG that she has decided to do an EXCLUSIVE SPECIAL BROADCAST at 5 pm on 22nd August to reveal the details of this once in a lifetime opportunity...

The great news is that if you act now, you can get access to this special broadcast for FREE.

All you need to do is register and block your seat for right now...

We are expecting this to be the biggest event in Equitymaster's history...

In fact 4,000 people have already claimed their seats for this special broadcast!

So, make sure you do not miss out on this very rare opportunity...

Join 4000+ people and block Your Free Seat for the One Stock Crorepati MEGA Summit Now!
------------------------------
For those who have not taken any exposure to small cap stocks yet, I believe it's a great time.
I'll be tracking the developments in this space and share with you the specific stock opportunities.
But here's what you need to be cautious of.
You may hear a lot more announcements that might draw you to fundamentally unsound stocks. Don't get carried away by the propaganda. Stick to a disciplined process of picking stocks.
Warm regards,



Richa Agarwal
Editor and Research Analyst, Hidden Treasure
PS: Dear reader, Tanushree believes this is the right time to buy the best 7 stocks in the market before they run up. Read more about these 7 stocks here...
Recent Articles