The Road to 100 Baggers Begins Here
Jul 22, 2021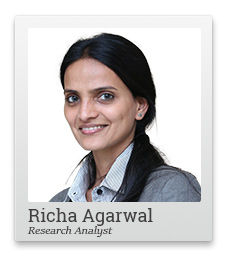 The business headlines over the last few days have been dominated by the Zomato IPO.
This home grown startup has indeed come a long way. It's recent public offer is a landmark in the world of startups.
While enough has been said and written about Zomato, I believe an even more interesting journey has unfolded for Info Edge.
This company has never been so much in news for its core business (naukri, jeevansathi etc) as it has been for its stake in Zomato.
Through the partial stake sale, Info Edge will make a return almost 60 times on its investment.
If you go through Info Edge's investor presentation, there is a list of ventures it has invested in. This includes the well-known Policy Bazaar.
Most of these are tiny, unlisted businesses in which Info Edge is probably one of the earliest investors.
--- Advertisement ---
No crash, correction, or pandemic can STOP This...

At last, it's happening...

Right here in India...three hidden mega-trends are converging for the first time ever to trigger an economic boom of unparalleled proportions.

A boom so powerful - no crash, no correction, and no pandemic can STOP India from becoming the next economic superpower...

And those who take advantage of this mega shift could potentially generate massive wealth for themselves and their families in the long run.

We are talking about potential 1,000% gains...and perhaps even more over the long term.

But trust me, people who pass this opportunity will regret their decision in the years and decades to come...

So, if you want to save yourself from potential downsides of this mega shift...

...and instead, leverage on it for potential windfall gains...

Join us on 24th September at my special event...

Put your email in the box below and get your free ticket right away.
------------------------------
These are risky bets for sure. These companies are currently in the incubation phase. Some of them may not survive.
And the one's that do will likely need a long time before they're monetised.
But with a careful allocation, the few that work beautifully, like Zomato, can more than make up for the ones that don't. That's the power of optionality.
The potential upside of getting into promising businesses early is huge.
The general perception is this kind of investing - in unlisted ventures - is only for big investors or big companies like Info Edge.
And retail investors can not dare to dream of such returns.
Today, I want to break this myth.
Breaking a Different Ground
I believe there is a better way to make 60 to 100 times return on investment than betting on startups.
I'm referring to a secret segment of the stock markets which is out of bound for big investors.
Now for most investors, who are used to the copycat style of investing, this segment of the market is a big turn off.
--- Advertisement ---
INSIDER SECRET: An Astonishingly Easy Way to Pile Up Potentially 40-60% Gains in Just 1 Year

India's most well-connected trader with over 35 years of experience just confessed...

"This Lucrative Market Segment Could Leapfrog Over Nifty in The Next 12-16 Months"

... thanks to a massive and irreversible mega-trend fueling its growth!

In fact, he and his partner have already identified 2 spectacular stocks from this segment... which are ready to rake in potentially 40-60% gains in just 1 year... and make you big, fat profits!

The best part of them all...

Their Details Are Packed in This Special Report (Discover How to Claim it for Free)
------------------------------
But for investors who are not looking for immediate validation and are willing to wait for a few years for spectacular returns, this segment offers the best wealth generating opportunity.
This is not just some pretty theory. It's backed up very well by lots of data.
You see, towards the end of fiscal year 2021, I ran a query on 100 baggers in the last decade.
Of the thousands of listed stocks, only 20 odd stocks achieved this feat.
The list of winners includes Avanti Feeds, Bajaj Finance, Alkyl Amines, Deepak Nitrite, Tasty Bite Eatables, Astral Polytechnik, among others.
What was common about this group?
Here are some points you should note...
These winners belong to different sectors - chemicals, food, finance, jewelry, and so on.
Since the horizon is a decade, the stocks have been through more than one economic and market cycle.
But the most interesting point is this.
REVEALED: 3 "Super Smallcaps" You Didn't Know About
All of these 100 baggers began as companies with marketcaps less than Rs 5 bn.
The only exception was Bajaj Finance which had a marketcap of Rs 23 bn in the year 2011.
The secret segment of the market I'm referring to, is a subset of this microcap universe. If you are an early investor in this segment, even with a small allocation, these stocks make a huge difference to your portfolio.
I have been exploring opportunities in this universe for some time now. As I write this, I'm glad to share that a couple of my recommendations have offered gains of over 500% and 200% in less than 2 years.
And I believe this is just the beginning of a great run for them.
Now, not all bets in this universe will turn out to be big winners. Some may fail. But the gains on the winners are more than enough to make up for the ones that don't work.
That's why this universe is meant only for a select class of investors.
Do you qualify? Yes, if you are willing to...
Walk an unchartered path rather than follow big investors.
Have a long term horizon and don't mind volatility in the meantime.
Invest in an equity class where the success ratio might be lower, but the quantum of gains is overwhelming and will make up for the stocks that do not perform.
You should also be fine with 40% correction in a stock if that allows you take exposure to a stock with 100x return potential.
Warm regards,



Richa Agarwal
Editor and Research Analyst, Hidden Treasure
Recent Articles