How to Find 100 Baggers
Jul 23, 2021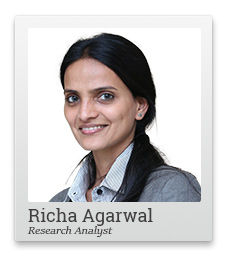 Small-cap stocks have been on fire since last April. Even a global pandemic has not stopped a three-fold rise in the smallcap index.
While this run up could be easily attributed to global liquidity, the underlying and comforting fact is that fundamentals of stocks with low market cap have improved, with a better balance sheets, profits, and cash flows.
It's heartening to see that despite the pandemic, lesser known and tracked companies are witnessing sharp growth in sales and profits as compared to pre-pandemic times.
Improving fundamentals, along with the shot of global liquidity, could do wonders to the potential returns in some of these stocks.
But how can one maximise the possibility of finding these big winners in a sea of listed stocks.
Perhaps, the history could give us some answers.
A few months ago, I ran a query on 100 baggers in the last decade to find some common traits that could help us find future winners.
What I got was a list of 20 stocks. The listed universe comprises thousands of companies.
--- Advertisement ---
No crash, correction, or pandemic can STOP This...

At last, it's happening...

Right here in India...three hidden mega-trends are converging for the first time ever to trigger an economic boom of unparalleled proportions.

A boom so powerful - no crash, no correction, and no pandemic can STOP India from becoming the next economic superpower...

And those who take advantage of this mega shift could potentially generate massive wealth for themselves and their families in the long run.

We are talking about potential 1,000% gains...and perhaps even more over the long term.

But trust me, people who pass this opportunity will regret their decision in the years and decades to come...

So, if you want to save yourself from potential downsides of this mega shift...

...and instead, leverage on it for potential windfall gains...

Join us on 24th September at my special event...

Put your email in the box below and get your free ticket right away.
------------------------------
It's like finding needles in a haystack, unless you have a strategy - the right tools and approach.
These 20 stocks included the likes of Avanti Feeds, Bajaj Finance, Alkyl Amines, Deepak Nitrite, Tasty Bite Eatables, Astral Polytechnik, among others.
Most of these are well known names now. A decade ago, most were not a part of public consciousness.
As you can see, they all belong to different sectors - chemicals, food, finance, plastic products, and so on.
They have been through the phases of huge corrections in the low market cap stocks, the IL&FS debacle, demonetisation, GST related disruption, and the Covid crisis.
Despite all these macro shockers, they did well.
The list further underscores my belief that finding multibaggers doesn't have anything to do with chasing sectoral themes or macro themes like oil prices, currency movements, interest rates, and so on.
It's about how much value a company can create in its niche.
The biggest differentiator is the management team, a factor that needs to be qualitatively assessed.
Here's what is most interesting about this list - All of these 100 baggers began as companies with marketcaps less than Rs 5 billion. The only exception is Bajaj Finance with a marketcap of Rs 23 billion in the year 2011.
It's a universe highly ignored by big investors and institutions.
The reason?
--- Advertisement ---
INSIDER SECRET: An Astonishingly Easy Way to Pile Up Potentially 40-60% Gains in Just 1 Year

India's most well-connected trader with over 35 years of experience just confessed...

"This Lucrative Market Segment Could Leapfrog Over Nifty in The Next 12-16 Months"

... thanks to a massive and irreversible mega-trend fueling its growth!

In fact, he and his partner have already identified 2 spectacular stocks from this segment... which are ready to rake in potentially 40-60% gains in just 1 year... and make you big, fat profits!

The best part of them all...

Their Details Are Packed in This Special Report (Discover How to Claim it for Free)
------------------------------
There are just not enough shares available in the market to invest their huge sums of money.
Even in my smallcap recommendation service - Hidden Treasure - I can't consider some of these stocks. This is simply because the trading volume in these stocks is too low to accommodate a large number of investors simultaneously.
Now this is exactly the universe I'm focusing on for a select group of subscribers. I'm betting on it to find future 100 baggers.
Now it's a given that bagging 9900% gains (a 100 bagger) needs long term horizon.
However, what is lost in the annual CAGR statistics associated with such returns is that in real life, you do not get the same return every year.
Let me show you a real example of how this journey unfolds.
Alkyl Amines had a market cap of less than Rs 1 billion, with barely 11,000 shares traded on a daily basis in the year 2010-11. The stock was priced well below Rs 50 and traded at a price to earnings ratio of 7 to 8 times.
Today, the stock is up 12,640%. An average annual return of over 60%.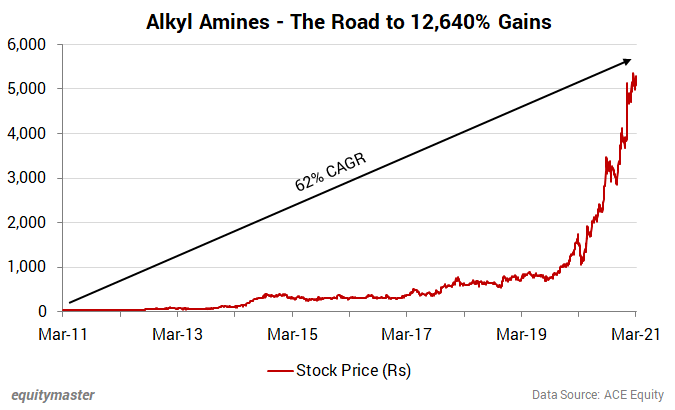 In the last one decade, the stock has multiplied its topline and operating profits by 14 times and 65 times, respectively.
It's rare to visualise such runway in case in case of largecap, and even in the case of most smallcap companies.
REVEALED: 3 "Super Smallcaps" You Didn't Know About
Here's what you need to know about these stocks.
Such gains need patience. I'm not talking a year or two here.
For Alkyl Amines, the major gains have materialized in last one year itself, when the stock got the push from rerating in its P/E multiple and growing liquidity.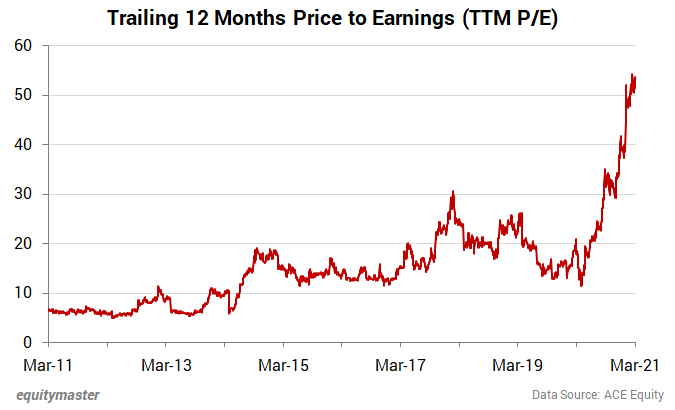 In some rare cases, you could just be lucky and see a big chunk of these gains within a year or two.
But that's luck.
To make big money in this space, you need to have the patience for phases when nothing spectacular happens.
You should be fine being bored and accept the volatility that lesser known stocks might face in the early stages.
Sometimes, a re-rating might take a bit of time as big investors take time to recognise the opportunity.
And so will the returns on these stocks.
You may lag in the short term, but take comfort from the fact that the wealth you will earn in the long term will stay.
Last but not the least...
When you bet on a bunch of these stocks, not every stock will turn out the way you would expect it to be.
Some might even disappoint.
Having the right asset allocation will allow you to remain invested and a see a few of them meeting their promise.
Remember, a few is all you need for a winning portfolio.
Now you know why investing in this space is not everyone's cup of tea. You need to have the right temperament. More so in a world spinning out Robinhood millionaires.
That's why when I pick up stocks from this space, it's only a few subscribers that get to know about it.
Warm regards,



Richa Agarwal
Editor and Research Analyst, Hidden Treasure
Recent Articles