Investment in securities market are subject to market risks. Read all the related documents carefully before investing
An Emerging Opportunity for Investors
India's Lithium Megatrend
The Best Way to Buy Indian Defence Stocks
Jul 25, 2023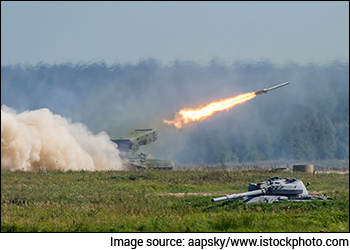 On an average, the defence stocks in Equitymaster Screener have gained about 20% in the past three months.
Here is a heat map for Defence stocks.
So, are defence stocks in India currently overvalued?
To understand this, let's take a look at Israel.
When the state of Israel was founded, the country desperately needed trading partners. Unlike its Arab adversaries, Israel did not have oil or natural resources to fund its economy.
Plus, the country needed to get self-sufficient in defence.
The country's military exports were then nowhere close to where they are today. Israel took its military technology seriously only when its attempts to export produce like oranges and kerosine stove tops to South America completely failed.
But the country's focus on military R&D paid off.
Almost 17% of the US' R&D budget is allocated for the military. The US military's wartime R&D gave birth to pathbreaking technologies like the internet.
In the case of Israel the share of military R&D is almost 5% of its total R&D.
So, did this help?
Well, since 1985, Israel is the world's largest exporter of drones. It corners about 60% of the global market.
--- Advertisement ---
Investment in securities market are subject to market risks. Read all the related documents carefully before investing

Safe Stocks for the Electric Future

EV penetration in India is still at low single digits. But this market is growing exponentially.

Many logistics companies have started including electric vehicles into their fleet. Even public transport is going electric.

Once the charging infrastructure gets fully developed across the country... we may even see private car owners buying electric vehicles in droves.

The future is electric. So, it makes perfect sense to include a few stocks in your portfolio that could potentially benefit from this electric future.

Get Full Details
Details of our SEBI Research Analyst registration are mentioned on our website - www.equitymaster.com
---------------------------------------------
With US$ 11 bn in global arms exports, Israel is trailed by the US, whose market share is under 25%. Its customers are everywhere - Russia, South Korea, Australia, France, Germany, and Brazil.
Israel's drones were used by India to safeguard its border during China's Doklam intrusion.
Over the past few decades, Israel has shown the world how technologically advanced military hardware can change the way modern wars are fought.
Can India's military exports do the same?
India's indigenously produced BrahMos missiles bagged US$ 335 m order from the Philippines last year. Similar orders are expected from Vietnam, Malayasia, and few other southeast Asian countries.
Also, India's defence PSU Hindustan Aeronautics is in talks with at least four countries to sell its light-combat aircraft, Tejas.
In fact, the scope for India to grow the defence exports is evident in this map shared by KPMG.
India's Potential Military Export Destinations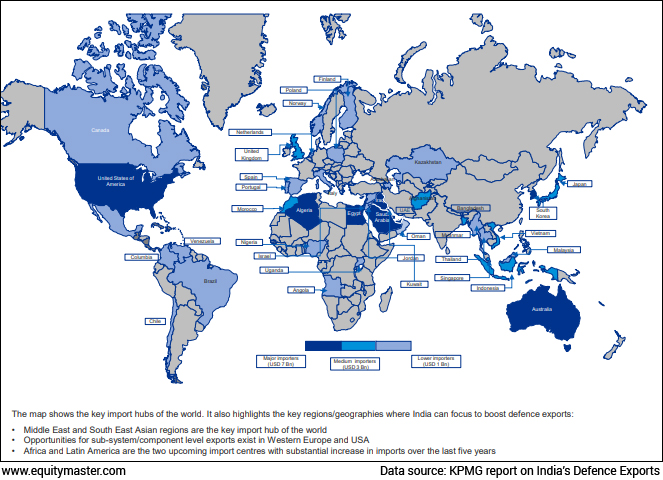 As far as military technology R&D is concerned, both ISRO and DRDO have got more autonomy for defence tech partnerships with private sector and startups, over the years.
More importantly, governments of India and the US have recently released an ambitious roadmap for defence industrial cooperation. This is to fast-track technology tie-ups and co-production of military platforms such as air combat and land systems.
The move came in the wake of Chinese aggression in the Indo-Pacific region. Also, the Russian aggression against Ukraine that seeks to redraw borders and threatens national sovereignty.
In the last few years, the defence sector bond between India and the US has deepened significantly. The two countries have inked key defence and security pacts over the past few years. This includes the Logistics Exchange Memorandum of Agreement (LEMOA) in 2016 that allows the militaries to use each other's bases for repair and replenishment of supplies.
Join us: And hear investing experts share their ideas
The two sides also signed COMCASA (Communications Compatibility and Security Agreement) in 2018. It provides for interoperability between the two militaries for the sale of high-end technology from the US to India.
Currently, there are proposals from US defence major General Atomics Aeronautical Systems to share technology for fighter jet engines and armed drones.
Therefore, with credible technology at our disposal, exports remain one of the biggest inflection points for India's military production.
India's defence production exceeded the benchmark of Rs 1 trillion for the first in the latest financial year.
The number is critical not just because it shows a growth of around 12% over financial year 20021-22. But also, because the growth has come on the back of significant private sector participation.
Policy reforms, like ban on certain imports and integration of defence SME and startups in the supply chain have revolutionised Indian defence.
Over the past seven to eight years, the number of defence licenses issued to industries has increased by almost 200%. This has stimulated the defence industrial manufacturing ecosystem.
The government's target is to achieve a turnover of Rs 1.75 tn by 2025. Of this about 20% must come from export of military hardware. Military exports from India were negligible until 2017.
So, is India aiming too high with its defence production? Is India's defence self-reliance story too good to be true?
The run up in defence stocks, so far, certainly captures the near term earnings upside from the domestic sales. But unless your timeframe to stay invested in defence stocks is too short, you may not want to miss the long term upside in exports.
However, selecting stocks in India's defence ecosystem must be with sufficient diligence. Going with under the radar stocks that offer long term upside is the best way to go about it.
Warm regards,



Tanushree Banerjee
Editor, StockSelect
Equitymaster Agora Research Private Limited (Research Analyst)
Recent Articles