Stock Markets Are Crashing...but Precious Metals Could Make Buyers Rich
Jul 26, 2019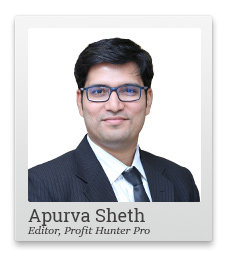 The Indian stock markets are struggling ever since the new Finance Minister presented her maiden budget in the parliament on 5 July.
The benchmark Nifty has lost almost 600 points from the highs it touched on the budget day.
The broader markets have fallen severely. The BSE Smallcap and Midcap indices are down 7-9% during the month.
The market breadth is also weak. 364 or 73% of the BSE 500 stocks are trading below their respective 200-day exponential moving average (EMA).
--- Advertisement ---
[NOW OUT] Equitymaster's Top Stock Pick for 2021

If there's one thing you need to do today, it's this...

Read all about Richa Agarwal's No. 1 stock pick here...

All we can share in this message is that it's a little-known stock with massive potential in the near future... already working with trusted FMCG GIANTS.

Just continue reading all about it here...
------------------------------
A 200 EMA is a moving average calculated by using last 200 trading days closing prices. This is different from a simple moving average as we give more weightage to recent data. When stocks trade below their 200 EMA they are considered to be in a long-term downtrend.
Long trading opportunities may dry up during such times. But that is fine. My Profit Hunter Pro subscribers and I have been through such a phase before in January 2019.
Trading opportunities were rare in the first month of 2019 but we made up for it in the following months with a good performance.
While trading, always remember this: Your goal is to make money and not trade just for the sake of it.
--- Advertisement ---
For Those Looking to Buy Stocks

If you're looking to buy stocks now, then we've uncovered 3 great stocks for you.

Our research says, these stocks have the potential to create a wave of Indian millionaires.

Get the Details Now
------------------------------
A trader shouldn't mind sitting on cash for a while if required. But that doesn't mean I don't look out for money making opportunities for my readers.
In fact, I keep my eyes open and look for trading and investing opportunities for my readers even outside of equity markets.
One such opportunity I wrote about just less than a month ago in Profit Hunter Pro was silver. I wrote about the high probability of poor man's gold making you rich.
I showed the following chart of gold to silver price ratio to my readers. I suggested silver could join gold in the party.
Gold - Silver Ratio
This is the ratio of gold-to-silver over the last twenty years.
The gold-to-silver price ratio is simply the price of gold divided by the price of silver. So, when this ratio is high, silver is relatively cheaper compared to gold, and vice versa.
This ratio was trading above 90 for first time since 1991 which means silver has never been this cheap compared to gold in the last 28 years.
This certainly called for a buy in poor man's gold.
I also showed this weekly chart of silver to my readers which was on the verge of a breakout after trending lower for 5 years. Here's an updated version of the same chart along with the views I wrote earlier...
Weekly Chart of Silver
Silver topped out in December 2011 at a level of 73,600. It trended lower until it hit a low of 32,626 in December 2014. It has found support consistently in the range of 33,000 to 35,000 since then.

It has even managed intermediate pullbacks on a couple of occasions. But it has faced resistance consistently from the falling trendline drawn off the December 2011 peak. It broke out above this trendline in February 2019. But the breakout turned out to be a false one.

Now the supports and resistance have converged and may not be able to hold back the commodity within a range for a long time.

Volumes have started picking up in silver as well. This is a positive sign indicating active participation by buyers.

Thus, all the above indicate silver could be ready to fly higher along with gold. There could also be chances that silver may start outperforming gold soon. We must keep an eye on how it moves after the breakout.

Nevertheless, this could be a good time to invest a tiny portion of your wealth in silver.
Silver dipped 5% lower immediately after I wrote about it. However, I reassured my readers in this piece that the support levels at 35,000 and 33,000 will hold any downside.
NEW: 5 Pandemic-Proof Smallcaps You Should Know About...
Silver dipped to a low of 36,300 on 1 July on the Multi Commodity Exchange (MCX). It hit a high of 41,825 during this week. That's an upside of more than 15% in less than a month.
Silver is up more than 9% from the day I first wrote about it on 24 June 2019. Now silver has crossed its 18-month high and a resistance level of 41,000. But there are chances that it may cool off a bit from here.
However, the primary trend is up and one shouldn't miss it. Now If you are wondering how to benefit from this uptrend in silver then you shouldn't worry. I have already written about the 4 popular ways to buy silver.
I'll keep my eyes on this uptrend in precious metals and share insights regularly with my readers. If you want to be a part of it then join my Profit Hunter Pro readers and benefit from all the insights I share regularly.
Warm regards,

Apurva Sheth
Editor and Research Analyst, Profit Hunter Pro
PS: Dear reader, identifying profitable trades in this market requires a proven trading strategy. This is exactly what our trading guru, Apurva Sheth, has developed for you. Get the details of this trading strategy here...
Recent Articles