A 'Zero to One' Approach for Multibagger Returns
Jul 27, 2021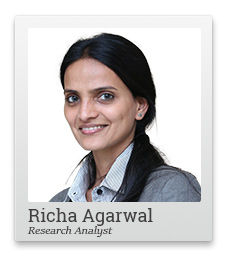 After almost 6 months, with lockdowns getting over, I travelled from my hometown to Mumbai.
I was excited to break the routine of working from home. And also about shifting to a new apartment that I got a good deal on post the lockdown.
I was in the process of donating my books to a nearby library. You see, the idea of re-reading a book, even the ones I like, doesn't excite me. Shifting them from one place to another seemed quite a hassle.
While packing them in the carton, I book I kept back making an exception for re-reading, was an orange coloured - Zero to One by Peter Thiel.
Thiel is the founder of PayPal, co-founder of a billion-dollar company, Palantir Technologies, and a significant investor in Facebook.
For anyone bitten by an entrepreneurial bug, this book is a must read. It's a guiding light to the path of value, wealth, and business creation.
--- Advertisement ---
Replay Available: Super Smallcaps Summit

Today, we went LIVE with Richa Agarwal's Super Smallcaps Summit.

Richa revealed details about the 3 'dark horse' stocks that could potentially hand you hundreds or even thousands of percent in gains over the long term.

However, you missed the Exclusive event for some reason.

And because we don't want you to miss out on this rare opportunity, we have a replay of the event arranged for you.

Click the link below to watch the replay now.

Watch the Replay

or click here to read the transcript
------------------------------
Conventional business books tell you that successful businesses are created with hard work, brick by brick, and need a lot of patience.
I agree with that.
But in the book, another idea that resonated strongly with me is about horizontal versus vertical progress.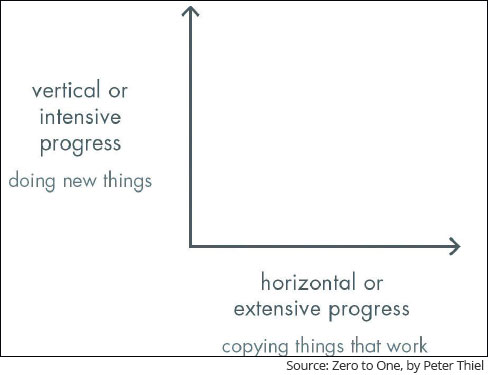 Thiel defines horizontal progress as going from one to n.
It's like setting up a second hotel in the vicinity of one already doing well. Or let's say when a company decides to expand across value chain or across different markets.
Vertical progress, on the contrary, is going from Zero to One.
It's about breaking new ground. To do something radical with little or no precedents. To follow a path with no signboards and footprints.
It's like doing something that no one has thought of doing. Getting to a place where no one has been. It's unique and original.
Equitymaster's Stock Screener: Identifying High-Potential Stocks Has Never Been this Easy
Think of companies like Google and entrepreneurs like Mark Zuckerberg and Bill Gates.
While Thiel sets all this in the context of doing business, it's equally relevant in the world of investing.
The recent market rally has brought with it a wave of stock market experts.
Earlier it used to be your broker or CNBC. Now even your friendly neighbor or grocery shopkeeper knows about the next best IPO or multibagger stock.
What is unique about them?
Nothing.
They're learning about these companies because they are well-known. Or some big investor has already invested in them and is making a case for it in the media.
So what does it do to your potential returns?
Well, if you are lucky, you may make a moderate profit. In some cases, as there is already so much interest in the stock, it may have run up past its real value.
And by the time you bet your money, it may be too late to make big gains.
So how can you skip this and invest 'Vertically' i.e. 'Zero to One'?
This is only possible when you are among the first few to spot a potential multibagger.
This means identifying great companies with stocks that have low or zero institutional holding and are hardly known in the markets.
--- Advertisement ---
REVEALED: Multibagger Stock Ideas for The Next 10 Years...

Electric vehicles...

Renewable energy...

E-commerce...

From where will the biggest winners of the next decade come from?

The Answer Will Surprise You
------------------------------
Where can you find these stocks?
Largecaps, midcaps, and even well-known smallcaps are out of question.
You will find these opportunities where no one else is looking- in the least liquid segment in the stock markets. I call it the secret segment.
I have been exploring this space for almost four years now. I've followed an approach that is different to chasing super investors.
In the secret segment, the question I ask is not what great company or stock someone is buying or holding.
What I look for is a great company someone is building and no big investor is holding.
My goal has been to capture value as it gets created. Instead of following big investors, I expect the big money to follow my recommendations.
This offers a chance to earn not only the vertical returns - Zero to One - but also one to n when the stock gets rerated.
In short, in the secret segment, I aim to find great businesses well before others do.
Qualitative analysis and management meetings are of paramount importance and a big challenge for companies in this universe.
Investing in this space needs a highly selective approach - so much so that I end up rejecting over 90% of the stocks that capture interest in the first place.
These are the challenges I face as an analyst, but they are worth it given the return potential.
For investors in this secret segment, the biggest challenge is - owning these stocks doesn't give one immediate gratification or bragging rights in the short term.
You see, this approach is not everyone's cup of tea. It needs experience, patience, and most importantly, a solid temperament to make it to the end and reap the rewards.
Hence, we open this service every year only to a few subscribers.
Warm regards,



Richa Agarwal
Editor and Research Analyst, Hidden Treasure
Recent Articles