War Profits


Revealing a Potential 33x
Opportunity in Defence
These 5 Smallcaps Deserve a Place in Your Coffee Can Portfolio
Jul 28, 2020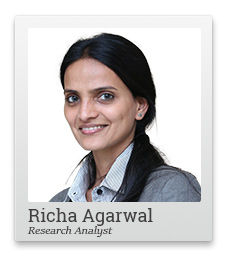 It's been a few months since I wrote to you about an urgent opportunity in smallcaps...in 5 smallcaps to be precise.
May 2020 wasn't the best of the times to talk about investing in smallcaps...except in hindsight.
Ever since the market regulator came up with the mutual fund reclassification, in 2018, smallcaps have taken a hit from which they are yet to fully recover.
With Covid and the lockdown, the road to recovery felt even longer, and full of uncertainty.
The consensus was to do nothing and wait.
I would say that was the right thing to do in most cases. The exceptions were a small group of essential businesses which seemed to be relevant and 'in work' despite the economy coming to a standstill.
It needed perspective, patience and guts.
--- Advertisement ---
3 Next-Generation Defence Stocks Potential 33x Opportunity by 2030

This decade belongs to defence stocks.

We are staring at a potential 33x opportunity by 2030.

But it is absolutely important that you choose the right defence stocks to ride this opportunity.

We've already identified 3 next-generation defence stocks for you...

These companies are into developing cutting-edge military technologies where we're seeing a huge potential.

If you're a serious investor, then you should not miss these 3 stocks for anything.

You can see this page for full details...
------------------------------
And I'm happy to say, we did not let the crisis go waste. While we were confident of the long- term story in these stocks, we also believed the first 50%-100% stocks could come in very fast...and asked our readers to act urgently.
Yes, there was a bit of luck here - the markets were on our side.
But as they say...luck is what happens when preparation meets opportunity.
It is heartening to see the effort pay off well. Every single smallcap in the list has offered gains, beating the benchmark indices by a handsome margin.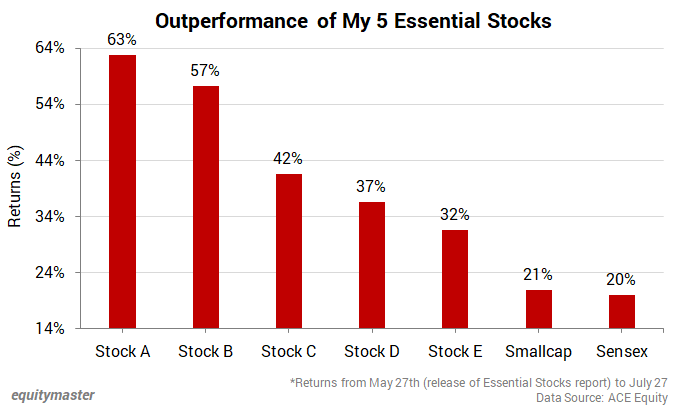 But even if the gains had not come, my conviction in these 'Essential stocks' would not have been any less.
That's because these are coffee can stocks.
--- Advertisement ---
Top 3 Picks for 2022 (June Edition)

Despite all the uncertainty in the stock market...

Our Co-head of Research, Richa Agarwal, zeroed in on 3 top-notch investment ideas for Indians right now.

Her research reveals that - these 3 picks have the potential to deliver potentially massive returns in the long run.

You can click here to discover the details...
------------------------------
While the term is quite popular these days, its origin is equally interesting.
It goes back to the old times, when people used to put their valuable assets in a coffee can and kept it under their bed.
This involves taking no action post buying and no transaction costs. What went into the coffee can determined how valuable it would be, years down the line.
Now this may sound passive but remember, investing is one of those fields where sometimes, doing less is more, especially with quality stocks. This is because it lets your money compound with time.
The idea first occurred to Mr Robert Kirby, a professional money manager in 1950s, as a result of his experience with a woman client.
Mr Kirby had worked with her for almost 10 years. When the client's husband died, the wife inherited his wealth and called Mr Kirby to add his securities to her own portfolio under Mr Kirby's management.
Mr Kirby saw the husband's portfolio. He was amused to find that husband had been secretly copying Kirby's recommendations for the wife's portfolio in his own. However, he did so with a little twist.
He only copied buy calls and ignored the 'Sell' views. When Mr Kirby looked at the portfolio, it seemed odd.
Exclusive Market Updates: Only on Our Telegram Channel. Join FREE Today!
Some were big winners, up 20 times. Some were losers (down 50% or so), and one jumbo winner in a small company that exceeded his wife's portfolio. By ignoring his sell calls, the husband had outshined Mr Kirby.
In my video below, I'll tell you why having a long-term horizon helps to not just navigate volatility well but maximize returns too.
The key is what you are putting in the can. It also helps you to align your stock selection process, turning it from speculation to a real investment process.
What gives us the conviction in our bets is the long-term mindset and the right process. Amid huge uncertainty, be it markets or economy, we are focused on the long term and sustainable businesses.
I hope you had the chance to act on these essential smallcaps. They could be considered for the long term.
In case you did not, some of these stocks are still in the buying range...and offer strong upside in the long term. Hidden Treasure subscribers can read the report here.
Warm regards,



Richa Agarwal
Editor, Hidden Treasure
Equitymaster Agora Research Private Limited (Research Analyst)
PS: Get access to my 5 essential smallcaps recommendation report by signing up here.
Recent Articles