Are Textile Stocks Stitching a Revival?
Jul 28, 2021
'What is happening in textile companies?'
A friend asked me this over the weekend.
His confusion stemmed from the fact that if a majority of people are working from home and if socialising is limited, then who is buying clothes?
I don't remember the last time I had shopped for formal wear. But I know that Textile stocks have more than doubled over the past 6 months.
Is it just speculation or is a structural change happening in the sector?
It's important to identify a theme early. Even if it's a cyclical one. This is how investors can maximise profits.
To understand the global textile market, I thought it best to start with India's neighbour, Bangladesh.
While researching I came across a headline which ignited quite a debate among the political and economic community in 2020, both in Bangladesh and India - 'India Falls Behind Bangladesh in Per Capita Income by US$280'.
In 2007, Bangladesh's per capita GDP was half of India's. In little over a decade, our neighbour's per capita GDP is more than ours.
--- Advertisement ---
STOP Trading and Become a Lazy Millionaire...

There's an incredible way to get extremely rich without losing any sleep whatsoever.

The most amazing thing is that you can accelerate your wealth creation journey with very little effort...and without any unnecessary risk.

Rahul Shah, our Co-Head of Research, is about to reveal his ultimate master key to SUPERFAST riches which he has successfully mastered over the last 15 years.

In fact, on 24th January at 5pm, he's going to reveal everything about the most controversial project of his career - Lazy Millionaire.

If you want to sleepwalk your way to extreme riches, you've got to tune in to this special summit.
------------------------------
What changed? the one word answer is Textiles.
Exports of readymade garments account for 85% of Bangladesh's total exports.
In fact, Bangladesh is the world's 2nd largest readymade garment exporter after China.
So why couldn't India with better infrastructure capitalise on the massive textile export opportunity?
The differentiating factor was labour cost.
It's estimated that the unit labour cost of producing a cotton shirt is US$7 in the USA, 50 cents in India, and just 22 cents in Bangladesh.
In other words, Bangladesh has a 56% cost advantage over India. That's why it's 'Made in Bangladesh' on most of the shirts in USA and Europe and not 'Made in India'.
Over the past couple of months there has been a lot of talk about India's textile industry. Many textile stocks have doubled over the past 6 months.
While Bangladesh is the 2nd largest exporter of readymade garments, India is the largest exporter of yarn (the raw material for Bangladesh).
FREE REPLAY: Catch the Details of Potential Crorepati-Making Stocks Right Now...
So what has changed for India suddenly? Our costs are still higher than Bangladesh.
The change can be found in the companies engaged in...
Converting cotton to yarn. These have thrived especially over the past 6 months. I am referring to the spinning mills that have been buzzing and working overtime.
Companies that export home textiles and are backward integrated.
Let us look at what has changed over the past 6-9 months.
First, a ban on import of cotton/cotton made products from China to the US opened up a big opportunity for India.
The US passed a legislation banning all cotton and cotton made products from the Xinjiang area in China as a protest against the human rights violations and the widespread use of forced labour in the region.
This has led to a pair of lucky breaks for some countries, including India.
1) An increase in international yarn prices.
2) The shift of China's market share to India, Vietnam, and Brazil.
Textile companies engaged in the conversion of cotton to yarn not only benefit from increase in margins but also additional demand.
So the 'Made in Bangladesh' T-shirt in USA will use more of 'Made in India' yarn.
Also, it takes at least a 15-18 months to set up a new spinning unit. This structural change has led to multi-year profitability for spinning companies.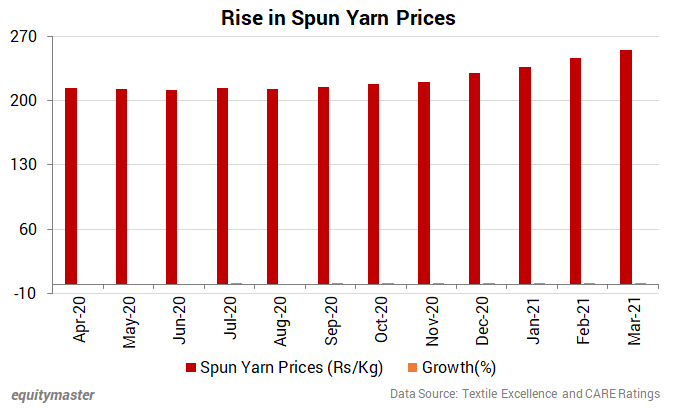 Opening up of the developed world has led to 'revenge buying'.
If the last one year was about staying/work from home which benefitted companies in the home textile space, I believe the next one year will propel demand for revenge shopping.
When was the last time you upgraded your wardrobe or went shopping for party clothes?
As the pace of vaccination picks up in developed countries and people get back to socialising, the demand for outerwear and formals will see a huge uptick.
--- Advertisement ---
[Alert] Sell These 3 Stocks Immediately

These 3 stocks are ticking time bombs in your portfolio.

It is very likely that you could be owning these 3 overvalued...

fundamentally weak... ready to crash stocks... in your portfolio today.

Because many stock brokers have painted rosy pictures of these stocks. But the reality is starkly different.

If the market crashes, then these stocks could wipe out your wealth.

You should get rid of these stocks as soon as possible.

Click her for full details of these 3 landmines
------------------------------
This will drive the demand for yarn which is 'Made in India' to be used in clothes which are 'Made in Bangladesh'.
India is a strong player in the mid and premium readymade garment segments.
Bangladesh is known to export cheap readymade garments. India on the other hand has a higher share in premium garments.
A shift in value chain is likely to benefit India going forward. Companies which have contracts which global giants like Walmart, Marks& Spenser, H&M, Zara, and others are likely to do well.
Besides, Indian exporters are moving up the value chain. Plain contract manufacturing is now taking the shape of value addition in the form of designing the final product.
So what about the stock market? Well, it's the spinning mills and exporters who have outperformed the domestic readymade garment sellers.
Why is that so?
The fixed overheads in operating stores and a chain of front-end networks by textile retailers is cash guzzling. This has capped their profits and their share prices.
On the other hand, tailwinds like the ban on Chinese exports and revenge shopping in developed markets, has resulted in price gains as well as market share gains for Indian spinning companies and exporters.
The increasing reliance on Indian companies could be a long-term positive structural change.
To maximise your long-term gains in this sector, focus on exporters with strong global clientele in readymade garments as well as spinning companies.
Warm regards,



Aditya Vora
Financial Writer
Recent Articles