42% Gain in Two Months is Just the Start for this Stock
Jul 30, 2020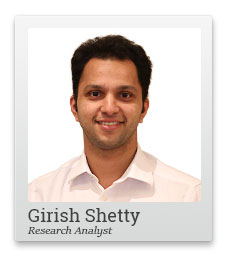 How do you make 10 or even 100 times on a stock?
In the investing world, we call them multibagger stocks.
First, you need to identify the right stock.
How do you do that?
You should check the company's track record. Has the business done well in the past? Do the fundamental numbers stand out?
If yes, you move ahead. The past looks good. What about the present and the future?
Is the business sustainable? For you to make 10 or 100 times your money in say, 10 years, the business should be relevant for the next 10 years.
Advertisement
[Last 24 Hours]
Going Live at 5 PM Tomorrow
Time is running out to claim your free seat for our small cap MEGA event, 'Rebound Riches'.

In this event, we will be revealing the details of 3 high potential stocks that could surprise the investor world by becoming the next big multi-bagger legend.

You see, these are rare bear market opportunities. So please make sure you don't miss out on them and then kick yourself later.

After all, that's what 95% of the retail investors spend their lives doing. So, put your email in the box below and get your FREE TICKET right away...





It should have a product that you know will be in demand for years. It is something 'essential' that a customer will always want.
Ok, the future looks good too. What next?
Check the management behind the company. Are they competent enough to grow the company for years to come? Is it capable of surviving tough times?
If the answer is yes here too, you might be on to a good thing.
But what about the stock's valuations?
If you buy a good business with a good management, at expensive valuations, you won't get great returns.
Only a combination of a re-rating in the valuation multiple along with earnings growth will give you that 10 or 100 bagger.
And you only get that if you buy an excellent business at bargain prices.
--- Advertisement ---
Artificial Intelligence: The Next Big Wealth Generating Opportunity

Artificial Intelligence, or AI, is not just a buzzword.

It's real. It's happening. It's all around us.

And that's why we believe it's also the next big wealth creating opportunity.

Now, here's the important thing...

There are ways to ride this AI boom right here in India.

In fact, Tanushree Banerjee's #1 stock is already riding this wave...

I recommend you read all about this opportunity here...

Such opportunities are rare...and that's why I strongly recommend you latch on to it early...

Full details are available here...
------------------------------
Typically, you get these bargain prices in times of distress. The kind that we are seeing now due to Covid-19.
In my YouTube video, I talked about the kind of stocks investors should buy, sell, and hold in greater detail.
Okay, let's say you've bought an excellent stock at bargain prices.
Is your work done? Are you assured of that 100 bagger?
Not by a long way.
In fact, picking the right stock at the right price is only half the work done. The difficult part is in holding on to that stock. Once you have a potential winner, you have to hold it in good and bad times.
The journey towards a 10 or 100 bagger won't be straightforward. There will be bad news coming your way. It can be due to some short-term issues at the company level or a macro event like Covid-19.
--- Advertisement ---
The Next Big Wealth Generation Opportunity

With billions of dollars pouring into their industries...

These 3 cutting edge stocks could create a wave of Indian millionaires.

Today, very few people know about the exponential growth potential of these stocks.

But once the broader market gets a whiff of it... there is no limit to how high their stock prices may rise.

Get the details before others...
------------------------------
Sometimes, you will get the urge to sell even on good news. The stock will be up 20-30% in a short span of time. The urge to cash in on the gains will be tempting.
Someone will tell you he booked profits on the stock and will give you a sound rationale. You might say, there's no harm in taking profits right?
And you sell it for 20-30% profit.
There goes your potential 10 or 100 bagger!
This is exactly what we are seeing in one of our 5 essential stocks. This stock satisfies all the criteria I've mentioned above.
It is a strong brand and market leader in its segment. It's backed by an able management.
The stock has seen wild fluctuations in recently but importantly, it had nothing to do with the business. We recommended the stock when the Covid-19 pandemic had just started in March.
Hidden Treasure subscribers can access the recommendation report here.
Like my colleague Richa mentioned recently, this stock like our 5 essential recommended stocks, has had a great two months.
It is up 42% in just over two months.
Some investors might be tempted to cash in on the quick gains but I strongly believe, you should stay put. The long-term story is still intact and will play out in the long term.
And if the story plays out as expected, this wealth creation opportunity will be huge.
Warm regards,



Girish Shetty
Research Analyst, Hidden Treasure
Equitymaster Agora Research Private Limited (Research Analyst)
PS: Get our top 5 essential stocks recommendation report by signing up here.
Recent Articles