The Smallcap Revival Will Run for a Long Time
Jul 30, 2021
Editor's note: Dear reader, today, we bring you a special editorial authored a few weeks ago by our smallcap expert Richa Agarwal. Read on to find out why the long-term boom in small-cap stocks has just begun.
---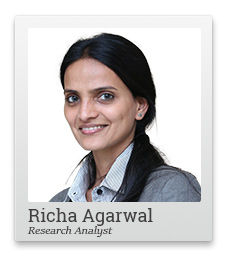 Taxi drivers told you what to buy. The shoeshine boy could give you a summary of the day's financial news as he worked with rag and polish. An old beggar who regularly patrolled the street in front of my office now gave me tips and, I suppose, spent the money I and others gave him in the market. My cook had a brokerage account and followed the ticker closely. - Bernard Baruch
These words might have been said in 1920s, but capture the spirit of current times.
The smallcap index is up about 200% since the crash in March 2020.
It's been a stupendous run.
Many believe this is a mania, with a crash just around the corner.
Others are convinced that this is just the start of a long-term rally.
I don't agree with either.
Recently I reviewed the performance of my open positions in smallcap space.
14 stocks under coverage has witnessed gains of 20% and more. The biggest gainer is up 60% in a month.
These kinds of returns are almost unheard of.
And that's why people who are anxious about this rally have a case to make. Stock prices are moving up too much, too soon.
As someone who has seen multiple cycles in smallcaps, I can say that such rallies are usually followed by brutal corrections...
And yet, I have seen stocks like Page Industries, Balkrishna Industries, Vinati Organics, Polymedicure and Astral Polytechnic, once smallcaps that have continued to grow strong, despite multiple market cycles they have been through. Some of these stocks, which were Smallcaps once, now rule the midcap space.
I'll come to finding future midcaps in the smallcap universe in a bit, but first let me share my thoughts on the current rally.
Track: Stocks Recently Bought by Mutual Funds for FREE
The Smallcap to Sensex ratio, a metric I often refer to get a sense of relative valuations, currently stands at 0.48 times. To be sure, this is higher than a median of 0.43 times.
And yet, it's the lowest of all the peaks in the smallcaps so far. In the last cycle which peaked in January 2018, when the ratio touched 0.49, the peak was still 9 months away.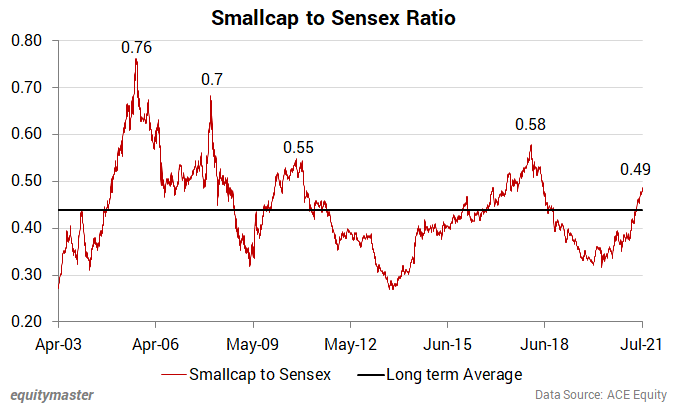 Drawing a further comparison with history, the 188% gain in the smallcap index in current rebound is way short of almost 300% gains in the last two rebound cycles.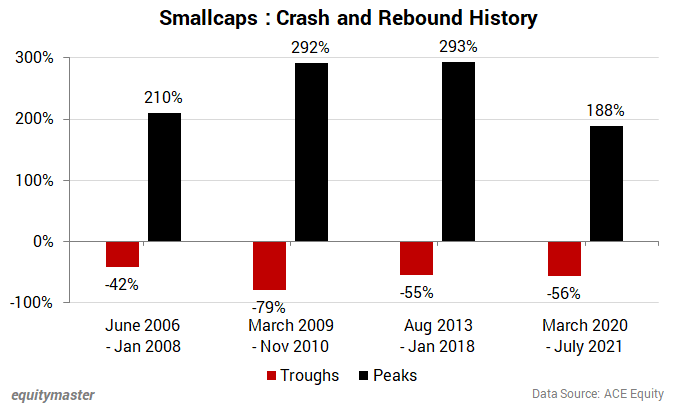 Now that was my top down view on the smallcap rally.
But none of the above should be your reason to take excessive exposure to smallcaps.
When it comes to buying smallcap stocks, especially at this point in the rebound rally, you will need a bottom up approach, and a long term horizon.
In fact, if you don't have the stomach to withstand a 20%-30% kind of corrections and volatility, this space may not be for you at all. And you should stop reading right here.
If you are still with me, let's see how to make the most of this massive revival in smallcaps, and to escape cyclicality.
--- Advertisement ---
There is a new paradigm shift currently unfolding across the global economic landscape...

And at the heart of this massive SHIFT is...

INDIA!

India is on the verge of a multi-trillion-dollar rebirth that could potentially mint countless new millionaires...

If you are on the right side of this mega shift, then it could be your biggest opportunity to build potentially massive wealth over the long term.

Click here to find all the details...
------------------------------
You see, the rally in the smallcaps has lifted both junk and solid smallcap stocks. And you must avoid the former by all means.
Last few years have been a period of intense trial for companies in this space.
Demonetisation, GST, RERA, IL&FS liquidity crisis, market regulator's reclassification norms for mutual funds, and a string of auditor's resignations....It's been terrible.
The thing with tough times is that they separate the good resilient companies from the bad.
This same story played out during Covid as well.
Successive covid waves have brought accelerated consolidation across sectors...the resilient Smallcaps have come out stronger. The weak have withered away or are just about clinging on for dear life.
I believe, that while the easy money that was there is smallcaps has been made, there is still some juice left in the rally.
But the best way to play now will be to not attempt to time the market. Instead, think beyond booms and busts. Focus on structural shifts. Pick strong companies where the runway for business growth is great, and continues irrespective of market cycle.
In conclusion, Smallcaps are a great opportunity to make some big returns. But you need to stay disciplined when it comes to allocating money. And you need to be sharp when picking the right stocks.
Get these two things right, and smallcaps will work wonders for you.
Warm regards,



Richa Agarwal
Editor and Research Analyst, Hidden Treasure
PS: Join me this evening at 5 pm for the Smallcap Revival Summit. I'll show you how to profit from the massive ongoing revival in small-cap stocks. Register for free here.
Recent Articles