My 'Buy List' Just Doubled: Time for You to Grab Stocks
Jul 31, 2018
To say that American investor, Walter Schloss, beat the market in his 50 years of managing money would be an understatement.
He absolutely destroyed it!
Warren Buffett himself labelled him a 'superinvestor'.
He returned a genius 16% per annum return (after fees) versus the 10% of the index.
For perspective, 16% compounded for 50 years gets you a near 1,700-bagger as compared to the 117-bagger by following the index.
That's an outperformance of 14x and a great advertisement for the power and magic of long term compounding.
Now, Walter didn't appear much in public - he was a reserved guy. But when he did, his interviews were chock-full of insights and old school investing wit.
Here's something I myself learned from an old interview of his. He said...
I have a list of stocks that could be on our buy list and I find that invariably when it gets down to less than five stocks the market's too high and when it gets down to two or three it's a danger signal.
This seemed to me a smart way to gauge Mr Market's mood swings - and then do the opposite.
--- Advertisement ---


Rs 250 a month in subscription fee could change your life…

You probably spend more than Rs 250 on meaningless stuff every month.

But for less than Rs 250 per month, you can now obtain a subscription to our Hidden Treasure service and get information on high-potential small caps delivered to your email inbox every month.

Yes! Small caps with the potential to give substantial returns in the long run. So don't let this opportuntiy go.

Click here for full details now…
------------------------------
If Mr Market is in a generous mood and willing to pay a big premium to a large number of stocks on your buy list, it is time to do the opposite, ie lighten up and get into cash.
However, if he is in a foul mood and is putting a very low value on most stocks on the list, it is time to go bargain hunting and buy stocks by the truckloads.
I looked, for comparison's sake, at my own 'buy list' for Microcap Millionaires.
You may know that Microcap Millionaires is a deep value investing service - only those stocks that are trading at a much lower price than the stock's actual value make it onto the list.
Well, here's how Mr Market's treated stocks on my Microcap Millionaires buy list over the years.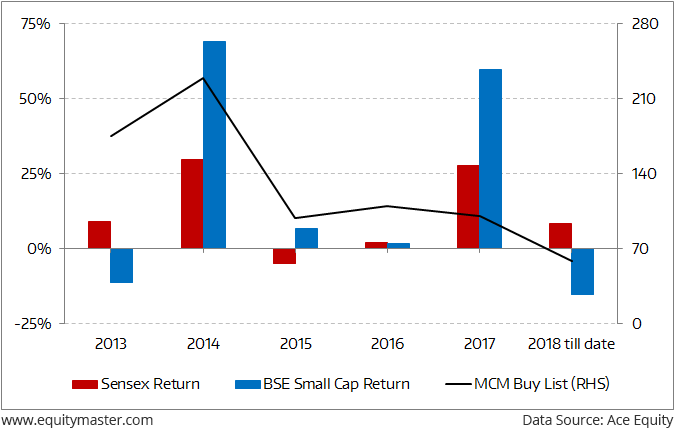 See those two tall buildings in the year 2014?
If you see the blue line for my buy list, you will see that more than 200 stocks on my buy list were being lowly valued by Mr Market in 2014 - and were priced much lower than in a normal market environment.
This was a sign Mr Market was in a foul mood - and it was a great time to buy more stocks.
And as is evident from the returns generated by the two indices, investors who bought stocks made a killing.
This was the best time to buy stocks in the last five years.
Can you tell from the chart what was the worst time to do so?
By the end of 2017, most of the undervaluation by Mr Market was gone.
The blue line of my 'buy list' has dipped quite low - only about 60 stocks were now trading at valuations within my comfort zone.
This was the thinnest the list had been in five years and perhaps a strong signal that it is a good time to sell ie lighten exposure to stocks.
And doing that would have been a good move - as we know now - since the BSE Small Cap index has fallen 15% so far.
So - following the above theory - is now a good time to buy or sell?
Here's a broad thumb rule that emerges from the above experiences.
Whenever stocks on my watch list exceed 200, I recommend my subscribers take maximum exposure to stocks, say to the tune of 75%. (as you know the Microcap Millionaires portfolio works on a sliding scale - you can read about it here).
And whenever it comes down to 50 to 60 names, I change the exposure setting to a minimum ie 25%.
Anything in between and I recommend 50-50 exposure, i.e. half in liquid instruments like fixed deposits or cash, and half in stocks.
I'm telling you about this system today to ensure that you know to fill up on stocks when the markets have a good chance of going up over the next couple of years - and you know to go easy on stocks when markets seem to have run up a lot and have a high probability of correcting in the near term.
Following this thumb rule has certainly helped my Microcap Millionaires subscribers, earning them 172% returns since inception in February 2014. This is over twice the 81% earned by the Sensex, and comfortably beats the 159% earned by the Small Cap index in the same time period.
So what does my 'buy list' look like right now?
Courtesy of the correction in the Small Cap index, my buy list has doubled and swelled up to almost 100 names.
Which means that if you are someone who went light on stocks and heavy on cash at the end of 2017, it may not be a bad idea turn up the stock exposure setting just a wee bit.
And I am also on the lookout for some good stocks to recommend where I find the correction may have been overdone.
Good Investing,

Rahul Shah (Research Analyst)
Editor, Microcap Millionaires
PS: If you're interested in learning where India's superinvestors are putting their money right now, check out our Smart Money Secrets service. This brilliant offer ensures that you can check out this service virtually free right now - check here to learn how.
Recent Articles