---

This is third party advertisement

---

Mutual Fund investments are subject to market risks, read all scheme related documents carefully.
Join Mega webinar


Navigating Markets in 2024 -
Fund Managers Year End Perspective
Live on Dec 6th @ 6pm
Solar Stocks on the Rise: 5 Lesser-Known Companies to Watch Out for
Aug 1, 2023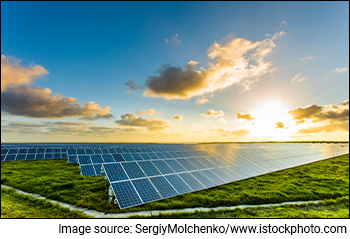 It felt like a movie when leading drone maker ideaForge Technology made its stock market debut three weeks ago.
HDFC Mutual Fund, Goldman Sachs, Nomura, and ICICI Prudential Mutual Fund, among others, were all in attendance. The Mumbai-based company backed by Infosys, raised over Rs 2.5 billion (bn) from these marquee investors in the pre-IPO round.
As soon as the clock hit 10:00 am on 10 July 2023, the crowd stood on its feet and chanted "leading drone maker makes bumper listing."
The drone company didn't disappoint and almost doubled investors' money within minutes of its debut.
Despite expensive valuation, ideaForge Technology received a strong response to its initial public offer (IPO) mainly due to the market's newfound love for 'drones'.
The point I'm trying to make here is investors are falling head over heels these days whenever they're hearing about a new megatrend evolving.
And rightly so.
As analysts, we always look for triggers to identify the next big growth opportunity. Little do we know that trends, and more importantly, long-term trends, always start with growing and sustaining key numbers in the industry.
Just like drones, the hype around 'solar' is catching up.
With rising and stringent taxes on fossil fuels, the world has turned towards renewable sources of energy. One of the biggest benefactors of this shift is solar energy. It is the future. It's no longer just a fad, but the solar sector all over the world is booming.
In the Union Budget 2022-23, the government allocated Rs 195 billion (bn) for PLI scheme to boost manufacturing of high efficiency solar modules.
By the end of the decade, the target for India's installed renewable energy capacity is expected to reach over 450 GW vs 166 GW in October 2022. Of this, over 60% is expected from solar.
Already, 59 solar parks with aggregate capacity 40 GW have been approved in India. The world's largest renewable energy park of 30 GW capacity solar-wind hybrid project is under installation in Gujarat. Solar roof top solutions and floating solar panels are gaining momentum in the country.
Companies involved in the segment are among the fastest growing companies today.
Now, we know the big players involved in the industry like Reliance, Tata Power, Sterling & Wilson, among other prominent names. These are widely covered by many analysts in the financial sector.
But in this editorial, let's focus on some not so famous companies in this space.
Investors often consider the big companies which are fundamentally strong, leaving aside smaller counterparts which are also involved in this space.
This is justified as smaller companies are more volatile and they can destroy your wealth. But they also come with potentially huge opportunities. So one can't just avoid them.
So, are there such companies involved in the Indian solar sector? If yes, where do they stand on the financials front and what are their growth prospects?
--- Advertisement ---
Investment in securities market are subject to market risks. Read all the related documents carefully before investing

Our Big Prediction

India is set to take a giant leap in terms of prosperity.

If things play out as our research suggests, then this leap could potentially generate wealth at a scale we've probably never seen before.

This is one of the biggest opportunities for investors in the recent times.

The stock market rally that we're seeing right now is just a small glimpse of what's about to come.

See Details Here
Details of our SEBI Research Analyst registration are mentioned on our website - www.equitymaster.com
---------------------------------------------------
Let's find out...
#1 Solex Energy
One close look at the company's share price chart and you'll understand what we're talking about. We're not kidding when we say the hype around solar is real.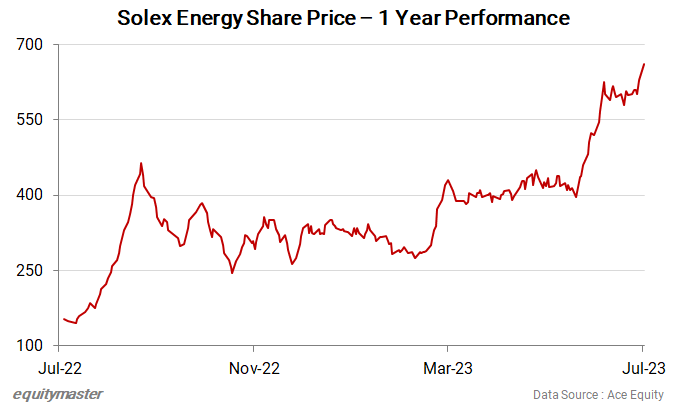 As the name suggests, Solex Energy is engaged in manufacturing solar panels, other renewable energy devices, and installation of systems on EPC basis. Solar panels contribute around 95% of the revenue.
In FY23, the company's revenue shot up to Rs 1,617.1 million (m) compared to Rs 723.3 m in FY22 on the back of increased order execution in both solar panels and EPC segments.
This is a big year for Solex Energy. Its new plant at Surat will finish its first year of operation. Last year, the company spent around Rs 600 million to expand its production capacity by 600 megawatts (MW) by setting this unit.
Further, the suspension of Approved List of Models and Manufacturers (ALMM) mandate for the current year is expected to provide some relief.
#2 KPI Green Energy
First, let's look at the company's share price performance.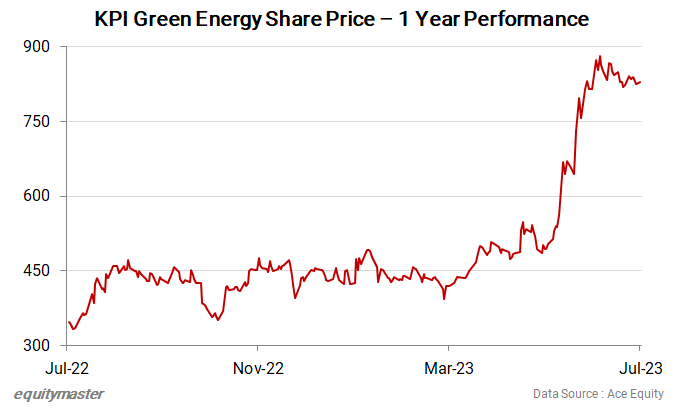 It's like multibagger returns are common for solar stocks if you catch them young.
KPI Green Energy provides solar power, both as an independent power producer (IPP) and EPC services to captive power producers (CPP).
In recent months, the company has announced many order wins for solar power projects. It recently bagged the largest single order from specialty chemical firm Anupam Rasayan to execute wind-solar hybrid power project of 40 MW.
No wonder the management is bullish and expects more than 50% topline growth in FY24. The management is confident of achieving this due to higher execution of CPP orders and commissioning of the 26.1-MW hybrid project.
#3 Taylormade Renewables
Trading at less than Rs 15 a year ago, the renewable energy company has multiplied wealth by 30x in just a year.
The stock currently trades at Rs 436 and continues to hit its upper circuit band daily.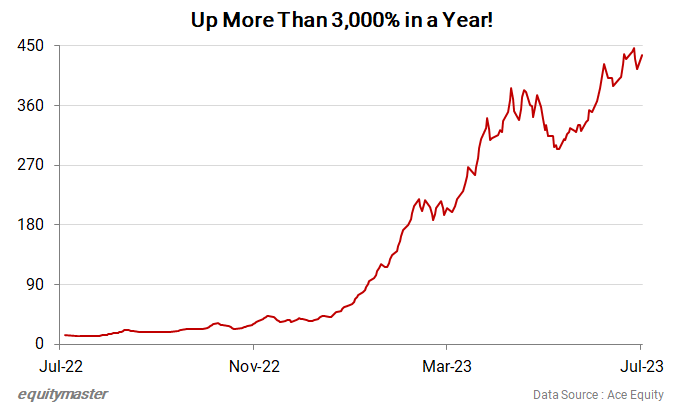 Taylormade Renewables manufactures solar parabolic concentrating systems for steam generation used in steam cooking and other industrial applications.
It also makes components and does EPC work for renewable energy and solar thermal applications, primarily parabolic concentrators. Some of their other products include bio-mass cook stoves, Eco Chullas, and PV cells.
Prominent names such as ISRO, Jindal Power, Ami Organics, Vardhman Group, Asian Paints, among others, are the company's clients.
--- This is Third Party Advertisement ---
Mutual Fund investments are subject to market risks, read all scheme related documents carefully.

[MEGA] Webinar Invitation -

Navigating markets in 2024 - Fund Managers' Year End Perspective.

Date: Dec 6th Time: 6pm Venue: Your Computer

An Exclusive Asset Class Outlook Webinar With Our Experts from Quantum MF

• The Outlook For Equity, Debt & Gold?

Register Free for this Exclusive Webinar
----------------------------------------
The recent rally is due to the large orders it has continued to receive in the past couple of months.
The company's PE multiple shot up in FY22 when it got back to reporting profits. Prior to that, the company reported losses to the tune of Rs 18.1 m.
In FY23, the company's revenue rose more than three-fold to Rs 198 m while profit came in at Rs 19.7 m compared to Rs 1.6 m in FY22.
#4 Refex Industries
Next on the list is Refex Industries.
The company is a specialist manufacturer and re-filler of refrigerant gases in India, particularly, environmentally acceptable gases that are replacements for chloro-fluoro-carbons (CFCs).
In 2022, it entered the power sector, marking its foray in the solar segment. This segment contributes only around 3% for now, which is expected to go up in the coming years.
Have a look at the table below to see the company's financial performance for the past five years.
Financial Snapshot (2018-23)
| Rs m, consolidated | FY19 | FY20 | FY21 | FY22 | FY23 |
| --- | --- | --- | --- | --- | --- |
| Revenue | 4,610.5 | 6,607.4 | 6,326.6 | 4,439.6 | 16,290.0 |
| Growth (%) | 500% | 43% | -4% | -30% | 267% |
| Operating profit | 301.3 | 561.4 | 721.2 | 628.6 | 1,750.0 |
| Operating margin (%) | 7% | 8% | 11% | 14% | 11% |
| Net profit | 316.3 | 331.3 | 409.4 | 453.9 | 1,160.0 |
| Net profit margin (%) | 7% | 5% | 6% | 10% | 7% |
Data Source: Ace Equity
As visible from the table above, this is a high growth smallcap. It has reported increasing profit for the past five financial years. In FY23, the company's revenue tripled while net profit shot up by 157%.
The coal and ash handling segment was the major contributor as revenue from this segment came in at Rs 12.9 bn compared to Rs 3.2 bn a year ago. In the past year, the stock has rallied over 550%.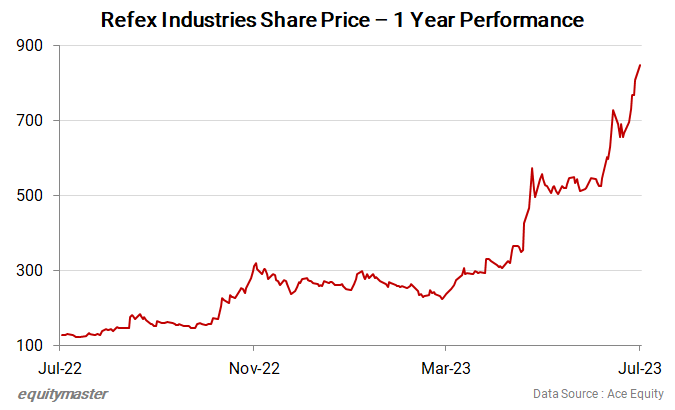 #5 Insolation Energy
Insolation Energy is engaged in the business of manufacturing solar panels and modules of high efficiency of various sizes. The company's 200 MW SPV module manufacturing unit is in Jaipur, spread over more than 60,000 sq. ft area.
After going through the SME route and its consequent listing in October 2022, Insolation Energy has come a long way from having just 50 MW panel production capacity to over 700 MW of capacity at present. The company is now embarking on an expansion strategy to increase its capacity and venture into new verticals.
In the financial year ended March 2023, Insolation Energy posted record numbers.
Financial Snapshot (2018-23)
| Rs m, standalone | FY18 | FY19 | FY20 | FY21 | FY22 | FY23 |
| --- | --- | --- | --- | --- | --- | --- |
| Revenue | 510.7 | 644.9 | 887.6 | 1,626.9 | 2,153.3 | 2,790.0 |
| Growth (%) | - | 26% | 38% | 83% | 32% | 30% |
| Operating profit | 29.1 | 57.8 | 72.8 | 127.6 | 138.9 | 180.0 |
| Operating margin (%) | 6% | 9% | 8% | 8% | 6% | 6% |
| Net profit | 6.9 | 21.6 | 30.9 | 69.0 | 69.2 | 110.0 |
| Net profit margin (%) | 1% | 3% | 3% | 4% | 3% | 4% |
Data Source: Ace Equity
The company is planning to add another 500 MW in the next two years, which will take its total capacity to 1,200 MW.
Since listing in 2018, shares of the company have rallied 150%.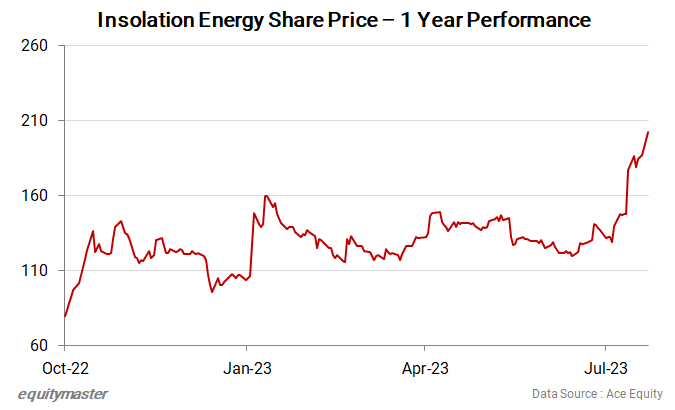 Equitymaster Conference 2024: View Your Invitation
Comparative Analysis
The table below compares the above stocks on other important metrics. We've also added some more lesser-known stocks involved in the solar industry.
| Company | Solex Energy | KPI Green | Taylormade | Refex | Insolation | Felix | Arrow Greentech | Waree Renewables | Gensol |
| --- | --- | --- | --- | --- | --- | --- | --- | --- | --- |
| ROE (%) | 7.2 | 32.5 | 9.8 | 36.9 | 20.2 | 11.7 | -11.6 | 65.8 | 26.9 |
| ROCE (%) | 11.5 | 22.9 | 15.3 | 55.9 | 19.6 | 14.7 | -12.2 | 71.8 | 22.6 |
| Latest EPS (Rs) | 3.4 | 30.3 | 1.8 | 52.5 | 5.1 | 2.3 | 8.1 | 27.2 | 20.4 |
| TTM PE (x) | 195.2 | 27.3 | 243.5 | 16.1 | 39.8 | 37.9 | 41.4 | 51.5 | 81.5 |
| TTM Price to book (x) | 15.1 | 11.6 | 15.5 | 6.0 | 9.6 | 5.1 | 5.2 | 30.6 | 11.3 |
| Dividend yield (%) | 0.1 | 0.1 | 0 | 0.0 | 0.0 | 0.0 | 0.0 | 0.1 | 0.0 |
Data Source: Ace Equity, Equitymaster
Since solar stocks interest you, check out my colleague Richa's video where she talks about a company that could benefit significantly from the investments in solar capacities and the rise of green energy.
Conclusion
It's becoming increasingly clear the world is moving towards solar. So, keeping track of all the stocks involved in this space makes sense, even if they are loss making.
But here's something you should be wary of. We should avoid investing in a declining business where profits are going in reverse and there is no possibility of a turnaround anytime in the future.
Some of the companies mentioned above have no consistency in profit and revenue. They also come with huge debt on their balance sheet or high valuations or both.
But an argument can also be made that these companies are part of a fast-growing industry and have good growth prospects.
History suggests there will be surprises along the way and some businesses may never recover. But some struggling businesses can succeed if they pivot their business.
Stay tuned for more.
Happy investing!
Disclaimer: This article is for information purposes only. It is not a stock recommendation and should not be treated as such. Learn more about our recommendation services here...
Recent Articles