Investment in securities market are subject to market risks. Read all the related documents carefully before investing
India's Third Giant Leap


Discover the Best Category of Stocks to Ride this Mega
Opportunity at Our Upcoming Special Event
Stocks that Turned Rs 1,000 into 5,000 in 5 Years
Aug 2, 2023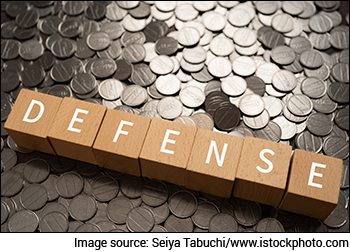 If you watched Christopher Nolan's latest blockbuster on the man called father of the atom bomb, Oppenheimer, you get one thing clearly.
Wars are not just remembered for their disastrous outcomes. Both World Wars, the Cold War, India's border wars, and till date the ongoing Russia-Ukraine war, are all grim reminders of the consequences.
But wars have also given the world some of the greatest inventions.
When you hear the words 'military inventions', you probably think of battle tanks, gigantic warships, supersonic fighter jets, and explosives that shake the earth.
But some of the most significant military inventions have become core to everyday life in the civilian world.
Military innovations in science and technology have helped create some of the most iconic and essential products in our offices and homes.
The internet, computers, GPS, microwave ovens, and even the simple duct tape, are all war time inventions that made a huge difference to civilian lives.
Does that pipeline of military innovations hold true today too?
Well, it certainly does. Inventions like multi modal drones that helped drop medicines and food during the pandemic showed how useful the technology could be even in peace time.
Having said that such inventions do not happen over few months or years. Rather over decades. Investors who patiently ride the upside in defence stocks over decades, make a fortune.
And it's not just the American defence stocks that have created such massive wealth for investors. Stocks that are closely tied to India's defence needs have also been innovation focussed.
The rise in their stock prices over the past five years mirrors the growing order books of the defence companies.
The stocks of most large defence companies in India have fetched between 3x to 5x returns in the last 5 years alone. That is a massive annual compounded rate of 25% to 38%.
Imagine if such steep rates of compounding could continue in a handful of stocks over decades.
But there is the catch. It's not just sufficient to identify defence businesses that could be riding the near-term tailwind in order books.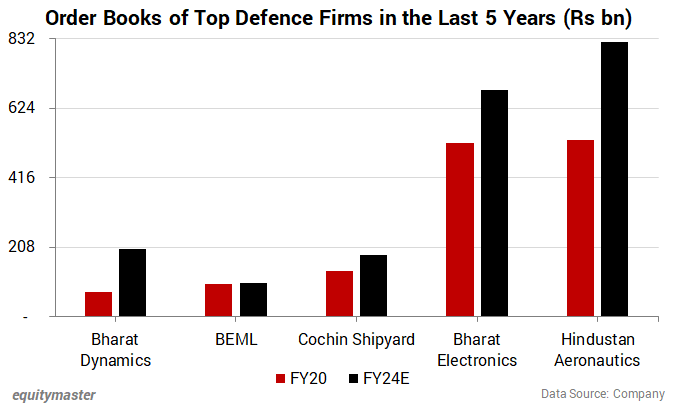 They should ideally be businesses with robust R&D facilities to create the next pipeline of defence products. A few of which could eventually be a gamechanger even to civilian lives.
My experience in tracking defence stocks over the years tells me that certain parameters are even more important critical than the defence order books.
It's the rate of execution of order books that eventually separate the short-term money spinners from the long-term wealth creators in defence.
The book to bill ratio, for instance, is a clear indicator of how quickly the order books are getting converted to revenue.
Most of the order book is for a pipeline of new innovative products. Therefore, it also shows the company's commitment to new technologies.
Tracking the book to bill ratio over the years can give investors a good sense of businesses that are well geared to meet technological challenges.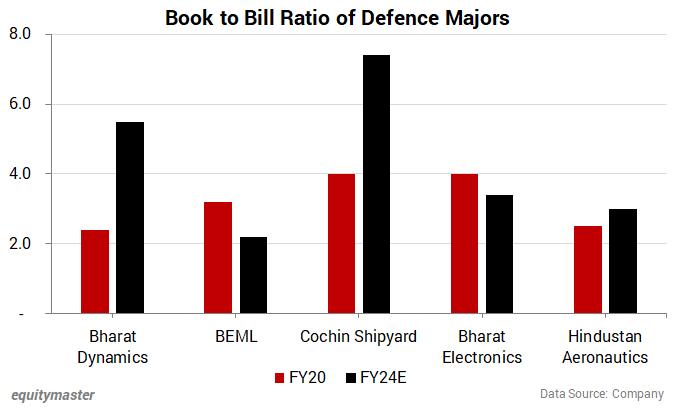 A few of such technologies will, over time, find utility in commercial areas as well. And like drone technology, could offer significant upside in meeting day to day civilian needs.
India's drone revolution has already created a frenzy in the stock market. Several new drone stocks getting listed at steep premiums have showed massive investor interest in such new technologies.
However, there are probably hundreds of innovations quietly taking shape away from the civilian eyes.
Not every defence stock will reflect the innovations in Indian military technologies.
Not every defence stock holds the promise to deliver on their bulging order book.
Not every defence stock has the business model to stay relevant and profitable for decades.
Rather like 99% of other stocks, most defence stocks too may not be candidates for very long-term investments.
Turns out the biggest wealth creators in the stock markets are businesses that have thrived for decades. They are today just 1% of all the listed business.
Investing in them requires the skill that does not apply to 99% of the other listed stocks.
I call such business Forever Stocks.
Warm regards,



Tanushree Banerjee
Editor, StockSelect
Equitymaster Agora Research Private Limited (Research Analyst)