Warren Buffett's 4 Lakh Crore Profit in One Stock Boils Down to this Formula
Aug 3, 2020
A Warren Buffett video clip is doing the rounds on Twitter these days.
It has a much younger Buffett talking about the futility of spreading oneself too thin when it comes to investing.
'No one has ever gotten rich on their 7th best idea', Buffett is heard saying in the clip.
If you are willing to put in the time and effort required to study businesses, around six businesses is all you should own. The self-belief in his voice hard to miss.
Anyone who's spent a few years in the market knows it is hard to argue against this point.
Markets are mostly efficient and big opportunities to make money are few and far between.
Thus, any time such opportunities present themselves, one should put out the bucket and not the tumbler.
And the Oracle of Omaha did indeed put out the bucket when he bought shares of tech giant Apple back in 2017 and 2018.
It has returned the favour in spades.
Buffett's Apple stake has soared in value to more than US$ 91 bn and is up a whopping 150% since the start of 2019.
In value terms, it amounts to a staggering US$ 55 bn or a little over Rs 4 lakh crores.
In fact, Warren Buffett's Apple investment is being called the greatest trade ever.
If this isn't a ringing endorsement of the power of concentration, I don't know what is.
Advertisement
India's Next War
Recently, both China and Pakistan have started amping up tensions at the border.

So, now India faces a possible 2-front war scenario.

And this calls for a heavy deployment of future-ready and highly advanced weapons at our borders.

We are talking next generation tanks, guns and even high-tech equipment like drones.

Now unlike in the past where all this money was spent with foreign companies, now, it's being redirected to Indian companies.

For a few Indian defence companies...this is a mega growth opportunity.

And for investors... it's a rare opportunity to make potentially huge gains as select defence companies see their growth, and therefore stock prices, potentially shoot up.

To learn everything about this new, and huge, opportunity, Click Here to join Equitymaster's Explosive Profits Summit.

At this exclusive summit, you will also get to access details of what we call our #1 defence stock pick.

It's a potential 10x opportunity in the long term.
Those who've studied the Oracle of Omaha deeply, believe there's a method to this madness about concentration.
His bets appear eerily similar to a formula invented by a mathematician John Kelly. The formula is about how much money to allocate to a single bet or a stock where you expect the return to be positive.
While I won't go into the mathematical details, here's how it works.
Imagine there's a stock that has an equal chance of going up 3x if things work out and fall 50% if things don't.
Then as per the Kelly formula, you should put as much as 37.5% of your total corpus into this one stock.
Alternatively, if the stock has an equal chance of going up 2x and falling 50% then the maximum allowable allocation comes down to 25%.
Thus, bigger the upside and greater the probability of achieving it, the higher the allocation.
But there's one caveat.
Investing is an exercise in uncertainty. You don't know the probabilities in advance.
Therefore, the upper limit per stock can be restricted to maybe 25%-30%. This is even if the formula recommends a much higher allocation.
Thus, Warren Buffett's massive positions over the years have the Kelly formula written all over them.
Whenever he has been extremely confident of a stock's future prospects as well as the attractiveness of its current valuations, he hasn't been afraid to put a sizeable chunk of his corpus in it.
#1 Small-Cap Stock: Biggest Opportunity in the Indian FMCG Market
Recently, I have come to realise that Kelly's formula has applications that go beyond individual stock allocations.
You can use it to decide allocation between stocks and bonds as well.
You see, the long term average of the Sensex PE (price to earnings ratio) is around 19-20x.
Thus, when the Sensex falls significantly below this level, one should maximise exposure to stocks and when the Sensex multiple goes well past 20x, it is time to move out of stocks and have maximum allocation to bonds.
This chart will help make it clear.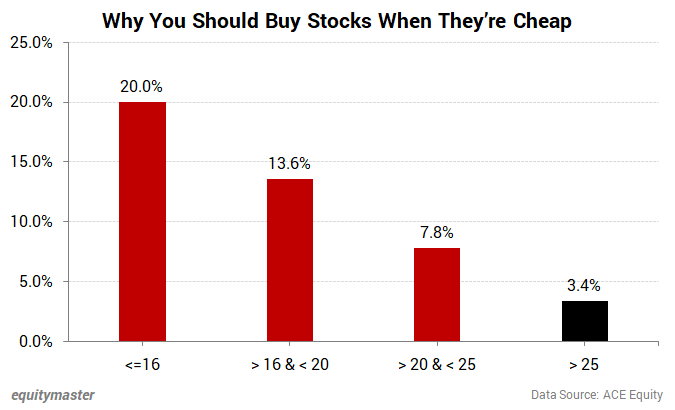 Whenever the Sensex PE has gone below 20x, the forward 3-year returns have been in mid to high double digits on an average.
And when the Sensex has gone past the 25x mark, the forward returns have fallen to a measly 3.4%. This is lower than even what fixed deposits offer.
--- Advertisement ---
For Those Looking to Buy Stocks

If you're looking to buy stocks now, then we've uncovered 3 great stocks for you.

Our research says, these stocks have the potential to create a wave of Indian millionaires.

Get the Details Now
------------------------------
Guess what the Sensex PE was when the markets hit bottom in March of this year after falling from the top?
Well, it had come down to 15-16x, a valuation level that based on history and the Kelly formula, called for maximum allocation to stocks.
If you would have done so, you would have been going laughing all the way to the bank right now.
And guess what is the valuation right now?
Well, it is a tad higher than 25x. This calls for reducing exposure to stocks and having maximum exposure to bonds.
Thus, if you put some money back in March/April 2020 and are sitting on strong gains, it may not be a bad idea to book partial profits and take some money off the table.
You can again get back in to stocks when the valuation come down to more attractive levels.
Also, if you think concentrating your investments like Buffett is a tough ask, you can certainly have a more diversified portfolio of stocks.
And in such a scenario, changing your allocation between stocks and bonds based on the broader market valuation, could be your best bet to earn market beating long term returns.
Good Investing,



Rahul Shah
Editor, Profit Hunter
Equitymaster Agora Research Private Limited (Research Analyst)
PS: On 7th August, our small-cap stocks editor, Richa Agarwal, will show you how to multiply your money in India's most exciting stocks. Join Richa online at the Rebound Riches Summit. Book your free seat here...
Recent Articles