Of the Smallcap Rebound and 10 Crucial Days that Could Influence 70% of Your Returns
Aug 4, 2020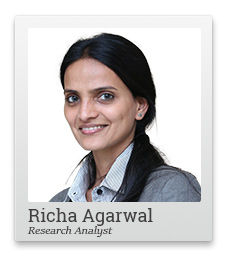 In my last edition of the Profit Hunter, I shared with you an update on the performance of essential stocks.
We recommended these stocks in the month of May. At that time the economy had come to a screeching halt amid the lockdown. Obituaries were being written for small businesses.
In just 2 months, one of these stocks is up over 70%. Every single stock has beaten the benchmark indices.
The rise has been sharp, with just 2 of the 5 stocks in the buying zone at present.
With the easing in the lockdown, I believe that the big rebound in the quality smallcaps has begun.
But only a few investors will be able to ride it.
--- Advertisement ---
ONE Urgent Recommendation for the Market Correction...

This is urgent...

Because this market correction could get deeper.

And it could wipe out much of your hard-earned gains.

But if you follow this ONE recommendation, you'll master the art of turning every market crash to your advantage...

Join our #1 Stock Guru Rahul Shah at the Lazy Millionaire Summit at 5pm today...

And prepare yourself to win in any kind of market condition.

Grab Your Free Spot Now
------------------------------
They will wait for the broad economic data to pour in which clearly shows economic recovery.
And for market commentators to paint a hunky-dory picture.
Now that might offer them psychological comfort. But it would not be that great for their portfolio returns.
That's because it will be too late by then, and the stocks would have already run up.
You see, the stock price movements never occur in a linear fashion. The falls and surges are abrupt.
It is difficult to predict them. Hence, it's prudent to begin with a long term mindset.
That said, a bulk of the gains could come in a very short period. So to wait for long periods to buy fundamentally strong and undervalued stocks is not a wise decision.
Equitymaster's Stock Screener: Identifying High-Potential Stocks Has Never Been this Easy
Here's what I had shared with you a few months ago...
Most of the big gains in the markets over one or two decades came in just 10 crucial days.

Rs 1,000 invested in Sensex on April 3, 2003 would have amounted to Rs 12,400.

But had you missed 10 of biggest single day gains in the Sensex during this 17-year period, you would have ended up with just Rs 5,836.

This is more than a 50% less versus a scenario in which you were invested throughout.

Remaining 'invested throughout' sounds easy but it's difficult to practice.

Over this period, there has been enough negative news in the markets and the economy to shake an investor's confidence, to make him panic and press the exit button.

If you let moody and volatile Mr Market make you shift in and out, you wouldn't be doing the smart thing.
This is even more relevant in the smallcap space. For instance, in case of stocks like Page Industries, missing 10 best days over a period of 11 years, could have lowered the gains by nearly 70%.
--- Advertisement ---
There is a new paradigm shift currently unfolding across the global economic landscape...

And at the heart of this massive SHIFT is...

INDIA!

India is on the verge of a multi-trillion-dollar rebirth that could potentially mint countless new millionaires...

If you are on the right side of this mega shift, then it could be your biggest opportunity to build potentially massive wealth over the long term.

Click here to find all the details...
------------------------------
After over 2 years of lag, smallcap index is beating Sensex in the post Covid rebound.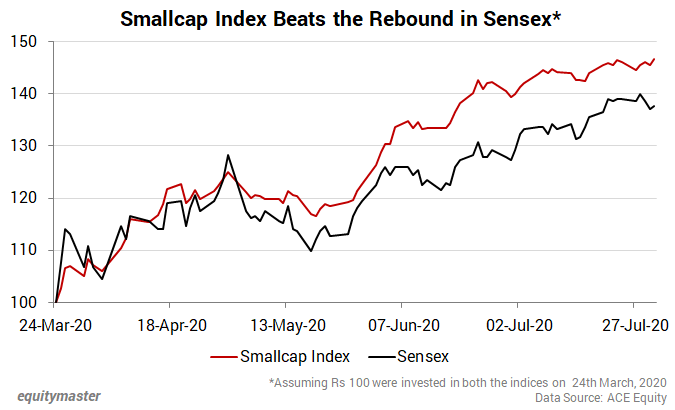 And it's possible that the next few days would be some of those crucial 10 days of making big gains in the smallcaps.
But while it is time to act, you must tread with caution. Post Covid, I expect a lot of clean up in the smallcap space, with only a few quality stocks emerging as winners.
I'll be revealing more about these winners online at my Rebound Riches Summit on Friday, 7 August, 2020.
To book your free seat for this summit, please click here.
Warm regards,



Richa Agarwal
Editor, Hidden Treasure
Equitymaster Agora Research Private Limited (Research Analyst)
PS: On 7th August, I will show you how to multiply your money with India's most exciting small cap stocks. Join me online at the Rebound Riches Summit. Book your free seat here...
Recent Articles