Investment in securities market are subject to market risks. Read all the related documents carefully before investing
An Emerging Opportunity for Investors
India's Lithium Megatrend
Can Zomato Go the ITC Way?
Aug 4, 2022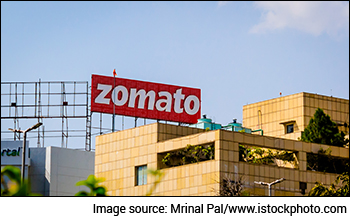 Last year when the Nifty doubled, the joke was on ITC and people who had invested in the stock.
Out of all the memes, I distinctly remember one from my favourite movie, 3 Idiots.
Raju Rastogi is in a college placement interview. The interviewer asks him "Patience level kitna hain", to which Raju replies, "I am an investor in ITC". Hearing this, the interviewer gets emotional and says, "Salary kitni loge".
Last year, your WhatsApp might have been filled with jokes and memes on ITC. Any event in the stock market, positive or negative, the joke was on ITC.
They say change is the only constant, but if you are an ITC investor how would you know?
After all, for 2 years, ITC underperformed the market.
Dismal Performance by ITC for Most of 2020 and 2021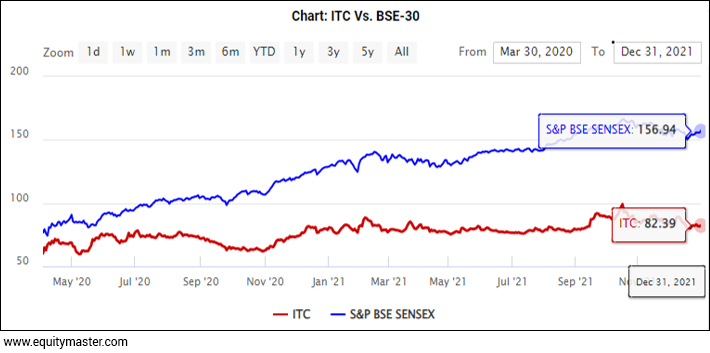 If you would have invested Rs 100 in Sensex and ITC at the market bottom, i.e. on 30 March 2020, you would have been shocked to see ITC at Rs 82 (-18%) while the Sensex would have given you a 56% return by the end of 2021.
Moreover, the frustration of your portfolio underperforming compared to everyone else in the market, would have made you sell your ITC stock.
I mean psychologically when your neighbour, your colleagues at work or worse than that, people who have bought the Nifty ETF, are outperforming your portfolio by miles, I am sure you would have doubted your abilities as an investor.
To add to it, the memes on ITC would have made the non-performance extremely personal.
--- Advertisement ---
Investment in securities market are subject to market risks. Read all the related documents carefully before investing

Are these EV stocks potential multibaggers in the making?

Our senior research analysts have identified two EV stocks.

These two stocks riding India's emerging EV trend very smartly.

If you're looking to buy some high-potential stocks in the current market environment, then we strongly suggest you check out these two EV stocks.

Click Here to Know More
Details of our SEBI Research Analyst registration are mentioned on our website - www.equitymaster.com
---------------------------------------------
Enter 2022...
In the backdrop of the Russia-Ukraine war, along with high inflation, and rising interest rates across the world, global markets went into a tailspin.
While markets like Nasdaq corrected 31%, Sensex fell 18% from its top.
During all this, one stock stood tall, unperturbed by all that was happening around it.
How the tables have turned.
Individual portfolios when the Nifty fell to 15,000 levels were battered 25-30%.
It was ITC investors who have had the last laugh in 2022. After all, they had endured underperformance for 2 years.
It reminded me of the famous line by Marilyn Monroe, "If you can't handle me at my worst, then you sure as hell don't deserve me at my best".
Times Have Changed for ITC and How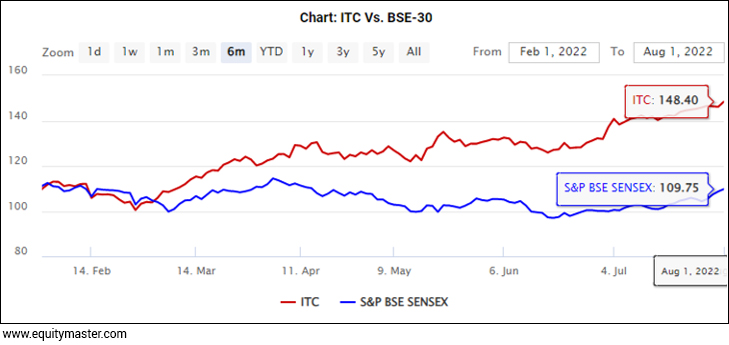 As they say, the rest is history
Apart from the 4-5% dividend yield, ITC over the past 6 months, generated 48% returns while the Sensex was up 9%.
One more stock which comes to my mind which was a part of the endless memes was Zomato.
I wrote an editorial on why you should not buy Zomato. The stock back then was in triple digits.
While people argued that the stock price has fallen by 50%, my contention wasn't about the fall in price from the peak but the marketcap it commanded even after the fall.
Zomato's peak marketcap was Rs 1.3 tn!
The point I made was that if Dominos (Jubilant Foods), a cash generating machine with 25% plus ROE and ROCE, is available at a marketcap of Rs 0.5 tn, how the hell is Zomato trading at 2x the valuation?
I mean it was a loss-making company v/s a profit-making market leader.
--- This is Third Party Advertisement ---
Mutual Fund investments are subject to market risks, read all scheme related documents carefully.

[MEGA] Webinar Invitation -

Navigating markets in 2024 - Fund Managers' Year End Perspective.

Date: Dec 6th Time: 6pm Venue: Your Computer

What's Next for equity, debt & gold asset classes?

Join Chirag Mehta, CIO and Fund Managers of Quantum AMC as they discuss asset class outlook & what one should expect from the markets in the new-year.

Register Free for this Exclusive Webinar
----------------------------------------
Something was wrong. Either Jubilant Foods goes to Rs 1 tn marketcap or Zomato corrects by at least 50-60%.
We know how that aged. Over the past 6 months, the flag bearer of memes has shifted from ITC to Zomato.
I am sure you must have come across people talking about Zomato at the price of a Tomato. What a colossal fall it had from a high of Rs 160 to a low of Rs 42.
Well, just when we thought Zomato is a dud, the stock bottomed at Rs 42 and is up by 35% in the past 5 days.
So much for the memes on Zomato too.
ITC and Zomato both are contrasting companies. One is a cash generating machine while the other is a cash guzzler.
Here I wanted to point out that every stock has a lesson to teach investors.
# Lesson 1: Times always change. We just need to find the trigger
While cigarettes generate piles of cash, it is the incremental investment and expansion of the FMCG business which was bringing down the consolidated performance for ITC.
Not to mention the hotel and paper businesses. They were laggards too.
While this was the apparent reason, the ESG factor too played its part in keeping ITCs stock price benign.
2 years ago, a lot of funds didn't touch ITC due to the cigarette business which was anti ESG. These were the same funds which shunned stocks like Coal India and NTPC on ESG concerns.
Everything which could go wrong for ITC did go wrong.
Equitymaster Conference 2024: View Your Invitation
The only thing it needed was a 'trigger'
ESG funds came back, FMCG stocks stopped bleeding, and most importantly, at PE ratio of 17, there was nothing to lose.
The point I am trying to make is that the time to buy a stock is when there is maximum pessimism.
In today's world, stocks become social media memes and are ridiculed. Well, that is a good time to buy them.
#Lesson 2: You can never take a permanent view. Everything is good at a price
We can debate about Zomato and whether it is a good investment or not. But the point I am trying to make is that such stocks must be viewed in relation to its peers in India and abroad.
At Rs 1.3 tn marketcap, not buying Zomato was a no brainer. But today, at Rs 0.3 tn can it make sense to play the Indian food delivery market?
In the stock market everything is good at a price. The only thing we need to figure out is what that price is.
Just like how for India's favourite meme stock, ITC, all the moving parts started firing, investors should look at undervalued stocks which are hated by investors.
#Lesson 3: It is during the darkest times that diamonds are discovered
Multi-baggers are seldom found if majority is already betting on it. The consensus view will never make you money.
A perfect example would be auto stocks last year, or the multiplex or hotel stocks during Covid. When the street writes obituaries of a sector, that is the best time to put your money to work.
These sectors would have underperformed in 2020 and a part of 2021. But the returns when the right triggers appeared, more than made up for the lost time.
Warm regards,



Aditya Vora
Research Analyst, Hidden Treasure
PS: On the topic of FMCG stocks, do read my editorial on the stock I believe could be the next Dabur or Marico.
Recent Articles